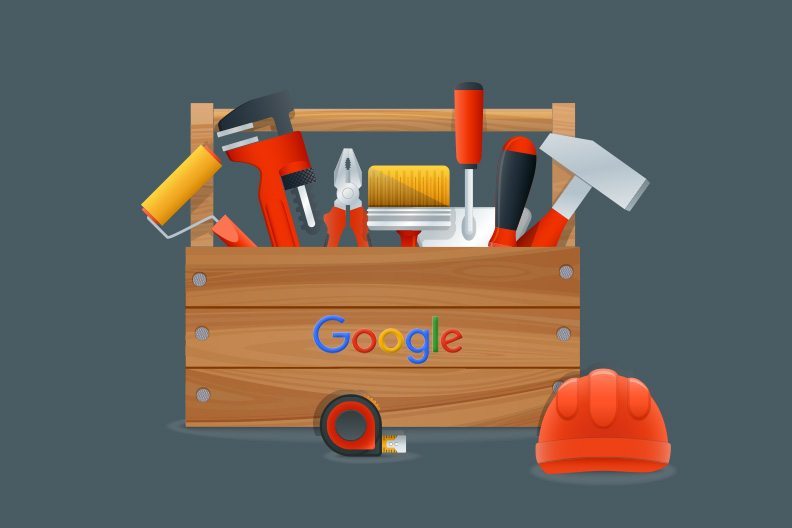 Google has a significant stake in ensuring that your website is up to current standards. Google search indexes web pages to make it available to those looking for information. To do that well, they want your website to be mobile-friendly, to begin with, among other things. Thus Google has multiple tools and services for small businesses to take advantage of.
Why shouldn't you use these Google tools to create a good website or improve your existing website?
Here are the 10 useful Google tools to improve your website
1. Google Search Console Tools
Google Search Console Tools help you gauge your website's performance, as it cooperates with webmasters to give you a detailed report. The tool reports how your website's daily performance, broken links, and if the website has been infected by malware. This free tool will allow you to check the website's visibility and indexing status.
Google Search Console Tools also lets you submit the website sitemap to Google. The tool will relay information about common keywords used in your web pages after Google has crawled your site.
This helps in gaining insights into the kind of keywords that will help your page rank higher on Google and improve your keyword research approach. Use this tool to ensure your website is readable and visible to Google.
Learn more about Google Search Console
2. Google Analytics
With a website up and running, you would want to know how many people visit it and what they are reading. Google Analytics helps you gain important information such as the search results visitors use to get to your page, the number of visitors you're getting, their traffic sources (channels, referrals, etc.), and their conversion rate.
This kind of insight tells you which pages are being visited more than others, and how much time are visitors spending on your website.
Using this tool, you can attain real-time data, create new segments to see data based on specific criteria such as search traffic, mobile traffic, alerts on events, and so on.
If you have a Google account, sign up for Google Analytics and add your website to it. Once you generate the code, you can insert it into your WordPress site using the Google Analytics for WordPress plugin.
3.
Google PageSpeed Insights
Google PageSpeed Insight lets you measure the performance of a page of your website, on both mobile and desktop devices. It measures your website, using its PageSpeed insight rules, to ascertain if your page adheres to the rules and what changes/ improvements can be taken by you to attain a "good" PageSpeed insight ranking.
Google PageSpeed Insight aims to increase user experience. The optimization recommendations that they offer come from inputs from various developers and blogs online and Google developers.
You can install this WordPress plugin that integrates Google PageSpeed Insights tool into your website or goes here and enter your website URL. This Google tool will scan all the pages for performance and give you recommendations for optimization.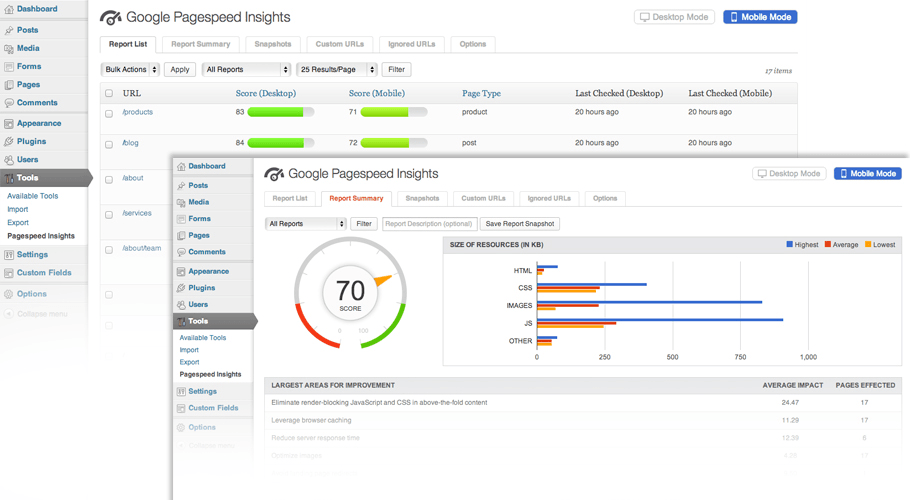 Website performance affects sales and search ranking, so it pays to spend some time optimizing your WordPress website.
4. Google Trends
With Google Trends, you can find out when a particular search keyword is gaining interest or is trending and compare the popularity between different search topics.
This tool shows how frequently a particular topic was searched, as compared to the total search volume. You can get real-time information on Google trends, which is quite beneficial if you are a journalist or marketer, looking for trending search items, across regions and languages.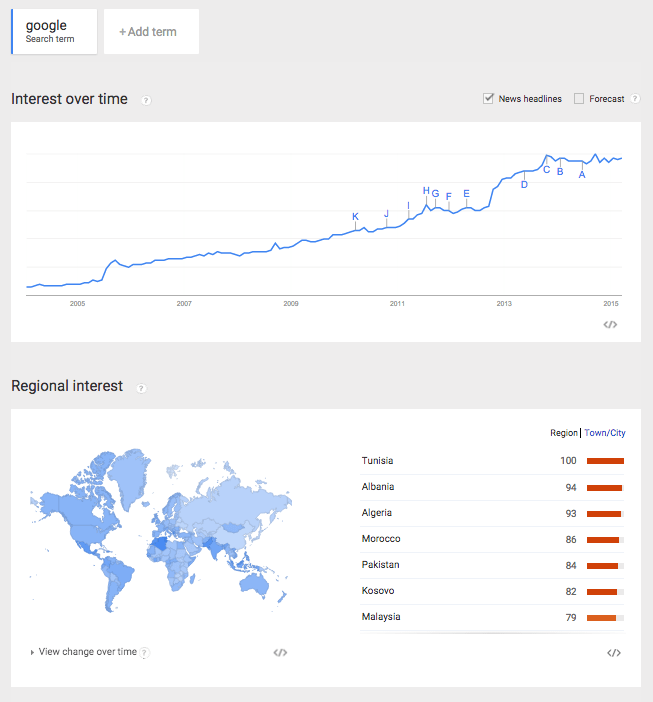 As an SEO writer, you can use Google Trends to find the most popular phrases people are searching for on Google, to integrate important information into your content.
You can view the history of a particular search topic, starting from 2004, to understand surges and trending nature of search queries. You can capitalize on real-time news, to make your content and ad campaigns attain more traffic.
5. Google Ads Keywords Planner
Google Ads keyword planner is a free Ads tool, used by advertisers for conducting SEO campaigns.
This tool can be used to research keywords and to avail predicted clicks, estimated conversions for the forecast on how keywords would perform in a campaign, and search volume statistics so that you can plan which keywords to use for existing and new campaigns. You can search for long-tail or/and short-tail keywords.
You may also combine a set of keywords by making lists, to get forecasts and historical statistics. Keywords are essential for Search Engine Optimization, and with keyword planner, it has become easy to do country-to-country targeting of keywords for ad group ideas.
Google Ads Keyword planner combines parts of the tools Google Keyword Tool and AdWords Traffic Estimator. Even if you're not planning on spending on Google Ads, sign up for a free account and use the keyword planner tool.
For customizing your search, you would be required to provide specific inputs such as a budget, bid, and location to receive estimates of clicks, impressions, average position and cost.
6. Google My Business
Google My Business is a local listing service from Google. You can set up this for free. It helps your business to manage online presence across Google. This gives your business to appear in near me search results and also in Google Maps. You can get listed here without having a website.
This listing can include a website, address, directions, phone numbers and business hours. Customers can review your business, and even you can thank them as well.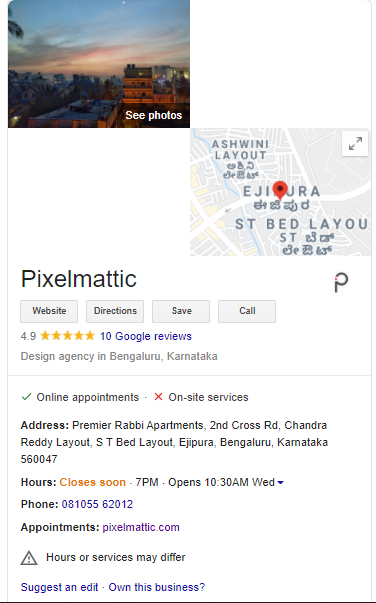 The significant advantage of using this is that it gives accurate information.
7. Google AdSense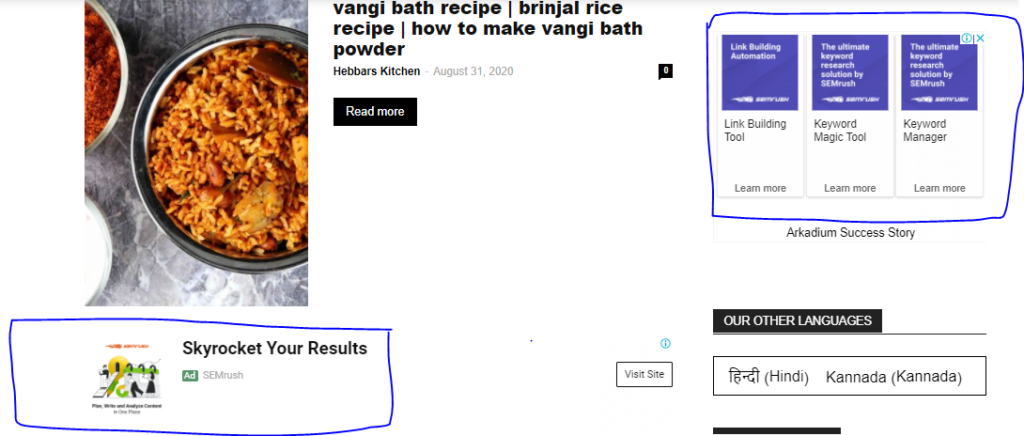 Image source: Hebbar's Kitchen
Google Adsense is the most popular Advertising program on the internet. It provides an excellent opportunity to monetize your website. You can display images, texts, videos and other interactive advertisements and earn money based on clicks on these. These advertisements are administered, sorted, and maintained by Google. The best feature is that it is secure and transparent for both advertisers and publishers.
The advertisements are displayed on your pages based on your website's relevant content or user's previous searches. If the visitors click on these, you will be paid.
8. Google Ads
Google Ads, formerly known as Google Adwords, is an advertising platform developed by Google. You can create ads with specific keywords related to your business. When you search for a particular keyword, these ads appear above the organic search results. You can also choose to show your ads at certain times of day, and specify a location and language. You can bid for the right keywords. You can set and control your budget as there are no limitations on ad spend. You can pay only when someone clicks on the ads or watch the video ads.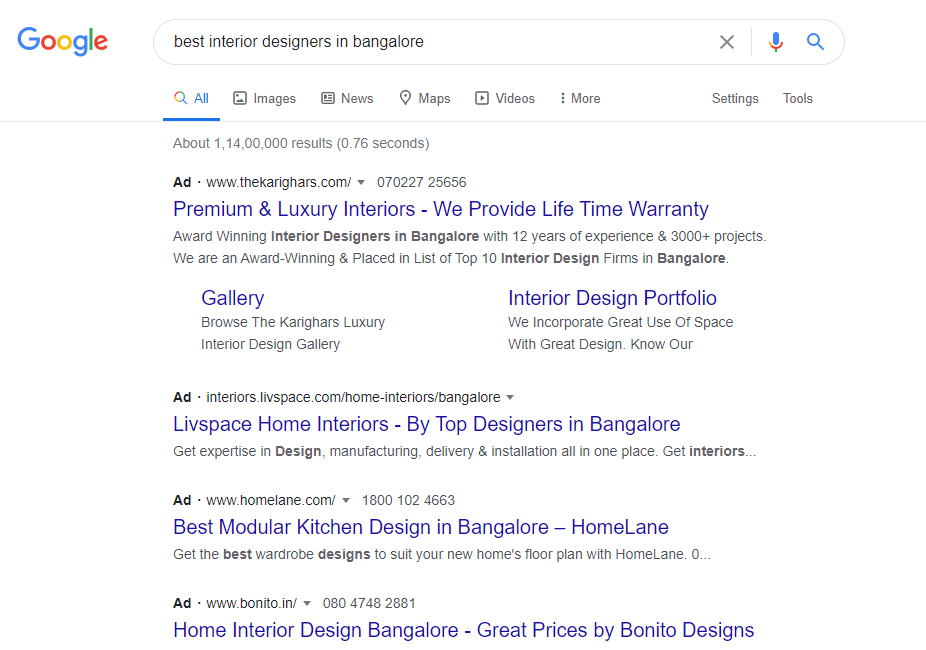 9. Google Alerts
With Google Alerts, you can keep yourself alert of the latest news, and mentions your chosen keywords in Google search.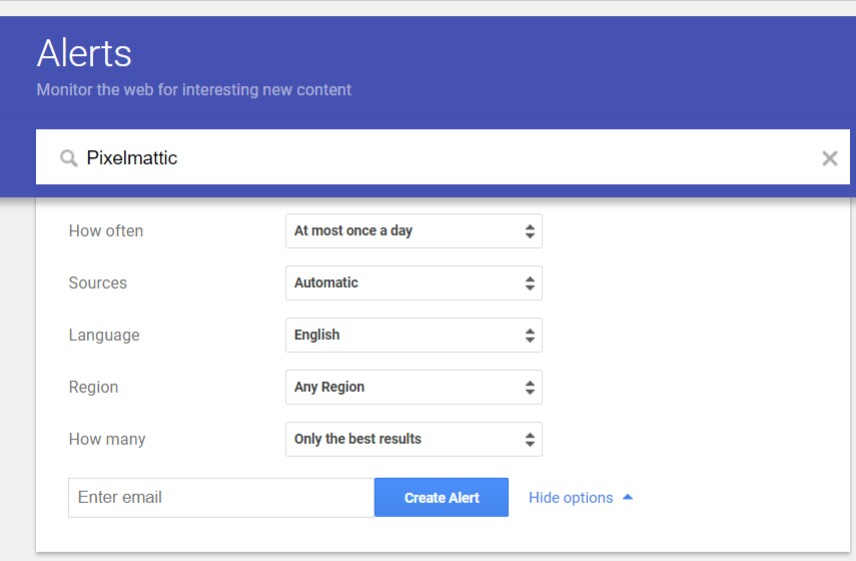 You can receive alerts on the searches provided by you, with the search engine results being delivered to your e-mail account. You can track when a particular brand or when a specific keyword gets mentioned in the news.
As a business owner, this tool is quite beneficial to you as you can be sure to stay updated on the news about brands or keywords, without having to spend time searching for the items.
You can decide what type of information you want to deliver, the language, the geographical area, the quality of the search, and how frequently you'd like the information to be given to you.
10. Google Tag Manager
When you decide to run marketing campaigns, you often need to tracker code to your website to track the leads. Google Tag Manager makes this code a breeze, as you won't have to add or maintain snippets of code directly on your files.
Google Tag Manager maintains tags for multiple websites and replaces tags for other Google tools, so you no longer have to insert tags manually. Tags help visitors understand the content better, as it groups related posts, for better navigation across your website.
What Google tools are you using? Comment below