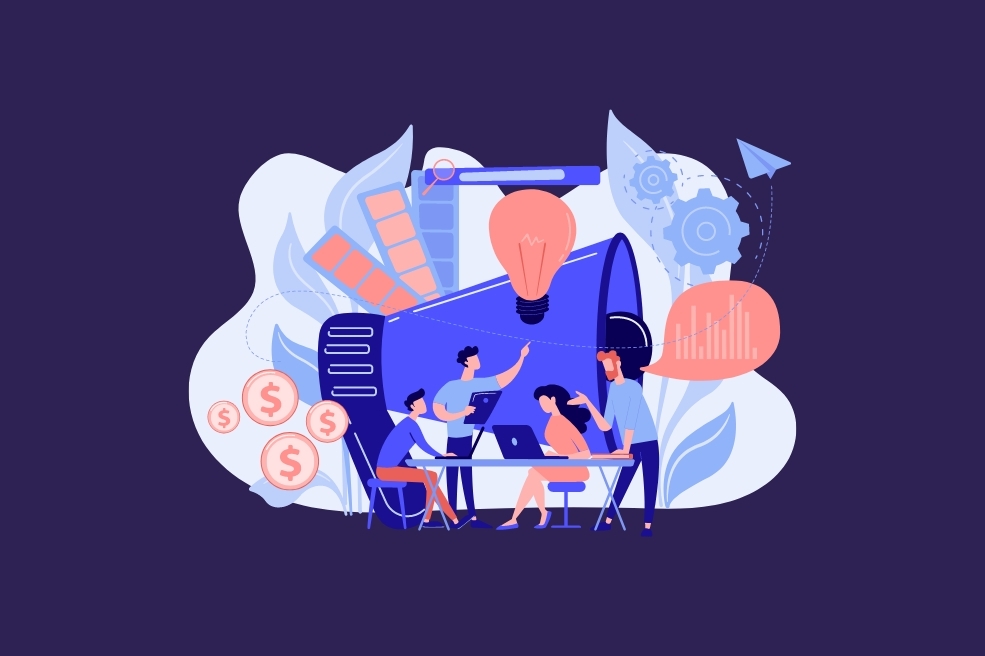 Table of Contents
Tired of endlessly searching for tried and tested LinkedIn B2B marketing tips?
You've come to the right place.
With over 875 million users and counting, LinkedIn is one of the most powerful networking and marketing tools available today. Whether you're a small startup or a large corporation, this platform has loads to offer everyone looking to expand their reach and connect with industry-leading decision-makers.
With the right B2B strategy and approach, you can also use LinkedIn to boost your brand awareness, generate leads, and drive sales.
On that note, buckle up and dive into our comprehensive LinkedIn B2B marketing guide for more details.
Yes, you need LinkedIn for B2B marketing: Here's why
LinkedIn is a platform specifically designed for professionals, making it the perfect place to connect with people in your industry. Whether you're looking to expand your network, find new job opportunities, or connect with potential clients, LinkedIn is the place to be.
Besides networking, here are a few reasons why you should choose LinkedIn as your go-to professional social media platform.
1. Build a strong, professional online presence.
LinkedIn allows you to establish a professional online presence by creating a detailed profile that showcases your skills, experience, and accomplishments. This can be a great way to cut through the noise and market yourself to potential investors or clients. As per reports, LinkedIn is 277% more effective than Twitter or Meta, when it comes to high-quality lead generation.
2. Stay up-to-date with industry news and trends.
LinkedIn offers multiple features that allow your company to stay up-to-date with the latest industry news and trends. For example, you can follow industry leaders, join groups that focus on your specific industry, and receive updates from relevant companies and organizations.
3. Enhance your personal and professional brand.
A strong LinkedIn B2B marketing strategy can help your business establish a strong professional image and increase visibility among potential clients and partners. It's also a great platform to showcase your products and services and highlight your company's mission and values.
Regularly updating your business profile, engaging with industry connections, and sharing relevant content help position your business as a trustworthy, credible source in your industry in front of clients. Reports also claim 77% of people prefer to follow brands that always share fact-backed, industry-specific content.
4. Access to LinkedIn Learning
Last but not least, LinkedIn offers a vast library of professional development courses and tutorials, ranging from technical, B2B/B2C marketing and more, through LinkedIn Learning. It is a great way to upskill yourself and improve your chances of career advancement.
Successful B2B strategies to boost your LinkedIn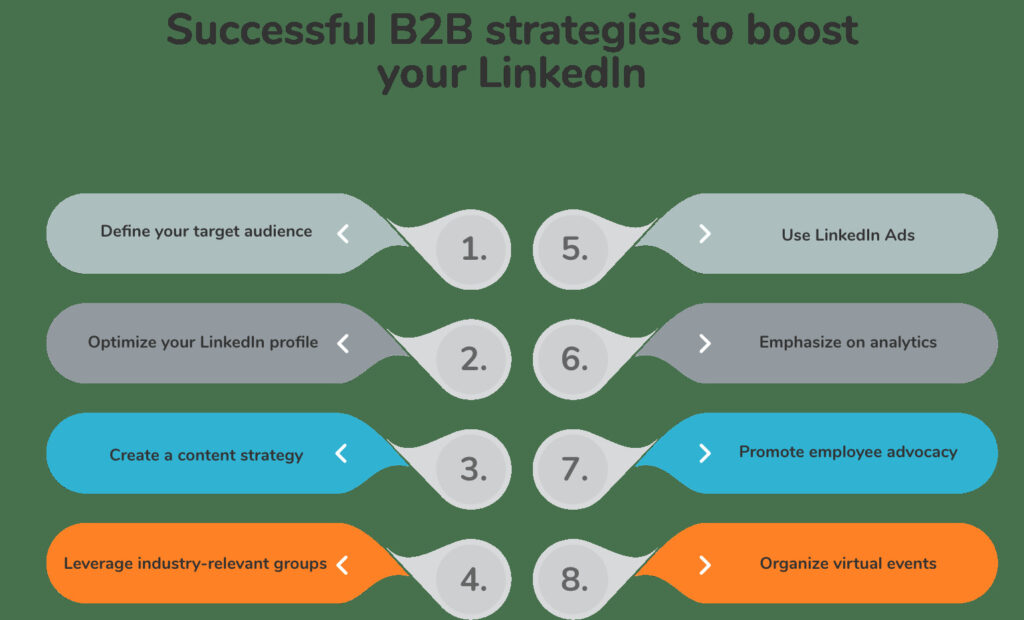 1.Define your target audience.
First, identify the specific business types you want to reach with your LinkedIn B2B marketing strategy. By understanding the demographics, pain points, and decision-making processes of your target audience, you can launch campaigns that resonate well, and convert prospects into paying customers. Additionally, targeting a specific audience can help more effectively reach and engage with the right decision-makers within a company, leading to more sales and revenue.
2. Optimize your LinkedIn profile/company page.
Make sure your LinkedIn profile and your company page are up-to-date and include all relevant information about your business, including your products or services, company culture, and team members. A regularly updated profile and company page allow others to understand your value proposition deeply. Additionally, a strong profile can improve your search engine rankings and make it easier for others to find your business when searching for relevant keywords or industry topics.
3. Create a content strategy.
When it comes to LinkedIn B2B marketing, developing a well-planned and researched content strategy that aligns with your business goals and speaks to your target audience goes a long way. As per a study, content marketing is 62% more cost-effective and generates 3x more leads than outbound alternatives.
Besides, by providing valuable and informative content, a company can establish itself as a thought leader in its industry and build trust with potential customers – especially if operating in technical domains.
4. Leverage industry-relevant groups.
LinkedIn groups are a great way to promote your company's content and thought leadership, connect with other esteemed industry professionals, and build new connections and potential partnerships.
Join relevant groups and participate in discussions to build relationships and increase brand visibility. It can also help you stay up-to-date on industry trends and best practices to pursue informed decision-making and stay competitive.
5. Use LinkedIn Ads.
If you're planning to retarget users who have already interacted with your website or content, include paid ads in your LinkedIn B2B marketing strategy. These are relatively affordable compared to other forms of advertising. Businesses can set a budget and only pay for the seen ads, making it a cost-efficient way to increase conversion rates by reaching users who have already shown interest.
6. Emphasize on analytics.
Use LinkedIn Insights to track engagement on your company's posts and updates, to analyze how well your content resonates with the targeted audience. You can also measure how many users direct to your company website, follow your socials, convert into leads, etc.
7. Promote employee advocacy.
Identify employees with a strong, active, industry-specific LinkedIn network to convert into brand advocates. Encourage everybody to create and share relevant content on LinkedIn, such as industry insights, company news, and personal stories.
8. Organize virtual events.
Virtual events, as a LinkedIn B2B marketing strategy, help you reach a larger audience, build potential customer relationships, and solidify your brand's thought leadership.
Live webinars enable you to provide valuable information and share your expertise with your target audience. Whereas, virtual networking events are a great opportunity to connect with other industry leaders and potential customers.
LinkedIn B2B marketing success story: Johnson & Johnson
In 2020, Johnson & Johnson used LinkedIn to promote their iconic "Road to a vaccine" campaign and spread factual COVID-related information among their targeted B2B audiences.
The leading FMCG brand was well aware of the platform's live streaming and B2B targeting scope, which also led to their marketing triumph. With a proper LinkedIn B2B marketing strategy in action, the company leveraged Message ads, sponsored content, and LinkedIn Live feature to spread awareness among their target audience and raise content viewership.
Here's how it worked out: the 30-minute show was viewed more than a million times, with an average of 983,000 minutes streamed per weekly episode. To make it even better, the live stream went so viral that it gathered 1,000 viewers in under sixty seconds. Overall, the ad series consistently outperformed expectations and was a huge content success.
What can be expected in the future?
The future of LinkedIn B2B marketing is expected to be more data-driven, personalized, and focused on delivering real results for businesses.
AI and machine learning integrations can help deliver personalized content/advertising, and increased video and live streaming may connect brands with potential customers more personally. B2B marketers can benefit from offerings like Lead Gen Forms and Sponsored InMail to generate leads seamlessly and connect with potential customers.
Not sure how to get ahead with your LinkedIn B2B marketing strategy? Establish a content-rich brand image on social media platforms with top-tier consulting today – click here to get started.