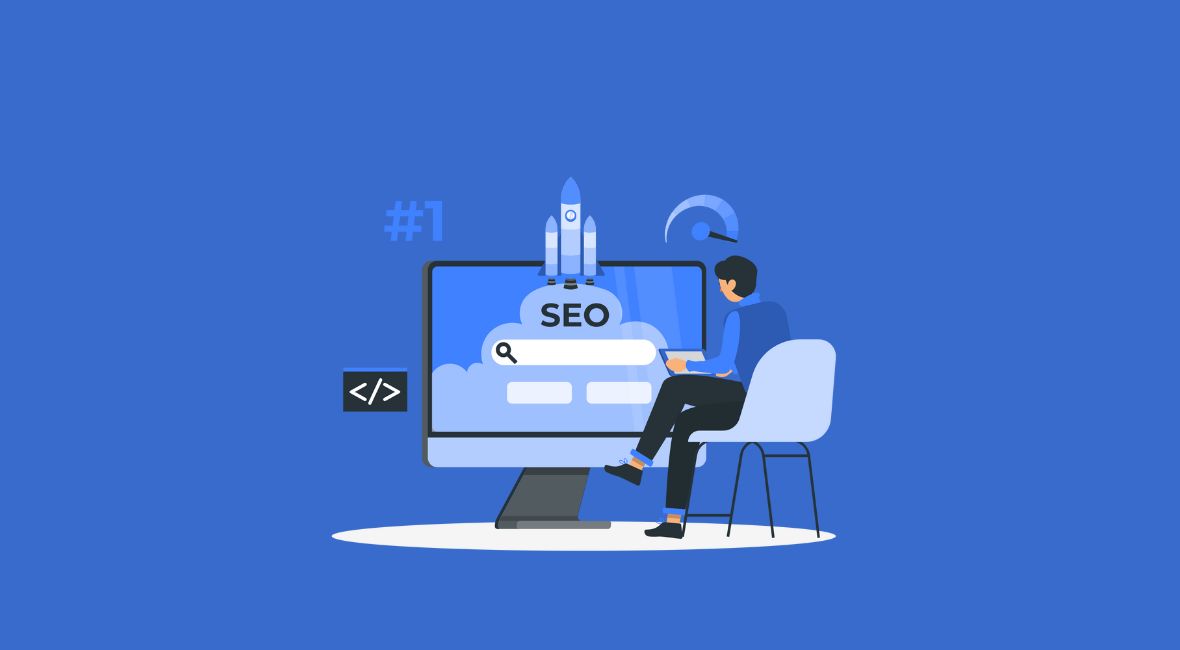 Table of Contents
You have undoubtedly heard a hundred times that Search Engine Optimization (SEO) is crucial to digital marketing. You claim to understand SEO, but do you?
You may need a firm handle on this intricate and multidimensional procedure even if you have a general idea of what is involved.
Understanding the importance of SEO requires familiarity with the many components that make up SEO and how they interact. Search engine optimization is critical since it raises your site's visibility, increasing your site's traffic and chances of making a sale.
Optimizing WordPress SEO is essential if you want to attract more visitors. Unfortunately, most WordPress SEO instructions need to be revised for beginners. WordPress SEO recommended practices are crucial to attracting more visitors to your site. WordPress is said to be SEO friendly by several professionals. Because of this, WordPress is the platform of choice for many new websites and blogs.
WordPress ensures that the code it creates is search engine optimized, but there is still a lot of work to be done if you want to get the most out of your SEO efforts. Keep reading to know more about SEO friendly WordPress websites.
Creating an SEO Friendly WordPress Website
WordPress is one of the most popular content management systems because it contains built-in tools to improve a site's visibility in search engines. How to maximize these pre-installed options and additional services and solutions to boost your search engine rankings is discussed below.
Optimizing Website Structure for Search Engines
Let's be honest: most of us don't care whether our WordPress theme is optimized for search engines. Although this is a desirable goal, you may find yourself spending too much time attempting to choose the most aesthetically pleasing theme. Business owners who spend time and effort selecting an SEO-friendly theme deserve much credit.
● A fast and clean codebase:
Improve your site's crawl ability and page load times with a well-organized code structure.
● Formats for CSS and JavaScript:
Fewer CSS and JavaScript files can help your site rank higher on Google. And there's no need to worry about further minification.
● Basic structure:
Users will have an easier time navigating the site if it's designed with simplicity in mind.
● Responsive:
Use a responsive WordPress theme for a better user experience because Google prioritizes responsive sites in mobile search results.
● Coding with Schema:
Schema Markups direct search engines to your best material related to a specific topic.
Best Practices For Keyword Research And Targeting
You should learn several keyword research principles before beginning your quest to improve your content. Knowing the difference between standard and target or long-tail keywords is essential.
A target keyword is a term around which your whole campaign is based. You want search engines to find this term or phrase, so you include it in your website's title, URL, meta description, and content.
But long-tail keywords are phrases that are three words or longer. There is a higher likelihood that users will use these terms when they are farther along in the purchasing cycle and have a more refined concept of what they want to purchase. Long-tail keywords are beneficial in highly competitive markets since they help websites stand out from the crowd. When comparing the search results for "toaster" and "4 slice chrome toaster," it's simple to see which will be more relevant.
Utilizing Quality Content And Metadata
Everyone has their own opinion on what constitutes high-quality material. There will be some who want a high-level overview, while others will want something more in-depth and specialized. Compared to the material already available, high-quality content will be superior since it will be more valuable, memorable, and likely to be shared by readers.
This makes the material helpful, but if you look at many of the best websites, you'll see that they all say the same things. The first few search results may seem redundant. There are many terms, such as "10x content" and "skyscraper content," but you have to create something greater than what already exists.
You're in a better position than most when creating original material. You may examine the top-performing content and use it as a benchmark for improvement.
Efficient content management requires the extraction and analysis of content metadata. Metadata for material allows for more refined search and navigation tools, increasing the information's discoverability and usefulness. Errors, duplication, and out-of-date data may be eliminated, boosting your material's accuracy and reliability.
Importance Of Mobile Optimization For SEO
The onus is on merchants to investigate what makes for a trouble-free purchase. Mobile is the most crucial online touchpoint for converting people into consumers. Thus it is essential to not only think about offline communication and its significance but also to identify and optimize all online touchpoints.
Customers are digital nomads who shop from several devices. As a result, providing a "frictionless" experience across all platforms, notably mobile, becomes a significant problem. Consumers will only go elsewhere if stores prioritize mobile access. Sites optimized for mobile usage undergo a wholesale transformation to display optimally on the user's chosen mobile device. In contrast to responsive ones, mobile-optimized sites are designed specifically for mobile users and often have their URLs.
Top SEO Plugins for WordPress in 2023
To know more on the Best SEO plugins, keep reading this following section.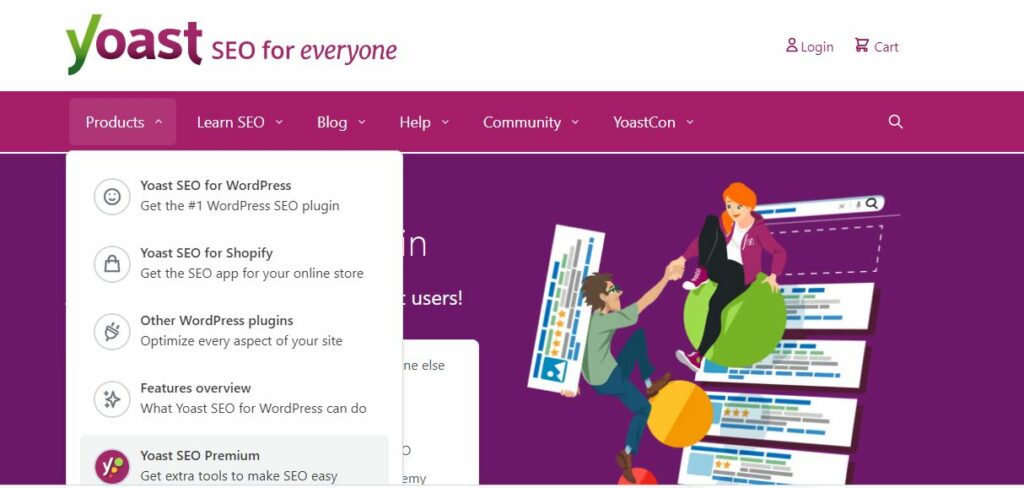 Yoast SEO is one of the most downloaded plugins for both personal and business websites. This SEO tool is designed with newbies in mind, emphasizing both on-page and off-page optimization. Please make use of Yoast SEO for WordPress and its built-in SEO workouts.
The Yoast SEO plugin plays well with other widely used programs like Semrush and Elementor. The most recent version of Wincher incorporates tracking of Google Search ranks. Yoast SEO's free tier provides sufficient tools for most modest to medium-sized sites. Yoast SEO Premium offers additional features for areas with much content, costing only $99 per year.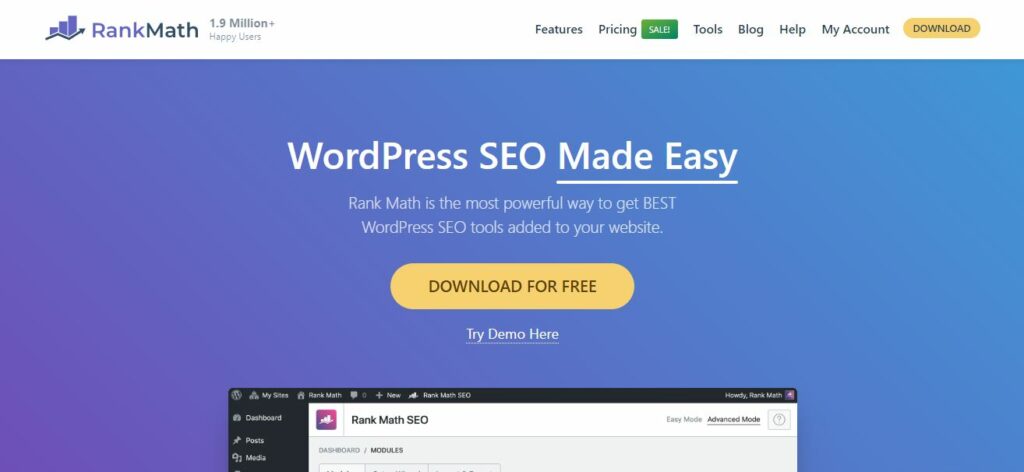 Rank Math is a powerful and flexible SEO tool that can be used on any kind of website. It lets users decide which features to activate, keeping the plugin small. Users can also adjust the SEO parameters to their own degree of challenge. Rank Math works nicely with Google Analytics and Google Search Console data. This WordPress add-on also thoroughly studies to spot flaws in your SEO strategy.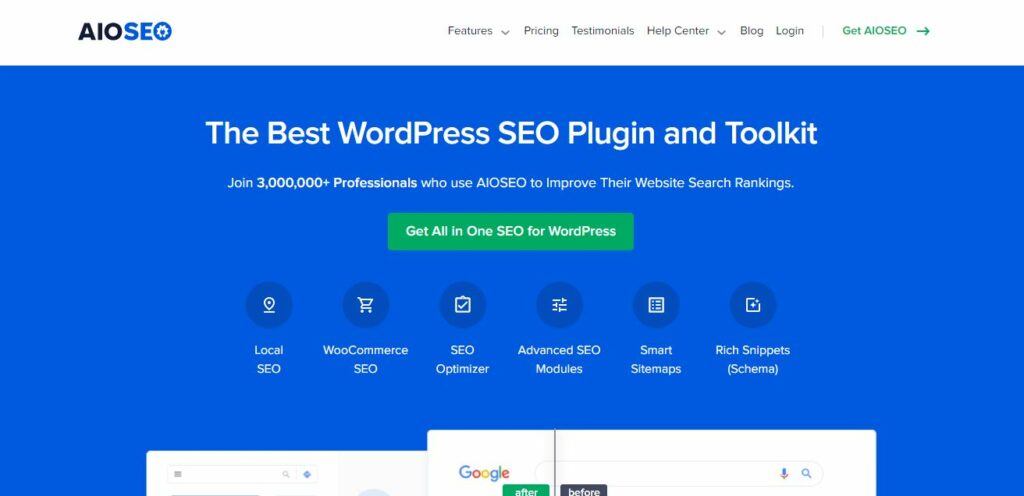 Regarding search engine optimization (SEO), All in One SEO (AIOSEO) is among the finest plugins available, particularly for commercial sites of any size. Those with little experience in SEO will find the UI and dashboard of AIOSEO easy to use.
Your site will be optimized as soon as you install this WordPress plugin and go through its six easy steps. When optimizing your product pages and other content, AIOSEO interacts seamlessly with webmaster tools and WooCommerce.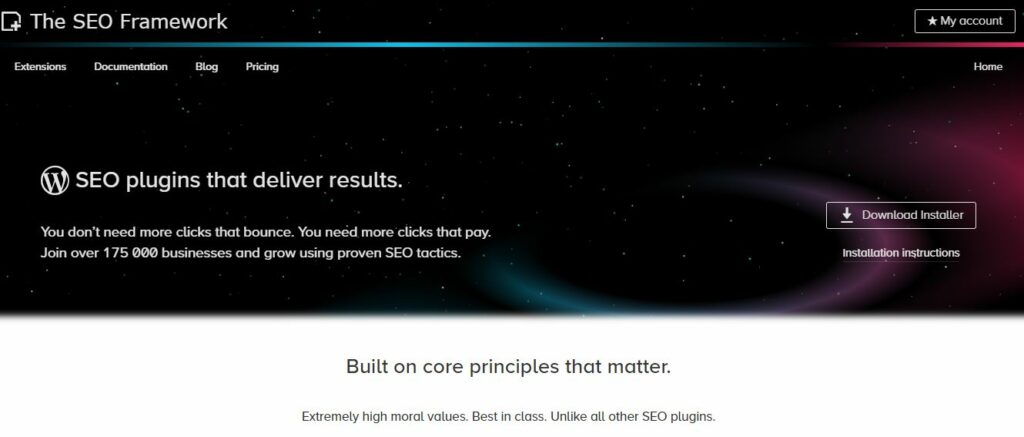 The SEO Framework is a simple add-on for often-updated blogs and media outlets. This WordPress SEO plugin has only the necessary functionality, so it's easy to use and won't burden your site.
The meta title and description are optimized using a score and color-coded recommendations from the plugin. This is the premier WordPress SEO plugin, with advanced options for indexing and site structure.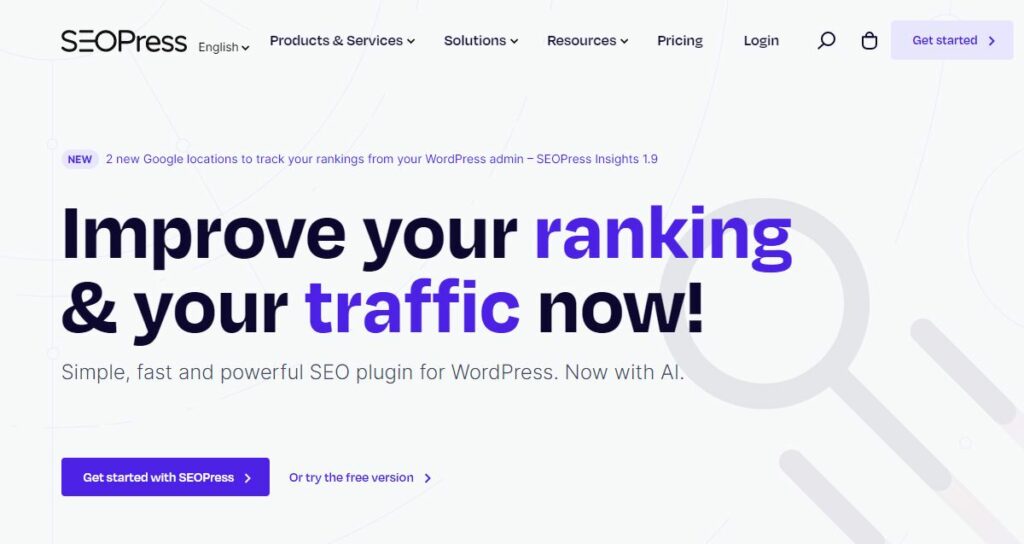 SEOPress is a flexible plugin used on personal and business sites. This WordPress SEO plugin easily handles redirects, broken links, and rich snippets. SEOPress allows you to control who may visit your WordPress site.
SEOPress works hand in glove with WooCommerce and Google Analytics, among other popular eCommerce, translation, performance, and analytics applications. The free edition has excellent fundamental capabilities, such as creating XML sitemaps and integrating social media, which are ideal for personal websites.
How to Choose the Right SEO Plugin for Your Website
Choosing the correct plugins from among the tens of thousands available might be challenging. We've provided seven guidelines to help you narrow down your options.
● Compile a Wants List
It would help if you thought about the features your website requires before settling on a WordPress plugin to provide them. If you install too many plugins, your site's size will increase, and its performance will suffer. Thus, it is advised that just the required solutions be implemented.
● Verify the Plugin Ratings
Reviews from actual users are a great source of impartial information on the best add-ons. You can read the advantages and negatives as stated by real users, as opposed to depending on promotional material from the developer. The official Plugin Repository makes it simple to locate feedback from users. Any of these resources may be accessed with a single click.
● Keep an eye out for compatibility and regular updates.
Protecting against vulnerabilities requires regularly updating plugins. Improvements in usability, security, and bug fixes are commonplace in such updates.
If you update WordPress infrequently, you may invite hackers to your site. Outdated plugins leave your site vulnerable to attack and might result in data loss or the complete shutdown of your business.
● Review the History of Updates
The changelog of the plugin details all of the program's modifications with each new release. This record is helpful when checking for security flaws and in-depth analyses of individual features. To see a plugin's history of updates, visit the plugin's Development page and scroll to the bottom.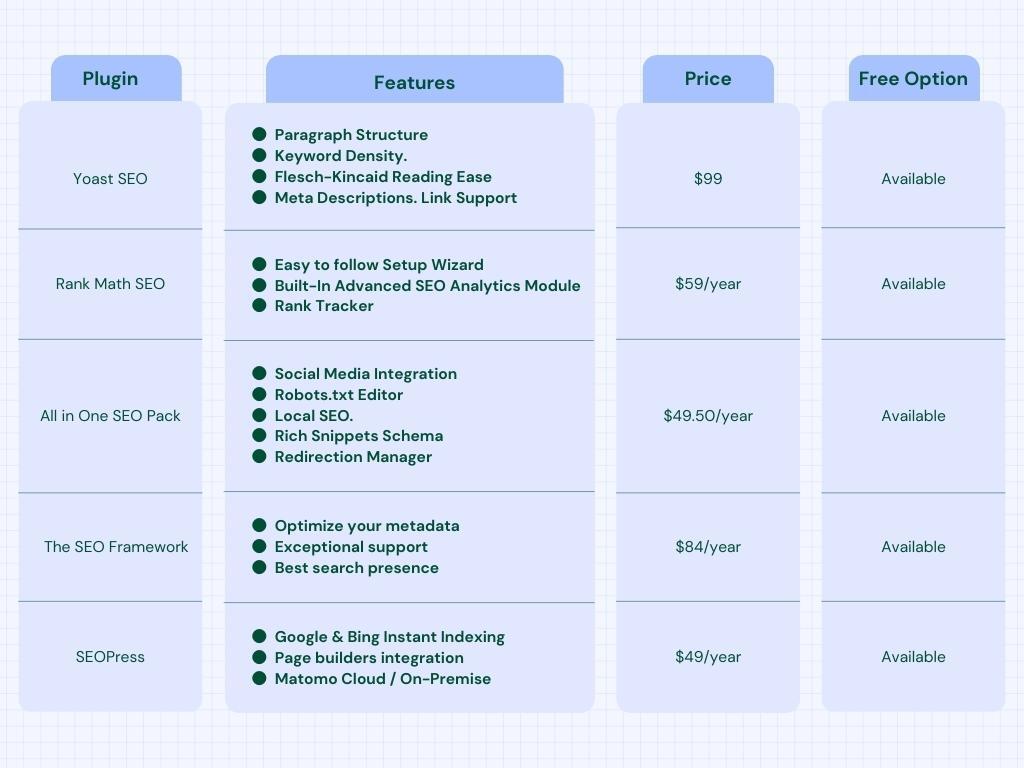 How to Use SEO Plugins for WordPress
The first step is to set up and run the SEO plugin. Plugins add a new SEO menu item to the WordPress administration bar when activated. Now that the plugin is installed and available, let's look at how to configure it to do its job effectively.
How can I install an SEO tool?
To add new pages or posts to your WordPress site:
1. Log in and choose the appropriate option from the left-hand menu.
2. Find the article or page whose SEO description you wish to modify and make the necessary changes.
3. Locate the Description field underneath the SEO plugin box to add a description.
Just clicking Publish or Update will commit to your revised SEO description.
Use plugins for guidance, but don't rely on them as if they were a silver bullet for SEO. It bears repeating that the quality of your material is paramount. This implies, first and foremost, that you need to produce a fantastic piece packed with helpful information that readers will like.
Importance of Regularly Monitoring and Updating SEO
Several companies attribute most of their website's organic traffic to their SEO campaigns. Search engine optimization should be a top concern when marketing your company online. Companies may use an SEO jumpstart plan to rise to the top of search engine rankings. Yet that is different from how you get to the top of Google. Even if you publish a well-optimized website, it won't immediately reach the top of search engine results pages (SERPs).
Even with a fantastic website and a foolproof SEO plan, your site will only succeed if you consistently update and promote it. Your website's traffic, sales, brand recognition, and organic traffic may all benefit from a digital marketing plan incorporating pay-per-click (PPC), email, and social media promotion with continuous SEO strategies.
We recommend prioritizing quality over quantity in your SEO efforts and consistency in your approach. It will only benefit your company if you make a beautiful website, optimize the content based on keyword lists you think are important, and connect to many other sites. Even worse, it might hurt your company. Search engines will demote your location in the results when they find it is affiliated with dubious sites.
Moreover, search engines will only demote your site if you consistently produce and distribute relevant, updated, inflammatory, and exciting material. You will be penalized by search engine crawlers if you misuse targeted keywords or attempt to utilize black hat SEO practices.
Hope now you know Why WordPress is the best for SEO. You may optimize your WordPress blog for search engines by utilizing the built-in tools or third-party plugins we've already covered. If you do this, search engines will likely rank your site highly, and more people will find your site naturally.
Search engine optimization has several potential advantages for organizations, including a more extensive audience reach and a higher quality of sales leads. Search engine optimization is a free method of gaining exposure for your organization online. If you want to reach your target audience in a way that is tailored to their needs, you need to have a firm grasp on the fundamentals of search engine optimization. You can boost company development and user engagement by learning and using SEO best practices.
Are you looking for a website that can help you increase your online visibility and attract more traffic to your website? Look no further than Pixelamatic! Our team of experienced web developers specializes in creating SEO friendly WordPress websites that will help you climb the search engine rankings.