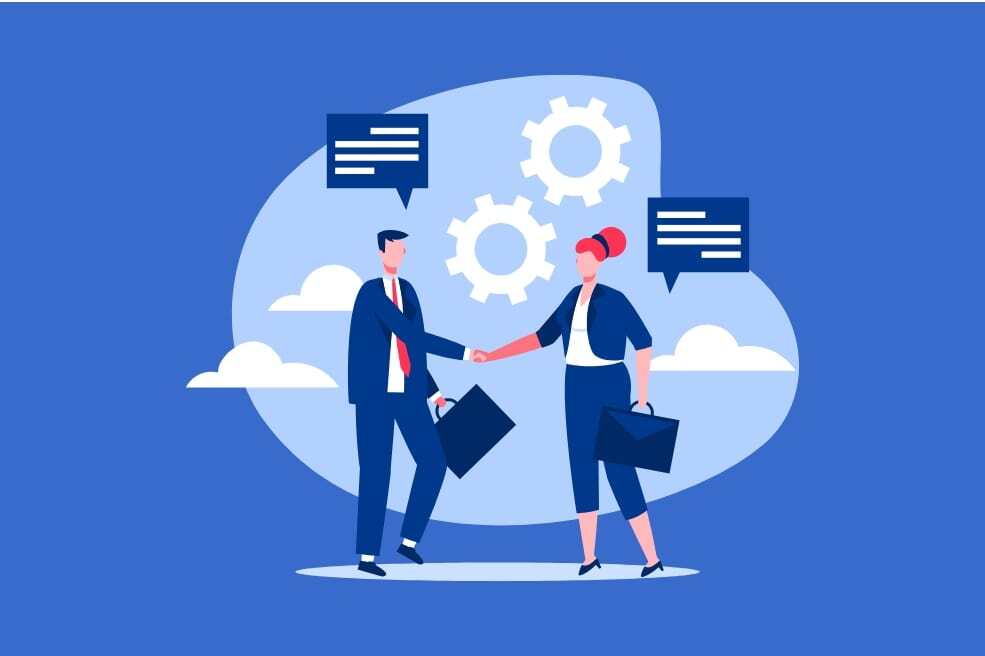 Table of Contents
"How much does an interior designer cost?"
"Where can I buy organic chicken near me?"
Our buying journeys almost always start with a search online.
It's no different for B2B buyers too. Inbound marketing is crucial for businesses to reach buyers who are looking for specific products. And sounds like it's cheaper too.
B2B inbound marketing tactics focus on attracting potential customers to a business by providing them with valuable content and resources that they are already searching for online. These tactics can include creating blog posts, e-books, videos, webinars, and social media posts that provide helpful information and build trust with potential customers.
HubSpot's 2022 report on marketing trends says that the cost of implementing inbound marketing is about 67% less than executing outbound marketing strategies. 
What is inbound marketing?
Inbound marketing is a long-term strategy focused on building a relationship with your customers and providing them with valuable content that helps them achieve their goals. This type of marketing is effective because it's tailored to the individual needs of your customers. It also uses technology to reach more people more effectively, which makes it more efficient and cost-effective than other forms of marketing.
Do you subscribe to company email newsletters? Do you regularly read blogs on your favorite product's company website? That's inbound marketing right there.
Inbound marketing follows a three-step model –
Attract potential customers who are looking for solutions
Engage with them to develop trust and understand their problem more deeply
Delight them by providing solutions and helping them decide what's best for them
All of this can be done through content and interactive experiences via different means – emails, white papers, blogs, etc.
It's different from outbound marketing, which is more about
Executing hard-nosed sales tactics to grab customers' eyeballs
Using traditional advertising methods like television or print ads, PR, etc.
Proactively seeking out customers and selling your product or service to them
Selling and less about cultivating relationships
Outbound marketing methods are more difficult to track and gather data, which makes it difficult to personalize.
This is where inbound marketing triumphs. Not only can you consistently improve your content based on data but you can also reach exactly those customers who are searching for products and services like yours.
Sounds like a dream, doesn't it? It almost is. Provided you do it right. 
B2B Inbound Marketing Tactics
To attract that ideal customer, you need to get your content right. And that means focusing on quality and personalization. Your content needs to answer the questions your future customer has and if you do it right consistently with the right B2B inbound marketing strategy you've got a new client.
Here are a few points to keep in mind when building your B2B inbound marketing strategy.
1. Define your goals
Are you focusing on more ROI this year? Or do you want to expand your presence? Your B2B inbound marketing strategy must be aligned with the objectives of the organization. And, ideally, those objectives must meet the SMART requirement – specific, measurable, achievable, relevant, and time-bound.
2. Understand your competition
Of course, you know who your competition is. But do you know how they go about getting their customers? Use tools like SEMrush or Ahrefs to dig into your competition's search rankings, analyze their link-building game, and find out their primary keywords.
3. Find your target audience
A meticulous campaign comes to naught if your message doesn't reach the right audience. Narrow down your target audience, create buyer personas, and make them as detailed as possible. 
4. Develop an effective marketing funnel
The marketing funnel is a crucial part of your B2B inbound marketing strategy. Create a customer-centric funnel by understanding your customer's journey, optimizing content, highlighting your product's USP, and ensuring a memorable post-purchase experience as well as support.
5. Make use of marketing automation
Finished designing your strategy? Execute it with automated tools that will save you much time, effort, and resources. For example, send auto-responders, send follow-up messages, set up offers to go out at the optimal time when your customers are online, etc.
Learn how marketing automation can help you streamline your processes, improve lead generation, and ultimately drive more business results. Don't miss out on this valuable information – read our blog post now!
6. Content Marketing
Create high-quality content that provides value to your target audience. This can include blog posts, e-books, case studies, and whitepapers. Make sure that your content is optimized for search engines so that it shows up in search results when potential customers are looking for information related to your product or service.
Looking to level up your content marketing game? Look no further! Check out our masterclasses to learn from the best in the business. Our masterclasses are designed to provide you with the tools, tips, and tricks you need to take your content marketing strategy to the next level. Don't miss out on this opportunity to upskill and grow your business.
Sign up now to access our exclusive masterclasses!
7. Utilize SEO to improve online visibility
SEO helps you find the keywords your potential customers are searching for. Once you have a list of the keywords, you need to optimize your content so that your customers find you.
8. Leverage social media
Social media is where you might find many of your customers. Know the platforms your customers are most likely on and start building relationships with engaging and informative posts.
9. Implement Search Engine Advertising
Search Engine Advertising or SEA, where you push paid ads within search results, is an effective way to be in front of your audience even as they are searching for solutions.
10. Integrate retargeting strategies
Retargeting focuses on visitors who have clicked on your content or ads but haven't converted. Yet. Pull them back and engage with them to reinforce your products, messaging, and offers to make them stay for good.
How to calculate ROI with B2B inbound marketing
Tracking the ROI for your B2B inbound marketing campaign should be based on a strong, data-driven foundation. It's challenging but with the right tools to give you reports and analytics, you should be able to determine your returns.
It's important to note that ROI is not a continuous process where you need to track the results over time. This will allow you to make adjustments to your campaign as needed and optimize it for maximum results.
Additionally, consider your KPIs such as website traffic, lead generation, lead nurturing, and conversion rate. By tracking these metrics, you can gain insight into which tactics are working and then adjust your B2B inbound marketing strategy accordingly.
Other factors to consider for arriving at accurate ROI would be:
Customer Acquisition Cost (CAC)
Cost of Goods Sold (COGS)
Average Customer Lifetime Value (ACLV)
Average Transaction Value (ATV)
Case Study: How Freshworks captured the Europe market with inbound marketing
In 2019, Freshworks, a Chennai-based company offering marketing, sales, and support products, planned to expand aggressively into Europe. They faced numerous challenges in this endeavour, including the number of countries, assessing scalability, the disparity in language, etc. It was too heterogenous and too diverse.
How could Freshworks align its business goals with a unified marketing strategy when the target audience was so unique?
Here's what they did.
Narrowed down the audience – Freshworks did not target all the countries in Europe. Instead, they built websites with the top 8 languages relevant to these countries.
Developed highly targeted search campaigns – paid search campaigns were restructured based on language patterns, user behavior, and other factors. Based on this strategy, they developed 2 separate campaigns for Germany, Austria, Switzerland, Benelux, Sweden, France, Spain, and Italy – one in English with mixed local language keywords and another in the local language.
Nurtured leads from social media – Freshworks used LinkedIn and YouTube ads to target the right industry and audience.
Increased visibility through reviews – gathered more reviews across platforms like TrustPilot, Capterra, Garner Networks, etc., that European buyers prefer.
At the end of this extensive exercise, Freshworks saw a 17% jump in its conversion rate, got 18% more new users, and cut back annual expenditure by 14%.
Conclusion
The pandemic made unpredictability a constant for businesses. Organizations now need to be more agile than ever with the increased focus on personalization and customer journeys. Customers are also increasingly becoming more digitally sophisticated adding to market complexity. And you need to be ready for that with ever-evolving inbound marketing strategies to match ever-evolving customers.
Unsure about developing your B2B inbound marketing strategy? Take the first step towards success by getting personalized advice from our experienced consultants. Click here to start now and set your business on the path to growth.