Our Recent WordPress Websites
Navigating the vast landscape of WordPress website themes and plugins can be confusing.
Research
We spend time understanding your business, your differentiating factors, market positioning vis-a-vis your competitors, research your industry and competitor websites. With the help of the Buyer Persona tool, we can visualize your audience and create a framework for building your entire digital strategy.
Information Architecture
With all the information gathered during the research stage, we now begin to sort and filter information into logical, customer-centric categories. Once the information is categorized, we establish the hierarchies and links between them. This exercise results in the website sitemap, navigation menus, footers and other UX driven recommendations for the website.
SEO
The information architecture of the website will highlight the major themes and topics of your website. This is a good starting point for doing the first step of SEO – Keyword Research. We use a combination of free and paid tools to dig out 1000's of keywords and identify the SEO opportunities. Simultaneously an SEO audit of the current website will reveal current issues to fix in the website redesign process.
Wireframes
We follow a 3-step design process with wireframes being the first design step. Wireframes are a low-cost, high impact activity as it helps you visualize the content hierarchy, page layouts and marketing funnels on the website. We also use wireframes as a content gathering tool with our customers. 
Design Guidelines
Before we start to design the website, we lay down the style guide for the site. The website style guide derives from your existing brand style guide but made web-friendly. Using this, we can establish design consistency across pages and also other digital properties.
Copywriting
Good copy sells. That's our fundamental belief. A website stripped away of its bells and whistle is primarily a communication tool. Our research-based, SEO optimized copy is focused on moving the audience one step closer to becoming a customer of yours.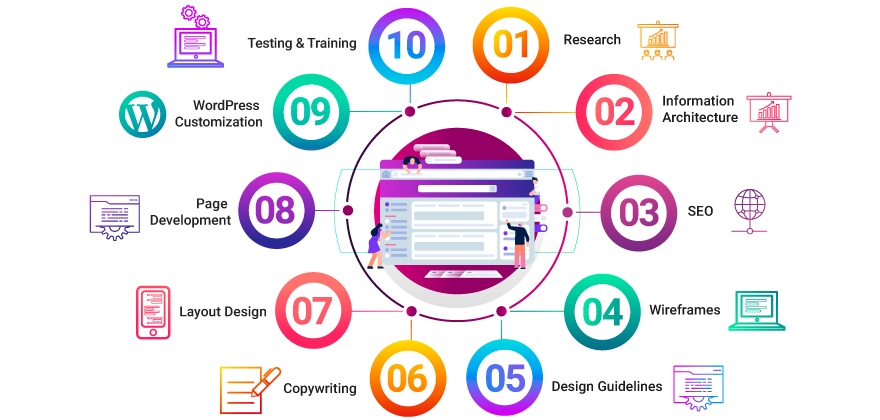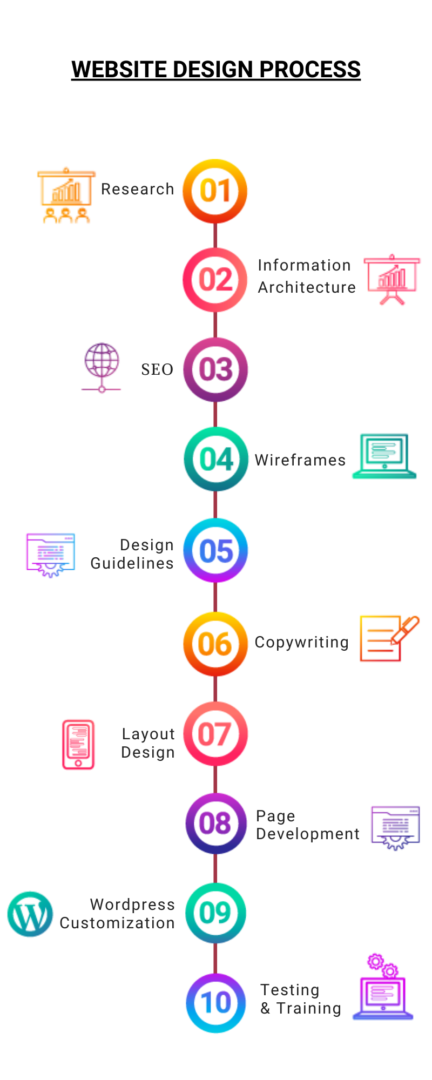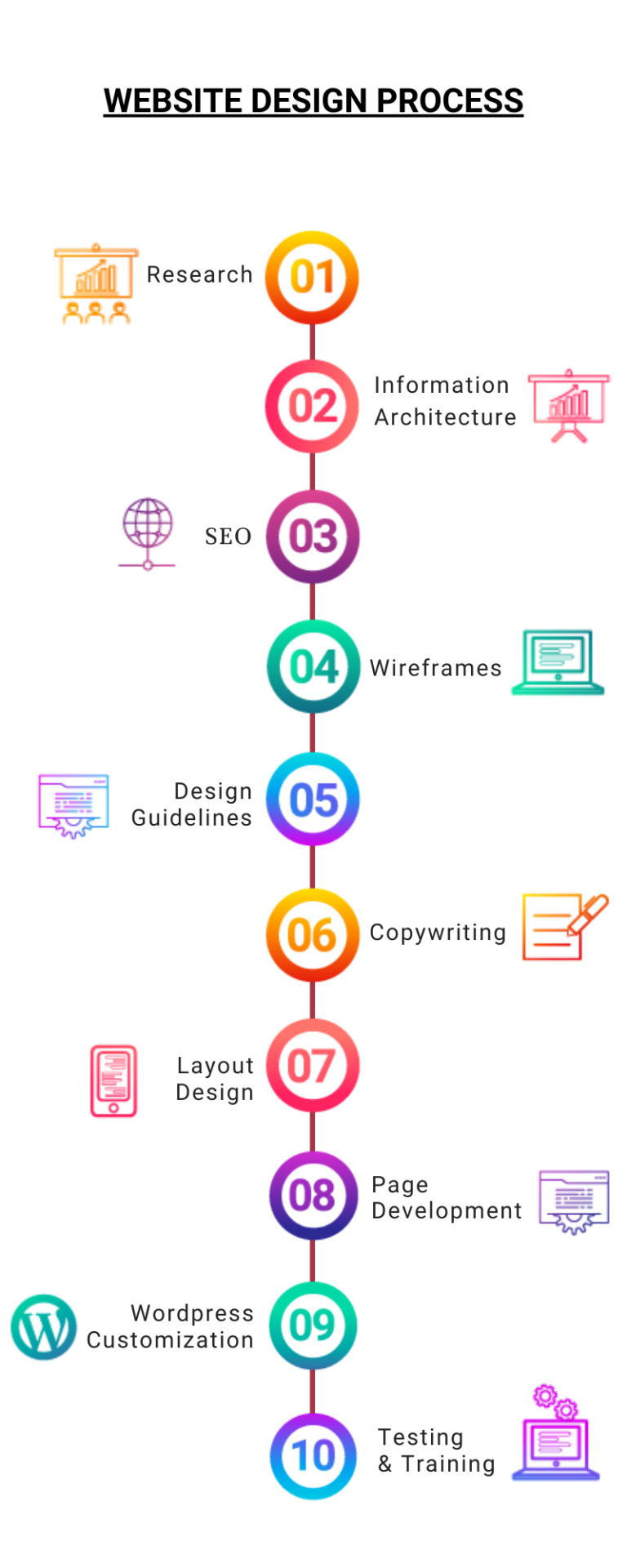 Layout Design
We follow a mobile-first design approach for most of our clients since the majority of their website traffic comes from mobile devices. This approach ensures our designs are naturally responsive and reduces development and maintenance effort down the line. While the style guide and wireframes drive aesthetics and structure, we incorporate best design practices that increase the chances of conversion and engagement on each page.
Performance-Optimized Web Pages
We develop mobile-friendly web pages that are also optimized to load fast. We integrate page builders like Divi, Gutenberg or Elementor during development. The page builder gives you the flexibility to manage large portions of the website pages yourself without having to use code. 
Marketing-friendly WordPress CMS
WordPress CMS is customized to help you publish and manage content easily using WordPress Custom Post Type features. Other WordPress customizations can include custom WordPress plugins, integrations with CRM, advanced search and e-commerce features. Our team will also configure essential marketing scripts and tools like Google Analytics, Google Search Console, Contact Forms and Email Marketing integration.
Handoff
We put the website through rigorous rounds of testing once the web development is complete. Our team checks for browser and device compatibility issues and fixes all the bugs before handing over the project. A one-hour training session is scheduled with your team to walk them through the website features. Your conversion-optimized WordPress website is now live. We offer ongoing development support or website maintenance if you want to continue growing your site.
At each step in the above website development process, we give you an opportunity for you to provide feedback. The entire project is tracked through a Project Management Tool with access to your team. The communication and discussions around specific tasks happen on the tool. We provide weekly status updates through our Project Manager and calls are scheduled if any issue needs further discussion. At each step in the above website development process, we give you an opportunity for you to provide feedback.
WordPress Website For Every Need
Our custom WordPress web development process means we design a website in WordPress for your specific business.

Business website
A corporate website that represents your business, expertise, team and the services in a clear and crisp way

Media
A news site or a website that publishes content for the digital age can only grow further with the right tools.

eLearning Website
Convert interested students into buying your courses with good design and marketing strategies on the website.

Ecommerce
Take your shop online with a flexible and customisable ecommerce store.

Non-profit
Communicating stories from the field through a visual and evocative way and helping drive emotions

Custom
WordPress is flexible enough to build a variety of solutions. What are your needs?


I was impressed with the ideas that the Pixelmattic team came up with in the context of leveraging WordPress to the fullest extent.Their knowledge of the platform was deep and they were able to make practical suggestions that were quickly implemented.


Karn Malhotra
Business Head , Exit Design

Systematic in the way you tackle problems and always engaging and a pleasure to work with. What I liked the most was the domain expertise and the feeling that you know all the things that can go right or wrong with WordPress. What I liked about your service was a very stable senior management and a visibly growing team and set of services.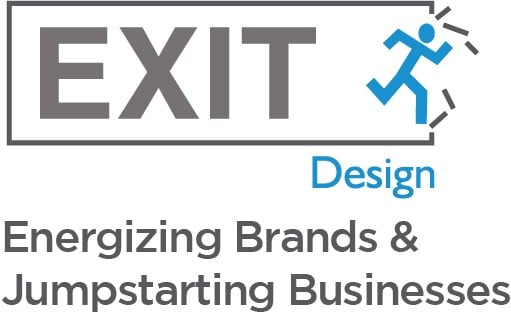 Kruthika Subramanyam
Creative and Content Strategist , Cleartrip

Whether you're someone who's familiar with WordPress, tech speak, and coding; or not – Sandeep and Karan speak your language. They're honestly wonderful to work with. With Pixelmattic coming onboard, changes and updates get pushed to production a lot faster, and time taken to deploy changes has reduced significantly.

How much does a WordPress Website Cost?
Get a Website Redesign Proposal from us.
It's hard to estimate the cost of a website without understanding the scope and depth of the website requirement. Does your project need copywriting and SEO services? Do you already have website designs ready? Or do you have custom WordPress functionality requirements on your website?
1. 30-minutes Digital Consultation
Set up a time to talk to our website project consultant, and we'll spend 30 minutes understanding your project requirements.
2. Project Scope Document
Share the project scope document if you've prepared one. If not you can commission us to create a detailed project requirements document.
3. Project Estimate
With all the requirements made available to us, we can now accurately estimate the project cost and timelines. If the requirements are fluid, we'll suggest our support plans.
4. Project Proposal
If you approve the project estimate, we can then prepare a formal project proposal and contract with all the terms clearly laid out. It will highlight the scope of work, out of scope items, project timelines, pages to be developed, WordPress plugins to be configured, our overall approach to the project and payment schedule.
5. Project Kick-Off
After the legal formalities and advance payment is completed, we schedule a kick-off call with you. Access to file sharing tool, project management software access and other collaboration tools are set up.
6. Project Reviews
Weekly project status updates, frequent updates through the project management software and scheduled calls are planned with you in advance.
When your business does exceedingly well, it reflects on us. That's why at Pixelmattic WordPress Agency, we apply an absurd amount of care and attention to detail in creating a site experience that is high on strategy, design and development.