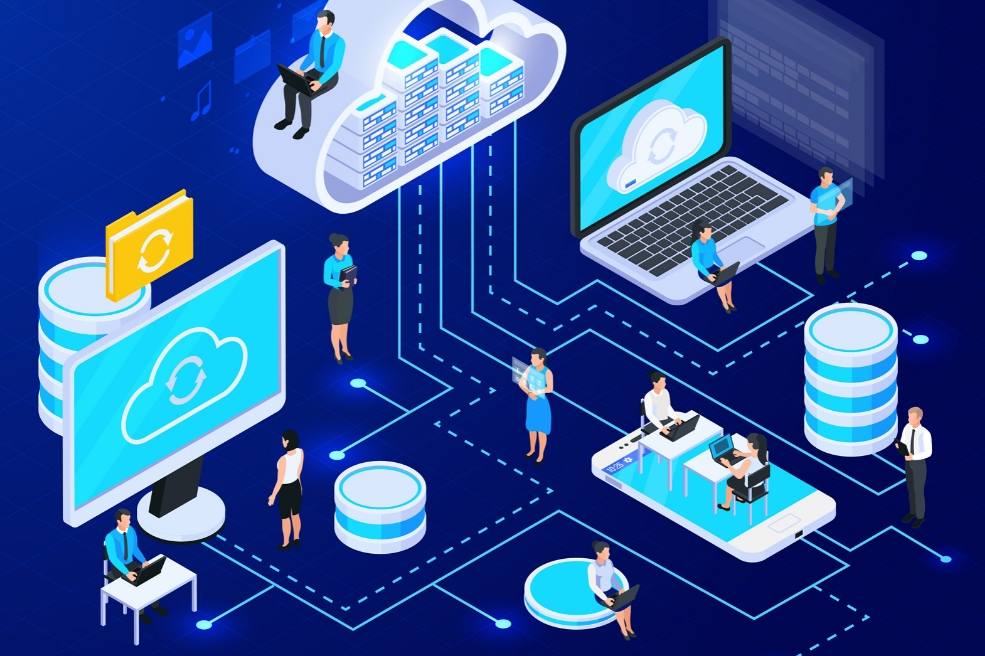 Watch a quick video summary of our Kinsta review before checking out the post.
In recent years we have observed a rise in managed WordPress hosting services. Why choose a jack of all trades, when there are specialists. And for marketing-driven high-traffic websites, it makes perfect sense to choose a managed WordPress hosting service.
In this website hosting review, we will discuss Kinsta. We have closely tracked their services and growth, and it has come a really long way in this period.
If you are on the search for good WordPress hosting, then this Kinsta review and guide is for you!
While they have plenty of good reviews on the web, this Kinsta review is from the perspective of an agency. We have used their managed hosting service for close to 5 years, for websites small and big, with traffic starting from 25,000 and going beyond 2 million.
We will be covering the following topics in this Kinsta review:
Kinsta Pricing
Kinsta Signup Experience
Kinsta Onboarding/Setup Process
Kinsta Dashboard & User Interface
Kinsta Migration Service
Kinsta Support
You can look at all the features that Kinsta has to offer here:
Kinsta Pricing Review:
Let's start with one of the most critical decision criteria for customers of a hosting service.
The pricing starts from 35$/mo, which can come down to 30$/mo if paid annually. Some of our clients are price-sensitive given our geographic location( India), and 30$/mo for a service seems quite steep. 
Given our experience with WordPress and hosting services, we know the amount is well justified for the peace of mind and reliability their web hosting service offers. Going for a cheaper service just because of the price is one of the worst mistakes you would make for your site. Reliability will trump all costs in the long run.
Full disclosure: Pixelmattic site runs on Kinsta, and we have good reasons for it to be! We are also affiliate partners, but as you will see from this review, we share our unbiased opinion and experience of the Kinsta managed hosting experience.
The way I justify the cost is by comparing it to an unmanaged VPS. An unmanaged VPS needs a technical person or someone from your team to spend time regularly in managing the server. So unless your cost for a technical person to manage your server is less than $30/month, choose a managed hosting provider like Kinsta.
The Kinsta hosting plans start at $35 and go up to $1650 per month.

Kinsta Signup Experience:
The signup process is pretty straight forward and standard like most services. Nothing unusual here. Select your plan, input details, make the payment, and your account is ready to be set up within minutes. Overall experience for a new user is smooth.
We, however, ran into a slight issue since we already had our email address registered in their system. The signup form was not allowing us to register from the Kinsta pricing page.
We had to login instead to our account associated with a client's website, go to account settings and set up a new company. And we were able to sign up from there without any issues.
Ideally, the "Create a new company" flow should be more visible and easily accessible inside the dashboard.
And if I'm trying to purchase a new plan as a website visitor, who has an account but not logged in yet, the system should redirect me to the login option. Once logged in, you would expect a message that asks whether you want to upgrade your current plan or create a new company first.
We informed the friendly folks at Kinsta about this, and they promised to look into it.
Figure 1. Add a new company under Account settings
Figure 2. Create a new company form
Kinsta Onboarding and Set up Review
1. Dashboard
Upon logging in, you are greeted with a very modern and vibrant interface. The panel gives you a quick overview of the visits of all your sites (in case you have more than one), resources usage stats, data transfer, CDN usage etc.
Since Kinsta pricing plans are based on the number of visits, the site installs and storage space. It's good to have a check on these numbers to ensure you're not overshooting your resource limits.
What happens when you overshoot your resource limits? Does my site go down until I clear my dues?
NO! in case you do exceed your quotas for any of the resources you get charged based on the overage which gets billed to you monthly. This is particularly useful during marketing promotions or festive seasons when you expect a temporary spike in traffic. You don't need to upgrade the plan. Only when you are consistently overshooting the usage limits, it might be better (and cheaper) for you to upgrade.
2. Sites
To add a new website, you need to click on Add site and enter all the details. You can install a new setup on a fresh environment or copy from an existing environment. This will depend on how you are migrating your site to Kinsta.
Read more about migrations below.
Once the site is added, it will show up in the list under Sites.
Once you click on the site name, it takes you to the page with all the details related to this site.
Everything you need from site IP address( for DNS) to SFTP/SSH to Database access can be found under the "Info" tab. Other tabs are Domains, Backups, Tools, Redirects, WordPress plugins, IP Deny, Kinsta CDN, and Logs.
Domains: This section has information about the primary /secondary domain of your site which is pointing to kinsta along with the temp url which kinsta provides by default.
Backups: Here you can access your daily backups taken automatically by kinsta or take a manual backup. You can restore a particular backup to your live or staging environment which usually takes a few mins. A very handy and easy to use tool.
Tools: This area has some interesting features for your sites. You can setup your SSL, enable/disable cache, change php engine along with other specific tools you may need for your setup.
Redirects: If you made a new site and along the way made changes to your url structure of your site, it's important that you redirect some of the old urls to a new page on the site. This area can help you do that without having to add a plugin to your wordpress setup. This way one can avoid adding an extra plugin and the redirects will happen at a server level as well.
WordPress plugins: Quick overview of all the plugins Installed on your site.
IP Deny: This is useful if you are dealing with a bot, spammer, or hacker constantly hitting your site and hogging bandwidth/resources. All you need is the IP address to block them accessing your site.
Kinsta CDN; You can enable/disable Kinsta CDN from here.
Logs: Access to your site and server logs here.
For us, Info, Backup and Tools tab would probably be the most frequently used tabs.
Tools tab assists us with essential operations like
Clearing Site cache
Restarting Php engine
Enable/Disable WP debugging
Search and Replace(when moving to a new domain or migrating for the first time)
Enable/Disable Password protection
Add/Modify SSL Certificate
Selecting the PHP version.
Side Note: Kinsta supports PHP 7.4, which offers excellent improvements over the prev PHP versions.
Tip: Most popular managed hosting providers also provide free SSL certificate. Don't fall into the trap of buying SSL certificates unless you have specific domain requirements from your organization.
3. Kinsta DNS
In case you are moving your DNS to Kinsta you can use this area to add your domain and get the name server settings and Add/Edit DNS records. Do keep in mind that Kinsta hosting doesn't come with Email hosting like other shared hostings. So move your DNS only if you need to. Ideally, we recommend using a service like Cloudflare to manage your DNS and directly pointing you're A name record to Kinsta.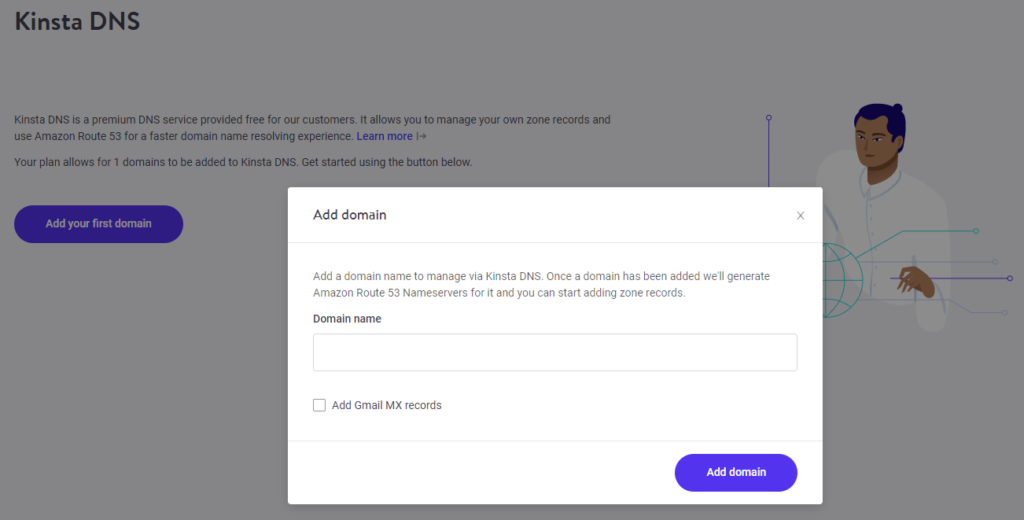 4. Kinsta Dashboard Analytics
This is the most useful section on the dashboard. You can get stats with graphs and charts about your website for the following:
Visits: Traffic your site is getting in a given period of time.
Disk space utilization: The amount of disk space your site is currently using.
Bandwidth consumed : Kinsta has a cap on the amount of bandwidth your site uses depending on the plan you chose. Here you can monitor how much is being used in a given time period.
PHP throughput: You can monitor the load on your site's PHP engine here.
PHP+MySQL response time: The amount of time taken by PHP and MySQL queries
AJAX usage: AJAX is a client-side script that talks to and fro to a server/database without needing a complete page refresh( think lazy load, or dynamic content refreshes on a page). This section helps analyse the overall usage and the impact it might be having on the server. It's common in wordpress for some plugins to spike load on admin-ajax.php file which slows down the site.
More in depth information on Kinsta Analytics here
These are essential tools when trying to diagnose a problem with your site's performance. You can also check cache usage stats and see the origin of your traffic by locations and IP's.
5. Kinsta User Management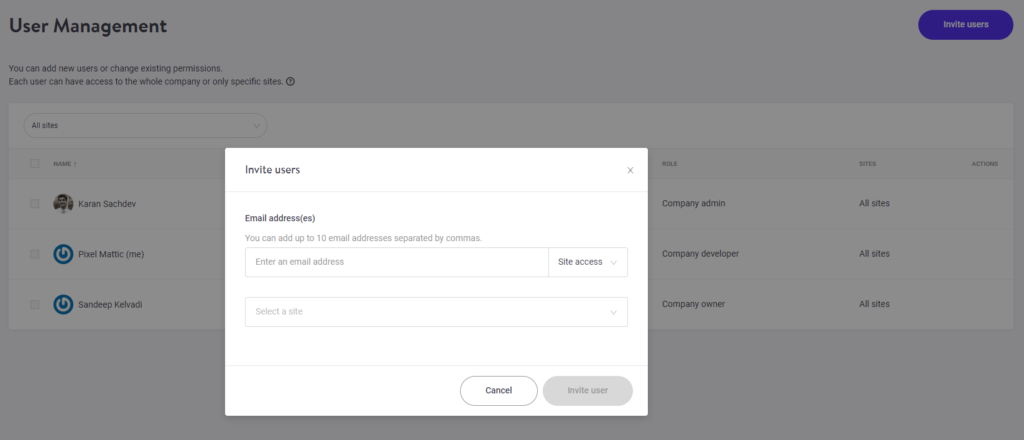 This section is useful to give developers/managers access to the hosting backend. This way, you can provide separate admin/developers accounts without having to share the credentials for the main account. This is helpful when you engage with an agency or developer and would not like to share account details.
6. Kinsta Account Activity Log
The Activity Log section is useful to track all actions being performed from the hosting backend. E.g. If you took a backup of the site and restored your website to an older version the log would sit in this location. You can check the timestamp against each action and the status as well.
7. Kinsta Knowledge Base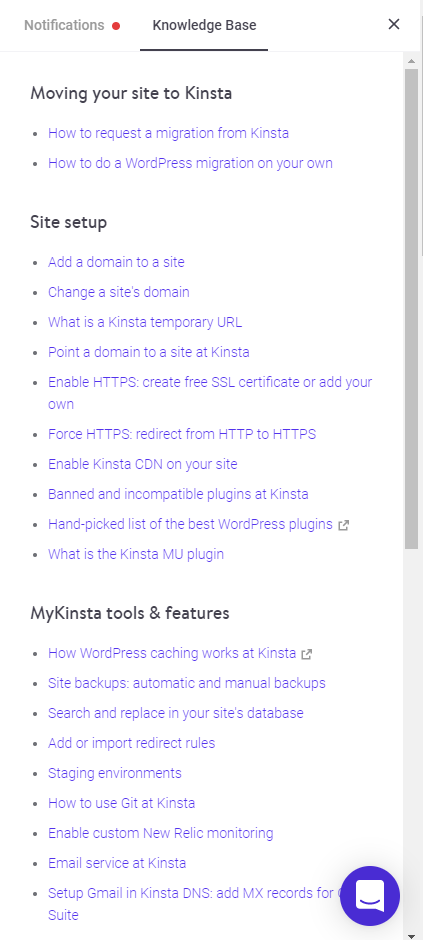 When it comes to quality content, Kinsta is clearly doing it right! From migrations to SSL to Support questions, any question you have already may have a post about it!
Tip: Do check out their blogs even if you are not hosted on Kinsta to learn about WordPress.
Kinsta Migration Review
Being an agency, we do frequent migrations to various hosts, so we end up doing migrations ourselves.
Kinsta has well-written documentation on how to migrate the site on your own in case you are new to site migrations. If you do your own migration(s), there are times when you run into unexpected issues depending on the site. This is when Kinsta support is critical.
Read more about support below. All in all, the process is straight forward, the overall experience is rather smooth, considering we have access to all the tools and documentation to get it right.
Kinsta keeps running regular offers on free migrations in case you are migrating from particular hosting service. You can check the Kinsta plan page or talk to their support to check if the offer is available
Kinsta Performance
Let's talk about one of the most critical aspects of any hosting, which is performance.
Our Clients obsess over performance. Of course, there are various factors which tend to affect the performance of a given site. It could depend on the number of plugins, the size of the plugins, how you have written code, database queries, server response etc.
Here we are going to look at server performance in terms of TTFB, caching, data centres and PHP engine in use.
TTFB:
TTFB (Time To First Byte) is a measure of how long a browser has to wait to receive its first byte of data from the server. In short, the longer it takes, the slower your site will be. Lower TTFB the better.
TTFB is a necessary metric for any site speed measuring tool, so if you are looking at the performance, you will definitely hear about TTFB.
At our agency, we have our client sites on multiple hosting platforms. We've seen some of the lowest TTFB values on Kinsta platform.
Caching:
Kinsta takes care of the cache, so you don't need to worry about it. You can read more here. No need to find the best caching plugin etc. for your WordPress site. There is no setup needed as it's automatically enabled.
Our experience has been smooth, but you might want to explore performance plugins like WPRocket, which are compatible with Kinsta. WPRocket can help you boost your performance scores and other performance metrics.
PHP:
Kinsta offers PHP 7.4, which affords much better performance compared to older versions. PHP 7.4 is over 3X times faster than PHP 5.6. It's important to let your site take advantage of the latest PHP for its improved performance and security benefits.
This is something most host offers nowadays, but we felt Kinsta was one of the first to provide 7.4 to its customers which is a good sign.
DATA CENTERS
Depending on your business and where your primary source of users are you would want to choose a data centre. e.g. Our primary target audience seems to come from India, and hence we decided Mumbai as our Datacenter location. This ensures lower TTFB and the site loads faster even without additional work.
Here is the list of Kinsta's data centers:
Council Bluffs, Iowa, USA (us-central1)
St. Ghislain, Belgium (europe-west1)
Changhua County, Taiwan (asia-east1)
Sydney, Australia (australia-southeast1)
The Dalles, Oregon, USA (us-west1)
Salt Lake City, USA (us-west3)
Ashburn, Virginia, USA (us-east4)
Moncks Corner, South Carolina, USA (us-east1)
São Paulo, Brazil (southamerica-east1)
London, UK (europe-west2)
Frankfurt, Germany (europe-west3)
Jurong West, Singapore (asia-southeast1)
Tokyo, Japan (asia-northeast1)
Mumbai, India (asia-south1)
Montréal, Canada (northamerica-northeast1)
Eemshaven, Netherlands (europe-west4)
Hamina, Finland (europe-north1)
Los Angeles, California (us-west2)
Hong Kong (asia-east2)
Zürich, Switzerland (europe-west6)
Osaka, Japan (asia-northeast2)
Seoul, South Korea (asia-northeast3)
Las Vegas, Nevada, USA (us-west4)
Not many managed hosting providers have datacenters in India, and we find this to be a big plus for our clients based out of India.
Kinsta CDN
Kinsta offers free CDN, and the amount of bandwidth available depends on the plan you signed up for. Once the free bandwidth is over, you only pay an overage fee. So in case your site sees a sudden spike in traffic and utilizes more bandwidth than usual, it will handle the load.
The process to enable CDN is straightforward from the dashboard but be careful and test your site properly after enabling CDN. I have noticed some of our sites break with the CDN enabled and we had to take the Kinsta support's help to sort it out.
The main issue I believe is that since you are enabling this in a live environment, a problem with the CDN could result in potential downtime.
You might want to schedule this during the off-peak time. Also, inform your users of the same and maybe put it behind an under-construction page.
This is one area where we have experienced the ride to be a bit bumpy, but when it works, it works well.
Support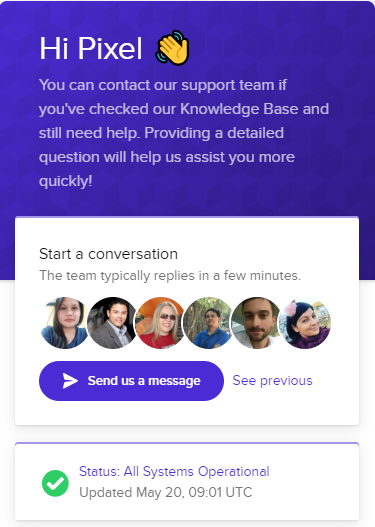 This Kinsta review wouldn't be complete if we didn't tell you about their support. It has been consistently good.
Kinsta offers round the clock chat support right from within the dashboard and in our experience, the wait times are less than 5 mins.
Based on all our interactions with their support team, on various issues like migrations, CDN and troubleshooting slow site performance, their support team has been fantastic
The Kinsta support team is made up of experienced WordPress professionals, and they're always lovely to chat with. Our rating would be 5/5 for this!
Final word on the Kinsta Review
Overall Kinsta offers a reliable service which is hard to ignore when you compare with other managed WordPress hosting services. The interface is clean and easy to use, the performance is excellent, the support is great!
We hope you found this Kinsta review useful. We offer dedicated WordPress development support for marketing teams and website owners that are looking to scale their efforts. See an example of it below and read the case study to find out more.
How we managed a high traffic WordPress website with the help of Kinsta managed WordPress hosting