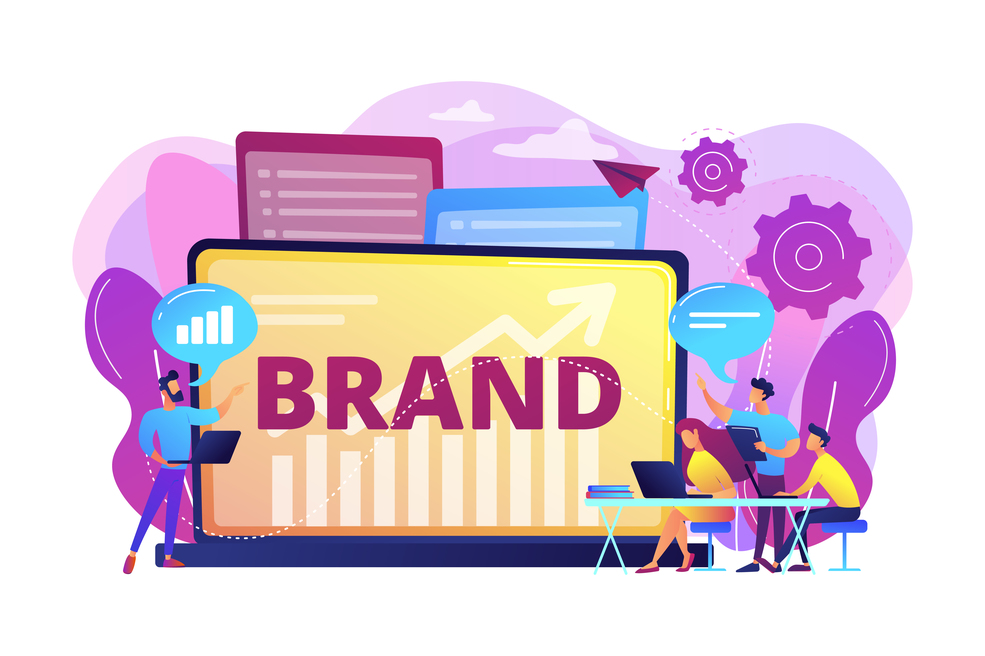 Brands are not built overnight. It takes time and effort to build a good brand. More importantly, it needs a thorough brand strategy. Investing in a brand strategy is the first step towards long term growth.
What is Brand Strategy?
A brand strategy is an intensive plan backed by research and insights. Putting together a brand strategy can be a time-consuming process. However, this is a long term investment for business and worth the effort. While every organization is different, there are some essential elements to a brand strategy. Here we will go through the crucial elements of a brand strategy.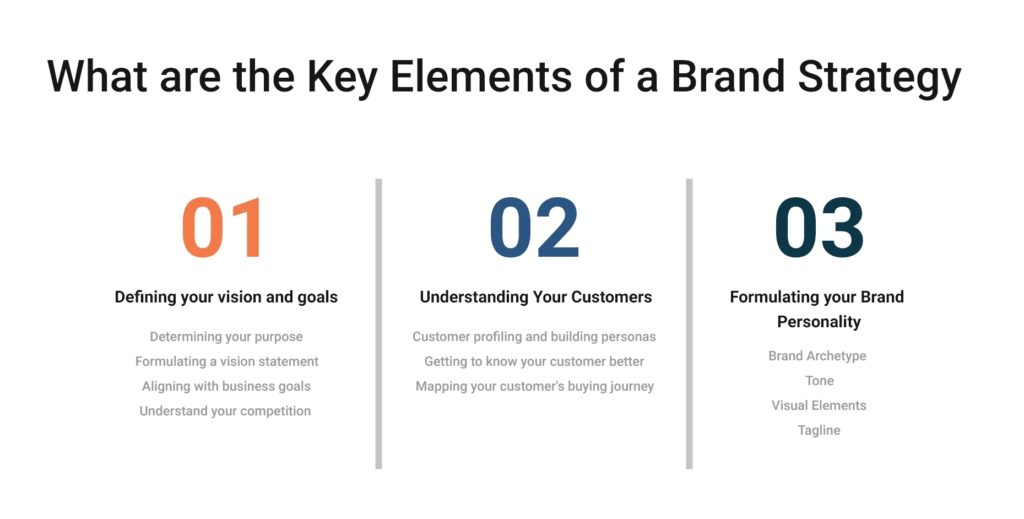 What are the Key Elements of a Brand Strategy?
Step 1: Defining your vision and goals
The first step is to ensure you know what your business vision and goals are. These will serve as the foundation for your branding strategy framework.
Determining your purpose
Put down in writing what drove you to set up your business. Some questions to ask yourself when defining your purpose:
Question 1: Why did you set up your business?
For example, you saw an unresolved pain point, or you saw potential in new technology.
Question 2: What benefit do you want to offer your clients?
Tip: Answer this from a customer perspective rather than your product's features. For example, you wanted to help customers save time with a productivity tool. Rather than you want to offer your client a time tracker built on a particular technology.
2. Formulating a vision statement
Once you have defined what drives your business, the next step is to look to the future. Crafting a vision statement is another critical element of a brand strategy.
Some questions to ask yourself when deciding your vision statement:
Question 1: What does long term success mean for your business?
Questions 2: Where do you see your organization in five years, ten years and fifteen years?
Keep your vision statement simple. Your vision statement is purely long term goals. It will just need to define what you want to achieve. Not the how. This statement will offer clarity when making critical decisions, including brand strategy.
3. Aligning with business goals
A common mistake is to create your brand strategy and business strategy in silos. This approach can be a problem when it comes to executing strategies. A good brand strategy can bring good brand equity. Which is how much customers are willing to pay for your brand. This another key reason why business and brand strategy needs to be in sync.
4. Understand your competition
Study your competitors to understand how you can make your brand stand out.
Your competitors include:
Other businesses who offer the same or similar products
A substitute for your product or service
A workaround for the pain point/problem customers are looking to solve
Analyze these to understand what you have that your competition does not? In other words – your unique selling proposition. This should be at the core of your branding messages. If your USP is not easily replicable, it makes it even more valuable. Also, study what your competition has that you do not have. Spend time studying how they brand their products.
Step 2: Understanding Your Customers
Another critical element of a brand strategy is customer insights. Getting your customers to trust and relate to your brand is essential. The first step to achieving this understanding is your customers.
Customer profiling and building personas
Describe your ideal customer or customer groups with the following aspects. Note, not all elements will apply to all businesses.
Demographics: Age, gender, marital status, income bracket etc.
Psychographics: Traits such as food habits, buying habits, daily activities etc.
It is important to note that you can have multiple personas. Don't hesitate to add a lot of detail. This step will only make your brand strategy stronger.
You can also categorize them as primary and secondary customers. Breaking them into multiple categories is essential when running campaigns as the same messaging will not work for all groups.
2. Getting to know your customer better
The next step is getting to know your customers better. Getting insights from them helps refine your brand strategy. Some of the ways to collect customer insights include:
Surveys and interviews
Industry reports
Inputs from client-facing team members
Social media listening
Some of the vital information you should gather from your research can be:
Purchase decisions factors
Brand preferences
Brand loyalty
Current perception of the brand
Current perception of your competition
3. Mapping your customer's buying journey
A customer buying journey is seldom linear. Understanding the various stages of a customer journey helps plan campaigns better.
Mapping a customer journey includes tracking the first point to contact right up to purchase. A good starting point is identifying all possible first touchpoints, for example, website, social media etc. Draw out possible user journeys using historical data until purchase or drop off. Customer purchase journeys are usually quite different for each persona group.
Step 3: Formulating your Brand Personality
Once you have all the information from the previous exercises, the next step is to create your brand personality.
Imagine your brand as a person; now describe the person.
For example, luxury brands like Rolex can be described as sophisticated. Whereas a brand like RedBull is often associated with explorers. Try to add as much detail as possible. This level of detailing will help in deciding your marketing messaging.
For example, Volvo's brand personality is seen as a family man who is responsible and trustworthy.
Now moving on to how you are going to bring this personality to life.
a. Brand Archetype
Here are some popular brand archetypes. Evaluate which of these is closest to your brand:
The hero
The caregiver
The magician
The sage
The creator
The ruler
The explorer
b. Tone
Decide on the tone you want to use in all your marketing communication. If your brand personality was talking, how would they sound?
While there are numerous tones, here are some of the most common ones:
c. Visual Elements
Humans are naturally drawn to images before words. So this is possibly the most crucial element of your brand personality. The visual elements associated with your brand are not just the font and logos. It is much more. The following are some key visual elements of a brand strategy.
Colors – The color palette you choose is a reflection of your brand personality. Serious brands choose fewer colors and mostly muted colors. Google, for example, uses all primary colors, which reflects their image of being solid but fun.
Types of images: Create a unique style of images you will use. This step involves elements such as the style of photography to the actual subjects. Everybody remembers the United Colors of Benetton ads years later. Their images were not only unique but literally reflective of their brand name.
Mascots: A mascot is a great way of representing the personality you want for your brand. In addition, they bring a solid visual recall for your brand. The Pillsbury doughboy and the Michelin man are some examples of successful mascots.
Brand Ambassadors – During the exercise of imaging your brand as a person, you might have visualized a celebrity. Getting them on board is an excellent way of humanizing your brand personality. It can also work in highlighting what your brand stands for. For example, L'Oreal chooses women of different races and age groups as their brand ambassadors. This strategy highlights the brand's commitment to inclusivity.
d. Tagline
Taglines need to be short, catchy with a key message.
It could be your value proposition. Instead of saying "24-hour banking", Citibank's tagline is "The city never sleeps". Or it could be how you want your customers to feel. For example, Coca Cola's 'Open Happiness'.
Why do Some Brand Strategies fail?
Despite putting together a good brand strategy, some brands still fail. Here are some key points to avoid when creating your brand strategy.
Focussing only on short term plans – Brand strategies take time to show results. Concentrating only on short-term plans will not deliver sustainable results.
Inconsistency in branding exercises – With so many brands and so much "noise," branding consistency is vital. There are so many avenues to reach consumers now. Keeping your messaging consistent across platforms and campaigns is essential.
Rearview Mirror Syndrome – Focussing too much on past performance. No matter how big or successful your brand is, periodic reviews are a must. Brand strategies need to be tweaked and updated to keep up with the times.
Successful Brand Strategies
While brand strategies will vary from business to business, here are a few types of brand strategies that have worked well. You can take inspiration from them for your framework.
The Brand Ladder
With this strategy, a brand gradually moves up from showcasing one dimension to another. The dimensions are attributes, functional benefits, emotional benefits, and finally, social benefits. While this is the order of dimensions, you can skip either the first or last one, depending on your business.
Example: Bounce is a brand of dryer sheets owned by P&G. They started by promoting their functional benefits – wrinkle-free clothes. A few years after, they gradually laddered up their branding message – attractive clothes. And then again, a few years later, they laddered further up with the branding – Feeling pretty. They started with a functional message and gradually moved to higher-order benefits
2. No Brand – Branding
This strategy might feel the antithesis of branding. But it's not. The "less is more" concept can make a brand stand out. This branding strategy usually involves a very simple or sometimes no logo. The design elements are purely functional. No Brand – branding usually works well for consumer goods.
Example: Muji is a Japanese brand that makes a range of consumer goods. Their no brand – brand strategy is reflective of the company's policy of minimalism. This policy can also be seen in their product packaging. Muji's brand strategy was to portray being functional and value for money. Interestingly the company does little advertising. They focus on word-of-mouth marketing and in-house events.
3. Attitude Branding
This form of branding focuses on creating a feeling or an attitude in the minds of their consumers. Most often, this attitude has no direct correlation to the actual product or service. However, that does not matter. This is a feeling you want your customers to associate with your brand.
Example – Nike has to be the biggest success story of attitude branding. It has been more than 30 years since the iconic "Just do it" tagline came out. Yet, it continues to be one of the most popular taglines worldwide. With this messaging, Nike makes its consumers feel like go-getters who break barriers.
4. Lifestyle Branding
With lifestyle branding, messages are about emotions and a way of living. It showcases an aspirational lifestyle rather than the product. The message here is if you are this type of person or want to be this person, our product is for you.
Example: Apple's branding strategy has always stood out in the crowd. One of their most common branding strategies is a focus on lifestyle. If you look at their social media pages, there are hardly any images of their actual products. Instead, they choose pictures of people living their dreams – traveling or pursuing a passion.
5.User Generated Ideas for Branding
As the name suggests, this involves taking inputs from your customer and using them for branding. This strategy may not work for all brands, but it is a fantastic way of showing consumers they matter.
Example: Nestle's instant Maggi Noodles has an iconic status in India. Consumers usually add their twists to this popular snack. Nestle soon realized this was a great opportunity to strengthen its brand further. They invited consumers to send their recipes which now feature on their products. The packaging includes the actual names of the contributors adding a personal touch. This makes consumers feel like the brand cares about them. Other brands that have successfully used consumer inputs are GoPro and Lays chips.
6. Championing a Cause
Several large brands choose to support a social cause. These causes could have little or nothing to do with the brand. However, choosing to help solve a global issue humanizes the brand. It can make consumers look at the brand in a more positive light.
Example : Coca-Cola champions several social causes globally. To showcase this, they upgraded their website to a digital storybook. The website highlights the work done by the company around the world. The causes range from tackling racism to COVID-19 help.
Check out their website here.
7. Thought Leadership
Branding works differently for B2B brands. Information-driven decisions drive business purchases. Hence, this needs to be at the core of a branding strategy framework. By showcasing your expertise in this industry, you build trust. This is a critical factor for high purchase decisions.
Example – Hubspot has established itself as a thought leader in the area of modern marketing. Their blog is a treasure trove of information for marketers worldwide. By offering quality content for free, they have established strong brand recall among marketers – their potential customers.
8. Create a Whole New Category
Brands that have a strong USP can leverage that to create a whole new category. Instead of pegging them as a different type in an existing category. This strategy can build your brand's image, being the only option in a brand new category.
Example: Airbnb has taken the travel market by storm in the few years before the pandemic. Rather than promoting themselves as homestays, their branding message has been a new way to travel. Unlike other stay options, they do not focus on standard elements such as comfortable stay or reasonable pricing. Instead, their branding is about 'Experience the world 'and 'Living anywhere.'
9. Centrality Distinctiveness Mapping
Many large brands have successfully managed to be both distinctive and central at the same time. Creating this balance between contradicting factors can be pretty challenging. One way to achieve this is centrality- distinctiveness mapping. This method essentially maps customer perceptions to business performance.
Example: A brand that successfully struck this balance is Coca-Cola. Coke is almost synonymous with cola drinks. By being the largely dominant brand in this space, the company even heavily influences average industry pricing.
Read more: How to pursue a Marketing Alliance?
Brand Strategy Framework
Here is a list of critical elements of a brand strategy. You can use them to create your brand strategy framework.
Self Evaluation
Identify your:
Purpose
Core Values
Vision and Mission
2. Do your Research
Identify your:
USP
Uncommon denominator
Competition & alternatives
Positioning statement
Customer personas
Customer buying journey
3. Choosing your Strategy
When choosing your brand strategy consider the following:
Brand persona
Brand voice
Sync with business objectives
4. Building your branding strategy
Critical building blocks of your brand strategy:
Key messaging pillars
Logo
Colour Palette and imagery
Tagline
Asset Library
Stylebook
5. Telling your brand story
Keep the following aspects in mind when deciding how to tell your brand story:
Distribution strategy
Touchpoints
Maximize reach
6. Review and Refine
Consistently refine with the following tactics:
Brand audit
Consumer feedback
Social listening
Laddering up to higher-value propositions
Schedule your brand strategy consultation with us.
Related Posts