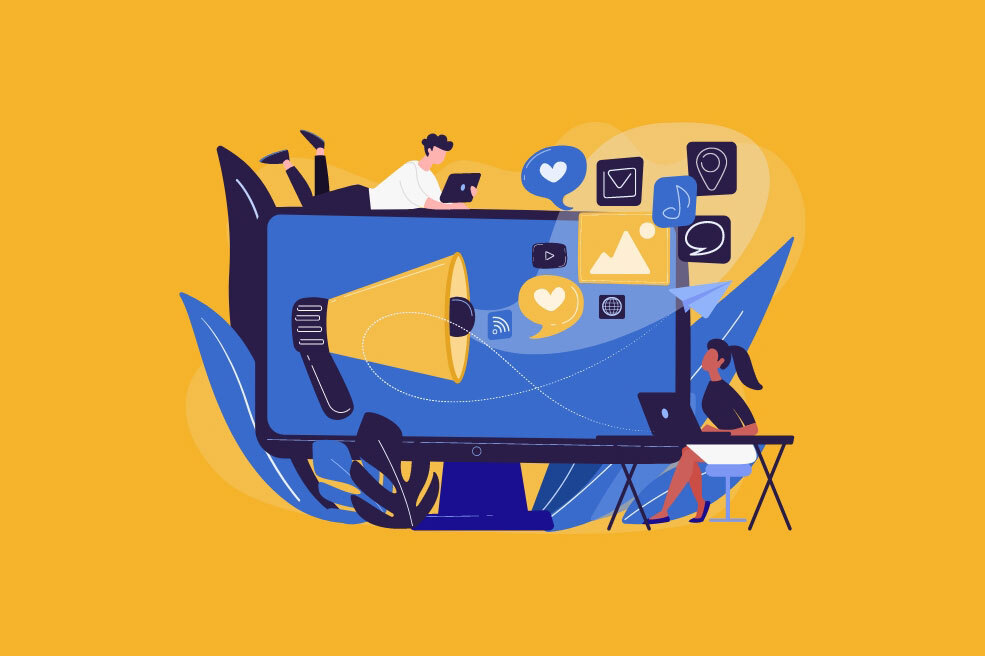 Do you wish to expand your business? Are you seeking ways to grow your business? If yes, learn the various techniques to leverage digital marketing for the growth of your business.
One of the most tricky challenges marketers face is generating visitors and leads. As the current market develops and the audience changes, you must add new approaches and tweak existing ones regularly. To remain on top, you must use the most innovative techniques. Here, we briefly discuss some of the most successful B2B marketing strategies to help you boost your marketing needs.
What is B2B marketing?
Companies use the best B2B digital marketing strategies and techniques to advertise their goods and services to other businesses. This type of marketing is used when one firm's product is required for another business to improve and sustain its operations. However, there is a difference between B2B and B2C marketing strategies, which comprises marketing methods aimed at specific customers or consumers. As a B2B marketer, your target audience will often include corporate executives, procurement officials, and other professionals who make purchase choices for their companies or organisations.
Types of B2B marketing channels
As a B2B marketer, you may use a variety of channels to generate interest in your products and services to maximise returns. Here are some marketing channels to watch out for in 2022 and beyond: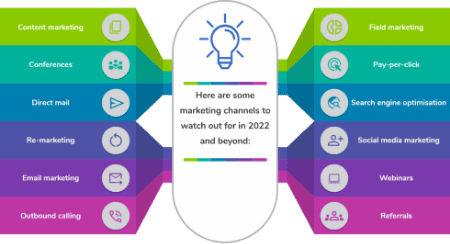 Download here: Marketing Channels Infographic
Now that you know the various marketing channels available, you might wonder how to develop a strategy for your company's benefit and what are the best digital marketing strategies for B2B. So, here is the solution!
How to develop a B2B marketing strategy
To succeed in B2B marketing, you must concentrate on driving demand, discovering the appropriate customers, and following those buyers through the funnel to connect at the right time. For most B2B marketers, building a marketing plan mainly consists of writing down and confirming the information they already have and using it in their daily marketing activities.
As a result, you would not need to go into too much detail on finding and disseminating this information. Instead, you can explore some of the most successful B2B marketing strategies that would play a vital role in developing your marketing plan and leveraging the latest tactics for the organisation's benefit. So, here are the 10 best B2B marketing strategies for 2022.
Successful B2B marketing strategies
1. Target millennials
By 2025, millennials will account for 75% of the global workforce. According to Merit's B2B Millennials Report, 73% of millennials at their firms are engaged in product or service purchasing decision-making, and 30% are the only decision-makers. This includes tailoring your B2B marketing techniques to millennial tastes, such as the speed of response (through live chat), smooth mobile experiences, social media participation, and cause-based marketing.
2. Invest in account-based marketing
In all, 85% of marketers that evaluate ROI say Account-Based Marketing (ABM) outperforms all other marketing approaches – ITSMA. ABM strives to have a direct influence on revenue growth. It helps the sales staff to customise their approach better. It engages a specific group of targeted accounts with individualised marketing suited to each account.
3. Leverage videos to attract potential customers
Millennials are currently the most influential B2B decision-makers. They adore video marketing, as it is easy to consume on mobile devices and has the desired effect in only a few seconds. Google recognises this trend and ranks video content higher than text-based content. You may attract three times more inbound links and enhance visitors' time on your website by integrating short videos into your blog articles and leveraging these new B2B marketing strategies. You may also utilise YouTube to reach out to its 2 billion subscribers globally, many of whom are prospective consumers.
4. Make use of SEO
Search engine optimisation is a valuable tool for B2B web marketing and can be one of the best marketing strategies for B2B. Prospects must make educated choices, so they perform preliminary web research. If you are not the first result for the product or service you are offering, you may not even be considered a possible seller. Content marketing for your company's website is one technique to increase your SEO. Content marketing positions your business as an authority in the eyes of search engines and people alike.
Content strategy is essential in B2B marketing strategies and increases organic search traffic. You demonstrate your subject matter knowledge and assist people in making better-informed selections by consistently publishing highly informative content. Not only will prospects discover you more often in search results, but your reviews will also prove that you are a trustworthy brand.
5. Continue email marketing
As for B2B web marketing in 2022, the email remains remarkably successful for a nearly 40-year-old advertising medium. In fact, as per 81% of marketers, the most used content in the form of newsletters is through email marketing. B2B email marketing is successful because it works. It is easily the most profitable channel for B2B marketers in terms of revenue creation, and it has the most positive effect on client retention of any advertising channel, according to 59% of B2B marketers.
6. Consider going multichannel
B2B buyers investigate and explore their buying possibilities using various outlets, with the web, notably social media, leading the way. This emphasises the need to make our marketing communications available on various platforms other than email.
To identify a suitable and lucrative medium, companies must first understand how consumers consume information and guarantee that their material is available via various channels. Too often, firms depend on social media, online, and email as primary channels. Although they are often utilised, assuming that these are the only methods your consumers use to consume information is risky. Ensure you're using the channels your customers are using and that your material is accessible to all of them.
7. Create and fund marketing ROI metrics
Build the capacity to evaluate outcomes and show the enterprise that B2B marketing adds to the bottom line and supports business development. This will aid in changing the image of marketing as a competitive advantage rather than a cost centre. However, over 60% of B2B marketers claim they lack the necessary measurement tools to demonstrate ROI adequately.
The most effective way to overcome these hurdles is to create ROI measurements and invest in marketing tactics and technology that allow marketers to monitor and show ROI.
8. Monitor your campaigns and make use of reports
How will you determine if your B2B marketing strategies are working? Create a mechanism for measuring the efficacy of any digital content strategy before implementing it. If you use traditional b2b marketing strategies, it may be more challenging to monitor. However, that does not imply such marketing should be avoided. To increase your marketing effectiveness over time, you must monitor and analyse data on the marketing KPIs most important to your firm.
9. Utilise influencer marketing
Collaboration with influencers might be a highly effective creative b2b outbound marketing strategy for B2B firms. So, identify the influencers. It's not even necessary for them to have a large social media following. What matters is how they are regarded; they must be seen as leaders.
10. Partner with a digital marketing agency
Leverage the expertise of digital marketing professionals. They have the in-depth knowledge to go beyond traditional b2b and b2c marketing strategies and use the most appropriate, effective, and successful b2b marketing strategies and tactics for your business. Provide your requirements and leave the rest to the experts.
Are you on the search for the best marketing partner? Then head on to Pixelmattic, your growth partner in your marketing journey. Experience the systematic Digital Growth System through advanced SEO, content marketing, sales funnels optimised for conversions, and customer-centric UI/UX. Get ready for the transformation. So, sign up for a consultation now!