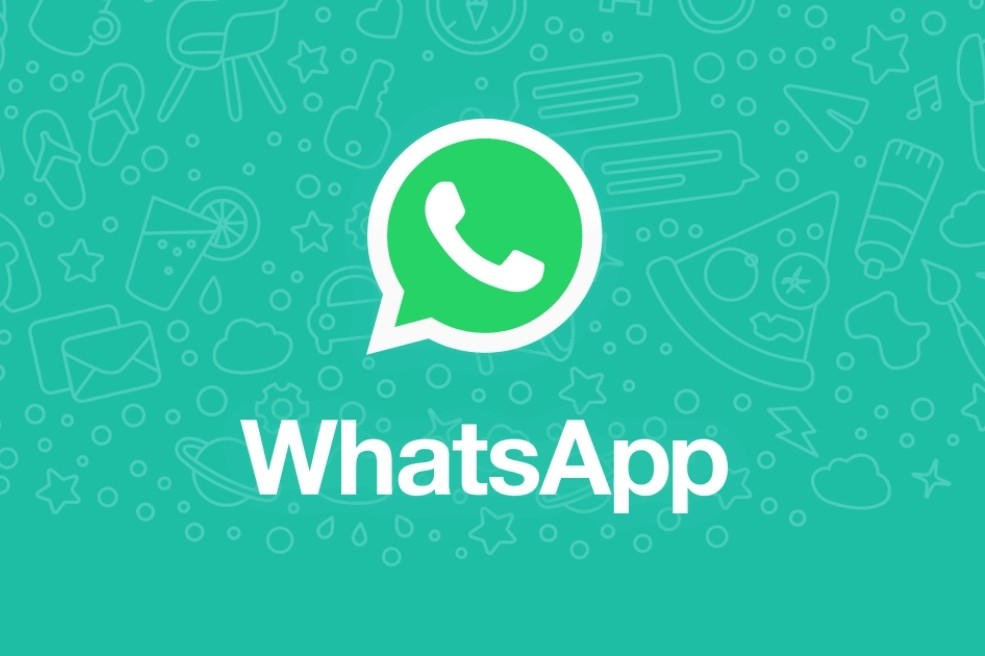 Before getting into the details of how to add WhatsApp on your WordPress website, let's look at why WhatsApp is important. WhatsApp is the most popular messaging app globally, with more than 2 billion people in over 180 countries.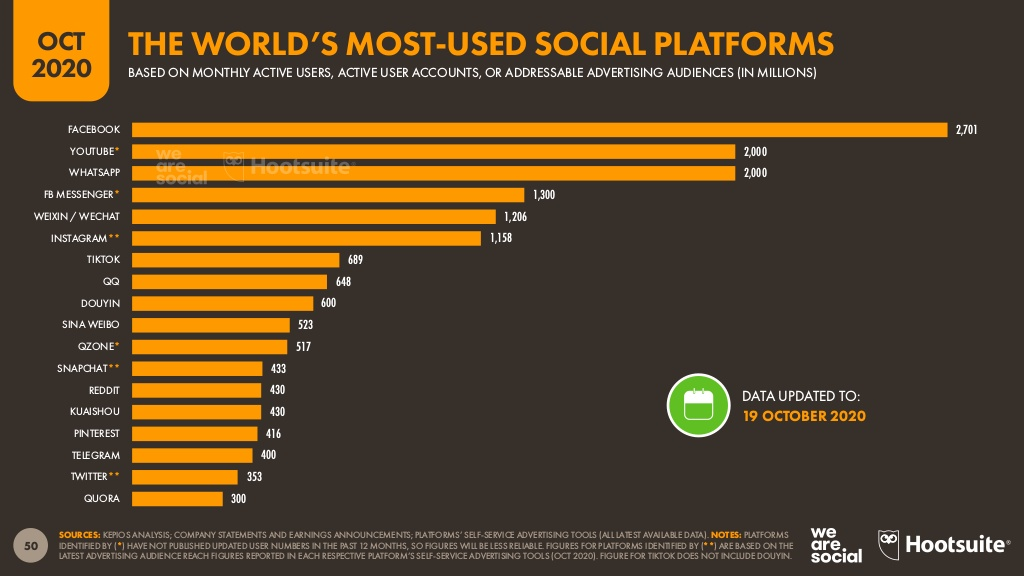 WhatsApp allows your website visitors to open a conversation/chat directly to your phone number. As an instant messaging application in the world, most people use this as an easy contact method. WhatsApp is easy to use. When visitors have questions, they can quickly get answers rather than fill contact forms and receive emails.
Social media plays the most significant role in content sharing on mobiles. One of the mobile-turned-to-desktop apps is WhatsApp that allows private sharing of content. While Facebook is still the leading social media platform on mobiles, their acquisition WhatsApp is mostly preferred over Facebook's messenger.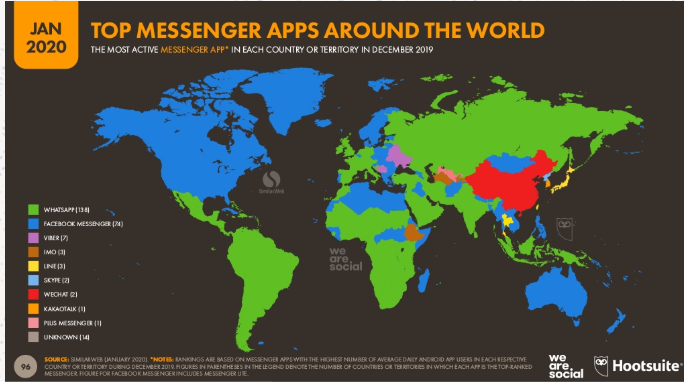 Image source: Hootsuite
The number of people using WhatsApp is more than the Facebook messenger. As a result, the content shared on WhatsApp has reached a larger audience and leads to content virality quickly.
WhatsApp is free and supported on iPhones and Android smartphones.
WhatsApp Business
The emergence of WhatsApp Business and WhatsApp Business API is a boon to many entrepreneurs.
WhatsApp Business is a platform that small businesses can use. It is a platform to promote your business, as most customers will already be using the app. You can create a catalogue to showcase your products and services. It is a free app specially designed for small business owners.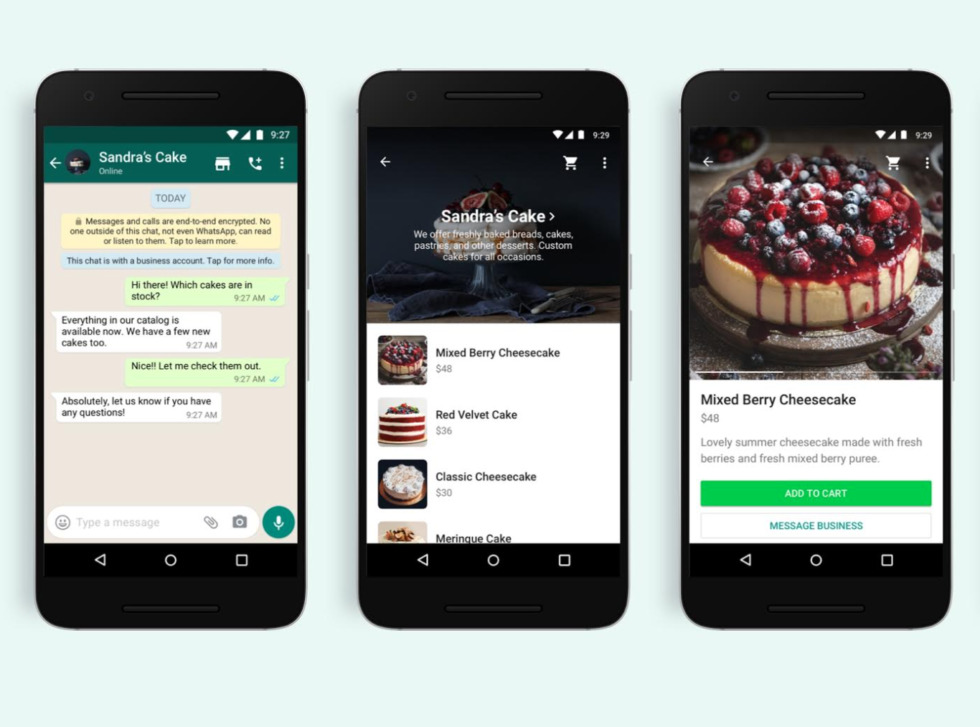 Image source: Times of India
The best aspect of WhatsApp Business is that you can
Personalize content for each customer
Automated response and quick replies
Add labels, create and manage customer groups
Engagement with secure messaging
Note: Always use a different unique number for WhatsApp Business than your personal one. This is only available for Andriod users.
WhatsApp Business API is for medium and large scale businesses where you can partner with business solution providers. This can help you build and automate some apps around it.
Learn more about this in Facebook Business Partner Directory
WhatsApp for Marketing
Having WhatsApp on your website can nearly double your traffic and increase your conversion rate. This plugin is great for readers to share the articles that they read in real-time. Moreover, the difference in sharing it using the WhatsApp plugin is that it's kept private compared to any other social media platform.
Some of the benefits of having WhatsApp for your business
The level of engagement is high
Easy customer database and direct customers
Provides a branded business profile
Let's look at some examples of how these brands and small businesses have reinvented their marketing strategies using WhatsApp as a tool.
1. Fishappy
Parthaa Kundu founded Fishappy in 2015. The initial marketing strategies included word of mouth, website and pamphlets. After signing up for WhatsApp for Business, the business exploded, with 97% of the business comes through this.
2. Sareevenue
Amir Ansari founded Sareevenue. He gets around 150 to 200 customers per month, as it is easy to browse and place an order using WhatsApp. This also lets him be connected to about 2000 customers.
Asomkriti was founded by Indu Wary, which sells traditional Assamese sarees. As most of the e-commerce sites were crowded with other sellers, she signed up for WhatsApp Business. Their conversion rate increased to 60% since then.
4. Book My Show
Book My Show is the first Indian company to integrate with WhatsApp Business. It uses WhatsApp Business to send a message with the confirmation text or an M-ticket (mobile ticket) QR Code along with an email
Make My Trip uses WhatsApp Business API to notify customers about the flight details, shipping confirmation and boarding pass.
With these wonderful advantages and excellent features, you would want to add WhatsApp to your WordPress website.
What are the different WhatsApp plugins available for WordPress?
There are many WordPress plugins available for WhatsApp. Some of these plugins are free, and some are paid. These plugins are fully compatible with the latest versions of WordPress. There are exclusive WhatsApp plugins, and there are simple social media share buttons/plugins available, which includes WhatsApp. You can choose the plugin based on your requirement.
Some of the WhatsApp plugins are
1. WP Social Chat (WhatsApp Chat WP)
WhatsApp Chat for WordPress allows your customers to open a conversation from your website directly to your WhatsApp phone number. This plugin includes a button where you can have a pre-set message, which will automatically be the conversation's first message.
2. Click to chat
This allows you to begin a chat with someone without having their phone number saved in your phone's address book. A pre-filled message appears on the WhatsApp chat window when the user clicks on the Image/button. The user can start the conversation easily.
3. Add chat App button.
This plugin enables adding a customizable click-to-chat WhatsApp button. The plugin lets you choose between a simple WhatsApp icon and a rectangle with a custom text label
4. WhatsApp Contact Chat
This plugin lets you add multiple WhatsApp accounts, have complete control over the chatbox, and change the chatbox's button and box without any additional CSS coding.
5. WP WhatsApp Button
This is a premium plugin for WordPress. This tool lets you easily add a WhatsApp button to your site and place the chatbox anywhere you want.
6.WhatsApp Click to Chat
This allows you to set support hours according to the week's time and set multiple WhatsApp accounts. Some of its features are page targeting, colour customization, integration with Google Analytics, and with Facebook Pixel.
7. WhatsApp Contact Button
This has a customizable style button and popup window and eight animation effects, making it one of the best WhatsApp chat plugins. This tool also offers shortcode support, cross-browser support, and it's compatible with any theme.
8. Social Tabs Live Chat for WordPress
This isn't a dedicated chat plugin for WhatsApp; it lets you implement Skype, WhatsApp, Facebook, Viber or SMS chat. It doesn't require set up, and it gives you a complete history of chat and unlimited bandwidth.
9. Cresta WhatsApp Chat
This has advanced features such as more customization options, a WhatsApp chat widget, and animation options.
10. Chat Button (WhatsHelp)
This lets your visitors send you a message via WhatsApp, Facebook Messenger, Telegram, Viber, Snapchat, Line, or WeChat.
How to add WhatsApp on your WordPress website?
To install WhatsApp on your WordPress site:
Go to the Plugins option in your WordPress admin dashboard.
Click on add new option, type the plugin name of your choice in the search bar and click search.
Choose the plugin that you wanted and click on install. You will be asked to activate the plugin.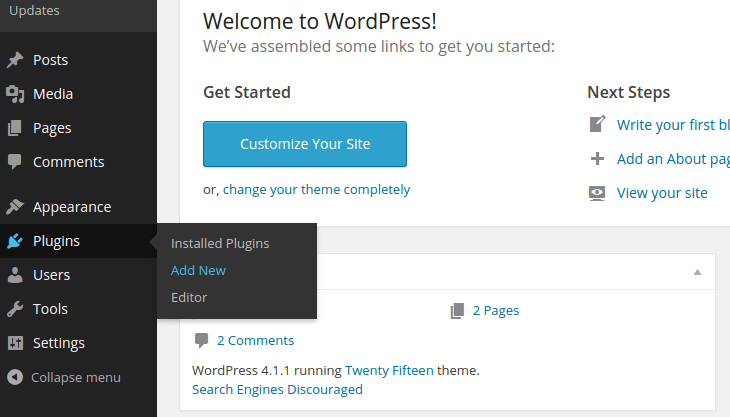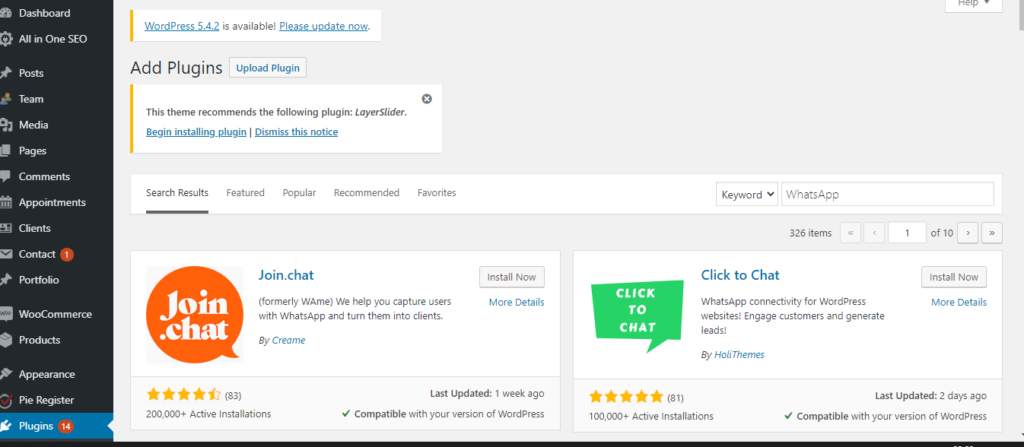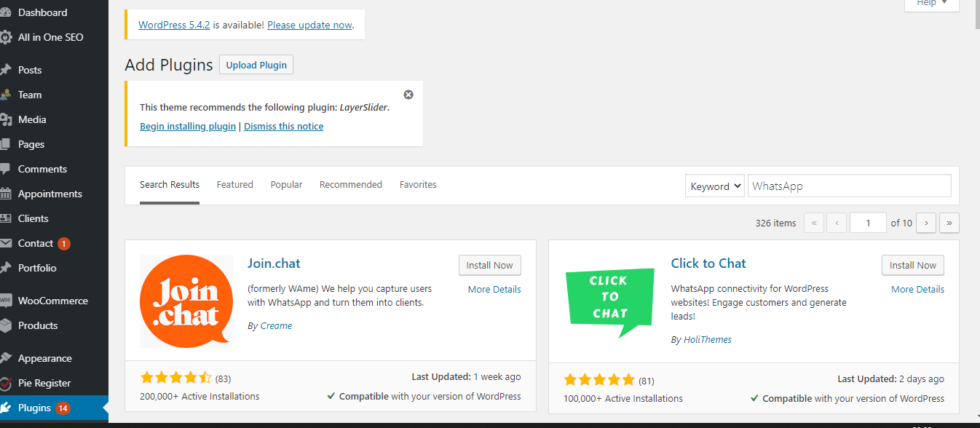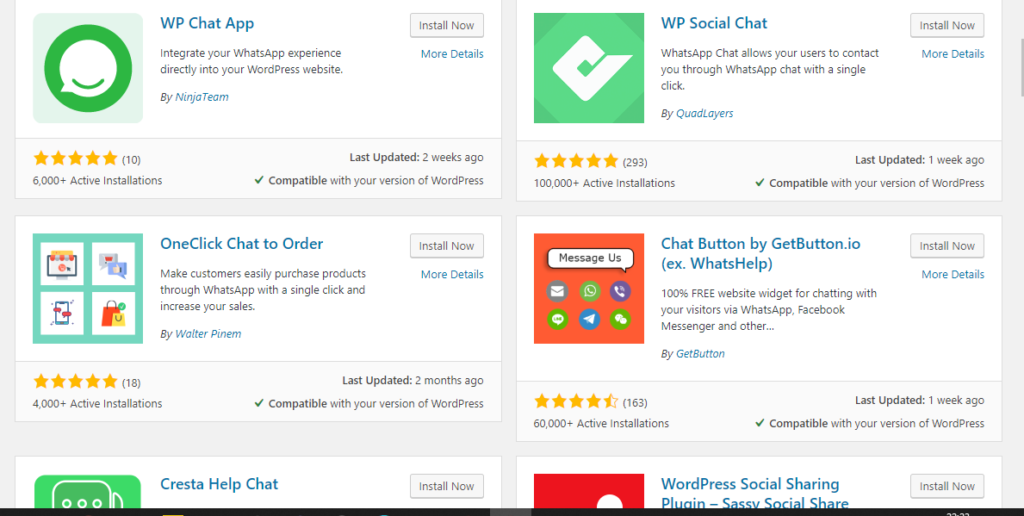 After you have activated the plugin, go to your plugin's settings page, which would be present under the settings option in the admin dashboard. Do the necessary changes as per your requirement.
You can enter the WhatsApp Business number over here and a greeting message.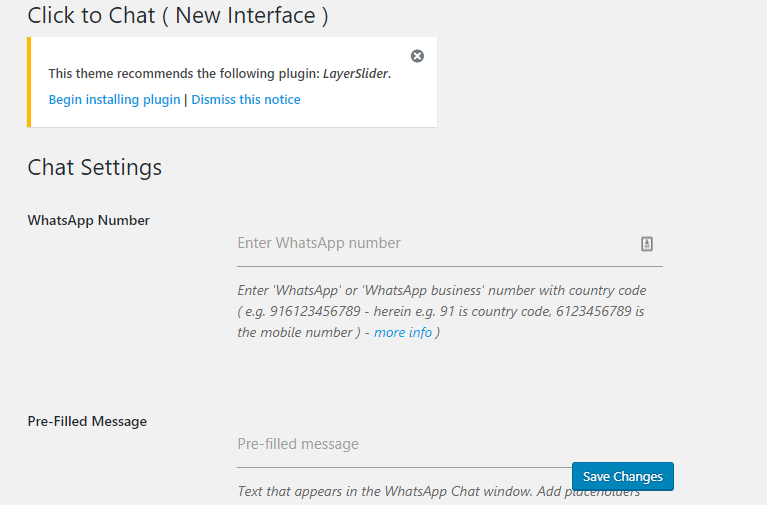 As this plugin is responsive, you can select styles for desktop and mobile phones and include a Call to Action.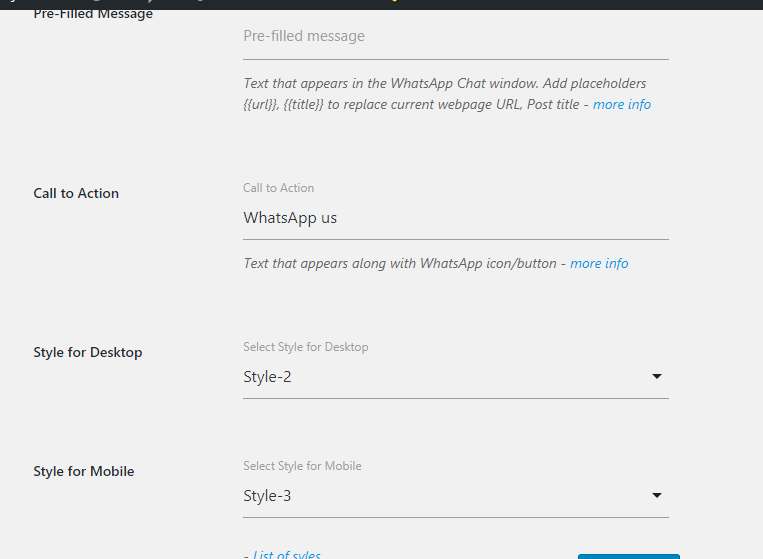 You can also fix the icon anywhere on the page of your website.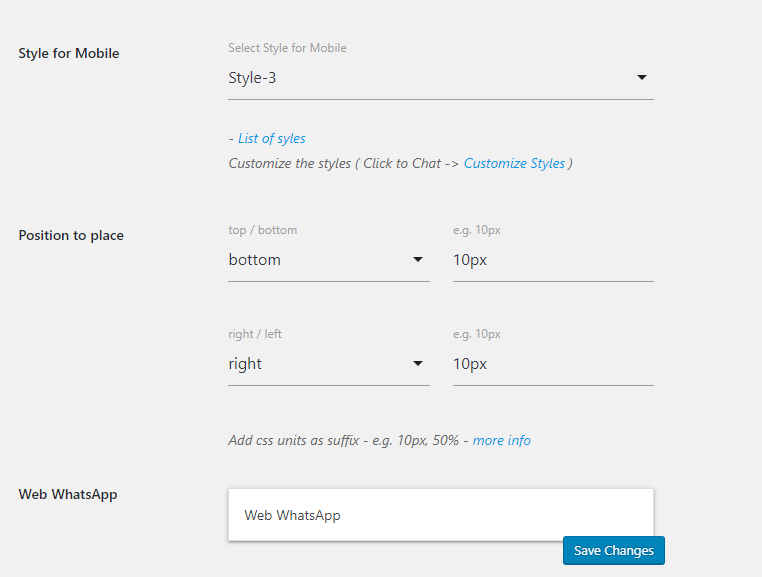 And that's it! You are ready to share your content.
Have you installed WhatsApp on your website? Let us know what you think.
Read our recently published blog post on Best Communication Tools for your Business.