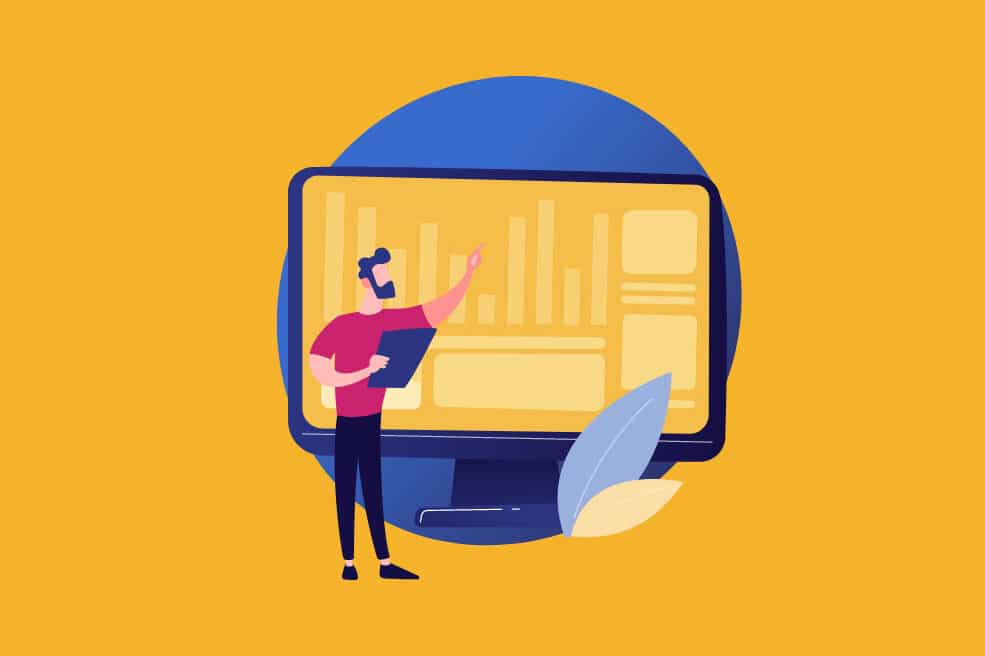 If you are a B2B marketer, being data-driven is the need of the hour. There is no other way to excel in this domain. You need to understand what your customers want based on their buying patterns and data collected across offline and online platforms before you start engaging with them.
However, becoming an effective data-driven B2B marketer is easier said than done. So, how can you design a killer marketing plan for B2B data-driven marketing? This blog will explore – what is B2B data driven marketing and take you through some practical marketing tips for data-driven marketers.
Pixelmattic, a leading remote digital agency in India, strives to provide its customers with solutions to frequent and deep-rooted problems while helping them scale their businesses. They have years of experience in offering successful digital marketing projects across industries, including retail, online learning, and technology. Pixelmattic helps its clients make strategic marketing decisions on data-backed analysis and consumer information. So, let's learn more about b2b data driven marketing.
What is B2B data driven marketing?
Anything that is led by data is called data-driven.
B2B data-driven marketing is a process where marketers use customer information to drive strategy. This process involves data collection and analysis in different types of situations. As a data-driven marketer, you need to adopt a stand where you make decisions based on data, not your preferences or expertise.
B2B data-driven marketing affects your target audience, the marketing channels you use to reach them out, and the content you generate for your audience. Simply put, data-driven business-to-business marketing is about addressing your customers' needs. And it depends on the buying behavior and data-backed reports.
Although a lot of data is available with businesses, most of it is used in silos or sporadically. By executing a marketing approach led by data, you can make the best use of data across marketing, product, and sales channels to deliver the desired outcomes.
Let us find out what the numbers say about B2B data driven marketing:
So, the equation goes like this –
The more you know about your customers (both existing and potential), the more successful your marketing efforts will be. Going further, you will learn some winning marketing tips for data-driven marketers.
8 Marketing Tips For B2B Data Driven Marketers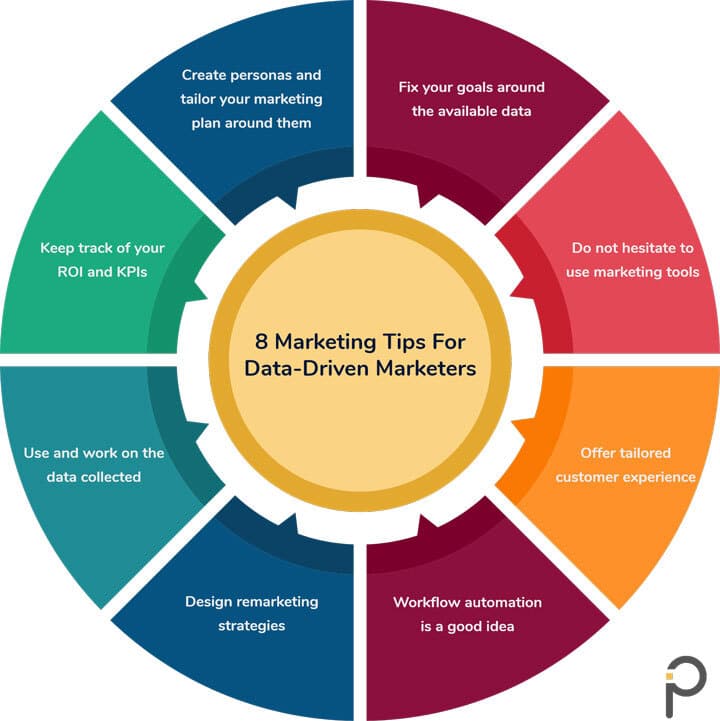 1. Create personas and tailor your marketing plan around them
Formulating personas is one of the smartest ways to make the best use of data-driven marketing B2B. So, what are personas? These are the individuals you call your target audience. They have specific occupations, demographics, purchase history, characteristics, online activities, and requirements.
With ample data availability, it may become difficult for you to handle or comprehend it. If you build personas, it will help you to process the information in a better way. Once you can see the bull's eye, you can tailor content to grab their attention and create an effective marketing strategy around their personas.
For example: If your audience might be single parents aged between 20-35, Who on average make $50000 per year- you can use this information to build your persona.
2. Fix your goals around the available data
Having your goals in place before starting any B2B data driven marketing campaign is crucial. Setting your aims beforehand offers clarity while helping you build an action plan without much hassle. Are you working on a marketing campaign for the first time? Do your homework well, and do not hesitate to seek assistance from other marketers.
To get baseline measurements and look for the areas with room for improvement, you can also use information from previous marketing drives. The bottom line is to improve more than before. So, you can also use predictive data tools. They can help you get a clearer insight into the possible results you can attain by improving and making changes to your marketing campaigns.
3. Do not hesitate to use marketing tools
What marketing tools you use decides the kind of data you get access to. Many B2B data driven marketing tools in the market will help you comprehend your customer data with prompt reporting. So, right from understanding how customers behave online and how successful your push notification and email marketing campaigns are – marketing tools are a great help.
Marketing tools that are useful for data driven marketing:

4. Offer tailored customer experience
Did you know that almost 80% of customers prefer buying from a company that offers a personalized customer experience? Always remember that no matter how much effort you have put into creating a marketing strategy, it does not make sense if it is not relevant to your customers. Being a good B2B data-driven marketing specialist means understanding your consumers.
What they like, what they don't, what they find interesting, and what angers them – having a clear idea of these is vital. Use data in such a way that it navigates all the aspects of your marketing strategy – be it a push notification or any other content and even the time you have sent it.
Personalized experience means – the message you want to communicate finds the right person at the right time through the right platform.
For example, Amazon's product recommendations. Most of the product recommendations are based on data it has for the previous 5 years.
5. Workflow automation is a good idea
With a world of data coming in from multiple channels, managing it is likely to become daunting. Therefore, employing a marketing automation tool can be a good idea. With the right set of B2B data-driven marketing tools, you can automate workflows initiated by a customer's buying behaviour. So, you can relax when you know that your potential and existing customers are getting the correct information to accommodate their buying needs.
Mailchimp is one of the tools which is used for email marketing automation. You can use Mailchimp to build customer journeys. Here is an example of a simple customer journey for newly added customer contacts who gets a welcome email.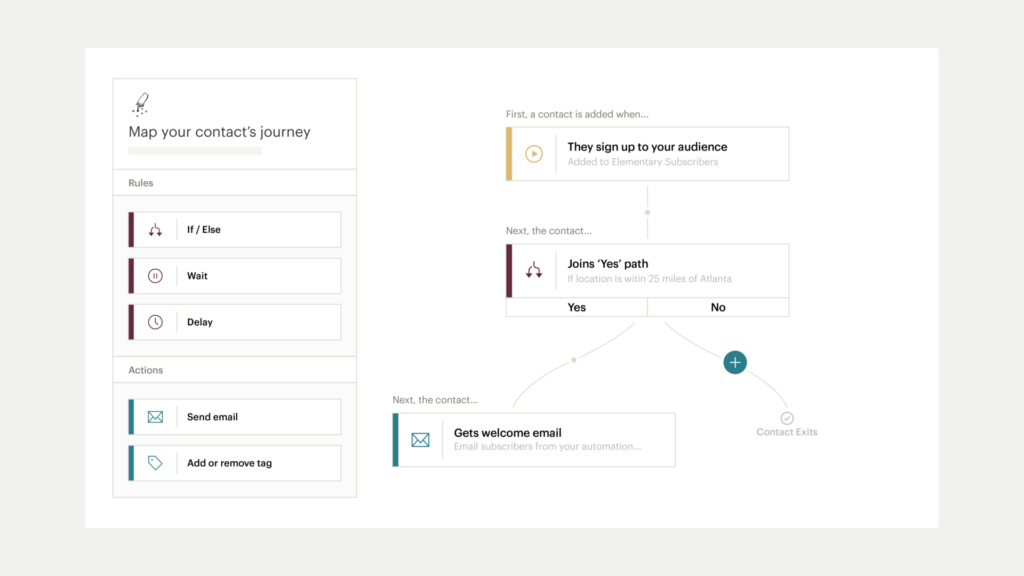 6. Design remarketing strategies
Do you know you can follow the visitors to your website all over the web? Well, all credit goes to the abundance of data and browser cookies. So, understanding whether they bought anything, were leafing through your website or did they add something to their cart and then abandoned it will become easier for you.
Based on the buying pattern and motive of the visitors, you can make a list of highly targeted audiences. This list will help you present your brand to your visitors by directing super-relevant ads to their feeds to convert them into your customers or maybe a repeat one. It will help you connect to your customers well. So, your brand will stay in their minds whether they are on your online front or have left it.
7. Use and work on the data collected
You are using a bunch of data collection tools. However, what is using all that newfound information if you are not taking action on the data? Data is valuable, but only when you use it to take action.
Therefore, ensure you use the collected data to understand your target audience more. Knowing how they behave online or the products they prefer will help you streamline your brand experience with their requirements, thus offering a seamless customer experience.
8. Keep track of your ROI and KPIs
Track your KPIs (Key Performance Indicators), and ROI (Return-on-Investment) has become pretty easy with the impeccable marketing tools available. It gives you a fair idea of how your marketing campaign is turning out.
These tools also help you understand the leads that brought visitors to your website. If you are aware of all this information, you can continue polishing and syncing your marketing efforts to improve the overall performance of your marketing campaigns minus any hassle.
Conclusion
B2B data-driven marketing is the need of the hour. So, if you want to stay ahead of the competition, you cannot surpass it. Not only that, it allows you to design marketing campaigns tailored to the needs of your target audience while allowing you to drive better outcomes for your business.
Are you ready to create B2B data-driven marketing campaigns to attract more heads? Then, sign up to learn more about the Digital Growth System at Pixelmattic.