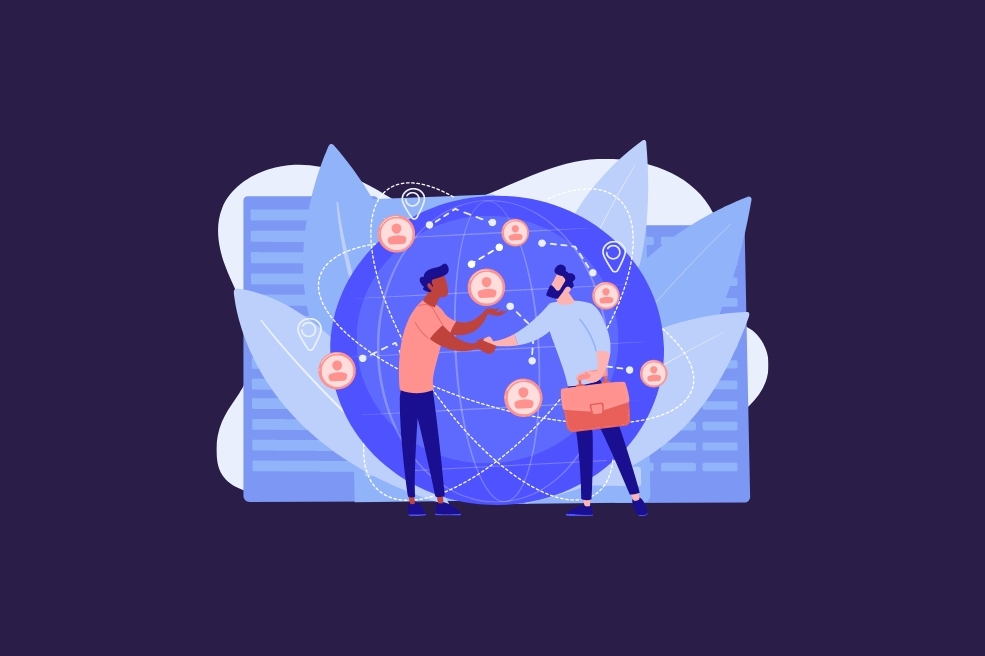 Table of Contents
Do you, like the good marketer you are, neatly keep marketing strategies for your B2B and B2C customers separate?
And, of course, you must be following lead-based marketing and building your sales funnels quite meticulously.
Well, if you're chasing bigger, better, and more results this year, it's time to switch to B2B Account Based Marketing.
Your marketing efforts might be reeling in thousands of potential leads. However, the challenge lies in efficiently converting these leads into customers with a marketing strategy that simultaneously tries to cater to different audiences. This is where B2B ABM comes in.
What is Account Based Marketing?
B2B account based marketing (ABM) is a targeted marketing approach focusing on specific accounts rather than a broader audience. Instead of trying to reach as many people as possible, which is akin to throwing spaghetti at the wall to see if it sticks, ABM focuses on creating personalized marketing campaigns for a select group of high-value accounts that have the potential to bring significant value to the company.
This approach requires a thorough understanding of the target accounts, their needs, and the value that the company can offer. The goal is to create a personalized marketing experience that resonates with the target accounts and helps to build strong relationships. This can involve an array of tactics, such as creating personalized content, targeted advertising, and planning events tailored to the specific needs of the target accounts.
B2B account based marketing is particularly effective for companies that sell complex products or services or have long sales cycles. It is a viable strategy to streamline the sales process and build trust with the target accounts, ultimately leading to increased sales and revenue. This article will help you understand account-based marketing fundamentals and get your strategies to return results.
How to do B2B account based marketing?
Implementing a B2B account-based marketing strategy involves a few key steps:

1. Identify your target accounts: The first step is to identify a select group of high-value accounts that can have a significant positive impact on your ROI.
2. Gather data and insights: You'll want to research your target accounts thoroughly to gather data and insights on their needs, challenges, and priorities.
3. Develop a personalized marketing plan: Based on your research, develop a personalized marketing plan that addresses the specific needs of the target accounts. This plan should appeal to the target's key pain points, and provide personalized solutions.
4. Execute and measure: Once you have your plan in place, it's time to put it into action. Be sure to track your progress and measure the effectiveness of the ABM strategy. Make adjustments as needed to optimize performance.
Why do you need a B2B account-based marketing strategy?
In a 2022 study by Foundry, 94% of participants felt that ABM is key to achieving their marketing goals.
A B2B ABM strategy might be exactly what your business needs to stand out from the competitors and authentically engage with potential customers. Here are some ways how B2B account-based marketing strategy can be beneficial for your business:
B2B account-based marketing allows you to create a more personalized and relevant marketing experience for your target accounts, which can help to build trust and establish long-term relationships.
Account-based marketing can be more efficient and cost-effective than other marketing strategies like inbound marketing and outbound marketing, as it focuses on a select group of high-value accounts rather than a broader audience.
ABM can help you to better align your marketing and sales efforts, resulting in a more streamlined and efficient process.
B2B account-based marketing can be particularly effective for companies with long sales cycles as it helps establish trust with leads and convert them into customers for high-ticket offers.
To sum up, ABM helps build strong, mutually beneficial partnerships with key accounts and drive sales through stronger engagement and interactions due to deeper personalization.
What are the different types of B2B account based marketing tactics?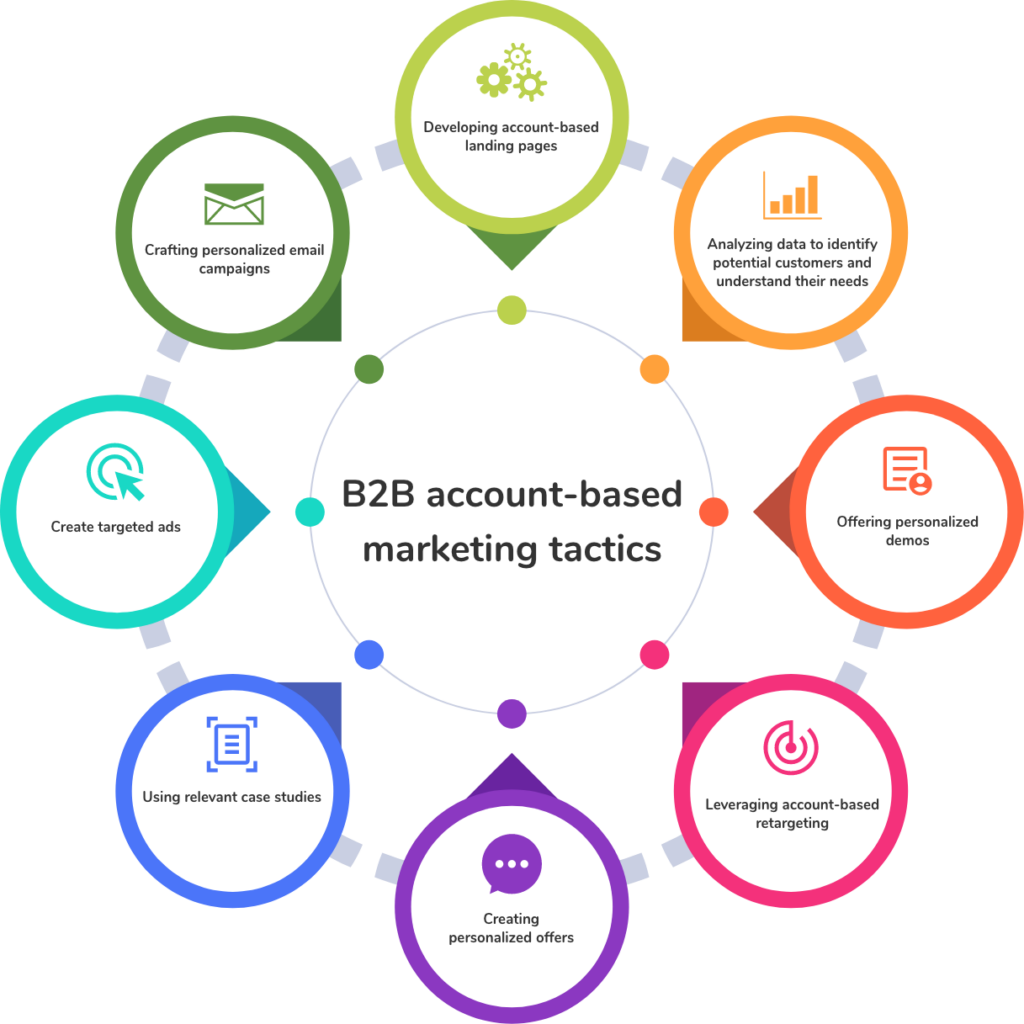 1. Analyzing data to identify potential customers and understand their needs.
Data is a goldmine just waiting to be used up. Parse through the data you collect to identify your most potential customers by industry, size, activity, location, and other parameters. Gain actionable insights into their pain points so that your marketing efforts can appeal specifically to them.

2. Creating personalized offers.
Match your marketing efforts to the customer profiles you've created and create personalized offers. Make different deals and packages and tailor them to each customer to get the best responses.

3. Developing account-based landing pages.
Creating customized landing pages that address the target accounts' specific needs and interests can help increase conversions and drive sales.

4. Create targeted ads.
Advertising is not simply about gaining visibility where possible. It's about being seen in the right places. Prioritize channels and identify where your targeted customers might see you to place specific ads for sharper results.

5. Leveraging account-based retargeting.
Account-based retargeting involves placing ads strategically to capture the attention of key decision-makers rather than marketing or sales personnel. Filtering your audience based on job titles or other relevant factors to push your messaging.

6. Offering personalized demos.
Offer customized product demos to the target accounts to showcase how the product or service can meet their specific needs. This can help to build trust and establish thought leadership and is an effective way to close deals.
7. Using relevant case studies.
Creating case studies that showcase how the company has helped similar accounts to the target accounts can be a powerful way to highlight the value and benefits of the company's products or services. These case studies can be used in marketing campaigns, sales pitches, and other customer-facing materials.
8. Crafting personalized email campaigns.
Sending personalized emails to the target accounts with tailored content and offers can create effective and deeper engagement. To make it truly impressive, research your prospect well, know their professional and personal interests, and hyper-personalize to make it look like the email was written just for them.

How an EdTech company leveraged B2B Account Based Marketing to exponentially increase their organic traffic
Prior to the pandemic, The Explorers Lab provided learning experience trips for students through boot camps, internships, etc. They then decided to transition to an online model due to the challenges presented by the pandemic. The Explorers Lab sought to revamp their website and use it for lead generation.
They also wanted to create a brand communication strategy that would establish themselves as a prominent EdTech brand to attract ideal customers. However, this was a challenging goal as they wanted to dive straight into marketing before the formulation of brand strategies and expected quick turnaround results.
After understanding these challenges, Pixelmattic was able to provide The Explorers Lab with a holistic B2B Account Based Marketing strategy as part of the Digital Growth System.
Pixelmattic helped formulate an effective brand communication strategy and created buyer personas for each of the target groups. Having identified the communication objectives, Pixelmattic created customized content themes and strategies that addressed the challenges and pain points of the target audience over the different stages of the marketing funnel.
With the help of content marketing strategies like SEO-optimized content, automated email marketing, podcasts, and webinars, as well as a brand manual aligned with its goals and vision, The Explorers Lab was able to target and attract ideal customers and establish a consistent identity. The website was also revamped and optimized for conversions with CTAs that appealed to the target groups.
The revamp, tweaks, and B2B account-based marketing strategy had a transformational impact on The Explorers Lab. The website performance was drastically enhanced from grade C to grade A in GTmetrix. Meanwhile, the website's bounce rate improved from 71% to 60%, and its organic traffic exponentially increased by 400%.
This way, the Digital Growth System was able to revamp The Explorers Lab's marketing strategy and help establish them as a prominent EdTech brand with the help of B2B account based marketing.
Sounds interesting? If you're looking to amplify your business's growth and attract your ideal audience, Pixelmattic's Digital Growth System is a holistic marketing solution that can help your business stand out from its competitors.
Contact us today to know how the Digital Growth System can help your business scale to the next level!