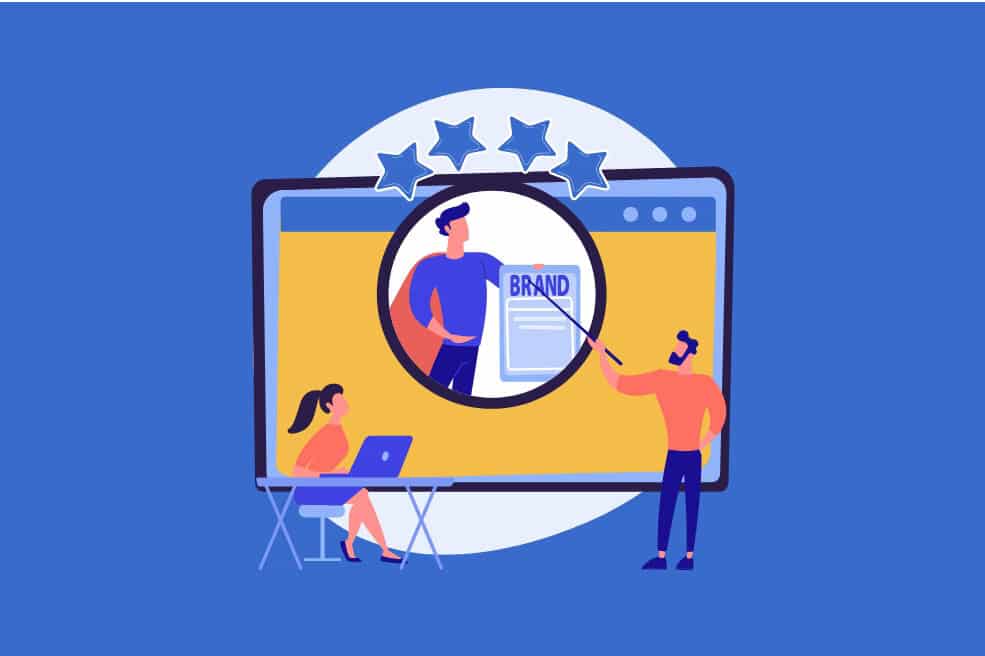 Brand Positioning Examples of FAANG companies
Who are the FAANG companies, and why are marketers obsessed with them? As some of you might already know, FAANG comprises Facebook, Amazon, Apple, Netflix, and Google. These are the biggest brands in the world. These companies have redefined their industries and stand out from their competitors.
All of the FAANG companies took existing services or technologies but redefined the way it was presented. Another striking similarity is that they all also have a rock-solid brand position. A marketing tactic that has made them industry leaders. While FAANG companies do compete with each other, they also have similar branding strategies.

Over the last few years, Facebook's brand did take a beating over privacy issues. However, it has not impacted the brand value as much as critics expected. One key advantage Facebook has is that it was one of the first social media companies. Despite the constant entry of new players, several users are hesitant to leave Facebook. A general feeling has been that they have invested too many years to let go of their accounts.
Facebook's Brand Positioning Statement
Facebook's brand promise is simple – "Making the world more open and connected".
It is safe to say Facebook has outgrown this brand promise and offers much more. Today Facebook's brand position brings two aspects to mind:
Virtual Identity
Facebook introduced the concept of having a virtual identity. All of its features encourage users to put out as much information as possible. Thereby creating an online personality for the world to see. When you meet someone in real life and want to keep in touch, the most natural thing to do is connect on Facebook. Certain organizations even do a social media background check before hiring employees to get a glimpse of the person's life. Despite losing some of its younger users to other platforms like TikTok and Snapchat, overall, Facebook continues to be the ultimate authority in social media.
Sense of Community
How many people do you know without a Facebook account? Our guess is not too many. With close to 3 billion users, Facebook has penetrated even rural areas across the world.
Why do so many people choose to join Facebook? It gives them a sense of belonging to a global community. Any social media platform can offer the same. However, Twitter is often considered "nerdy" and Instagram, 'Millennial." Facebook, in comparison, is seen as having something for everyone. One of the primary reasons is that it was one of the first on the block.
How does Facebook Stand Out From the Competition?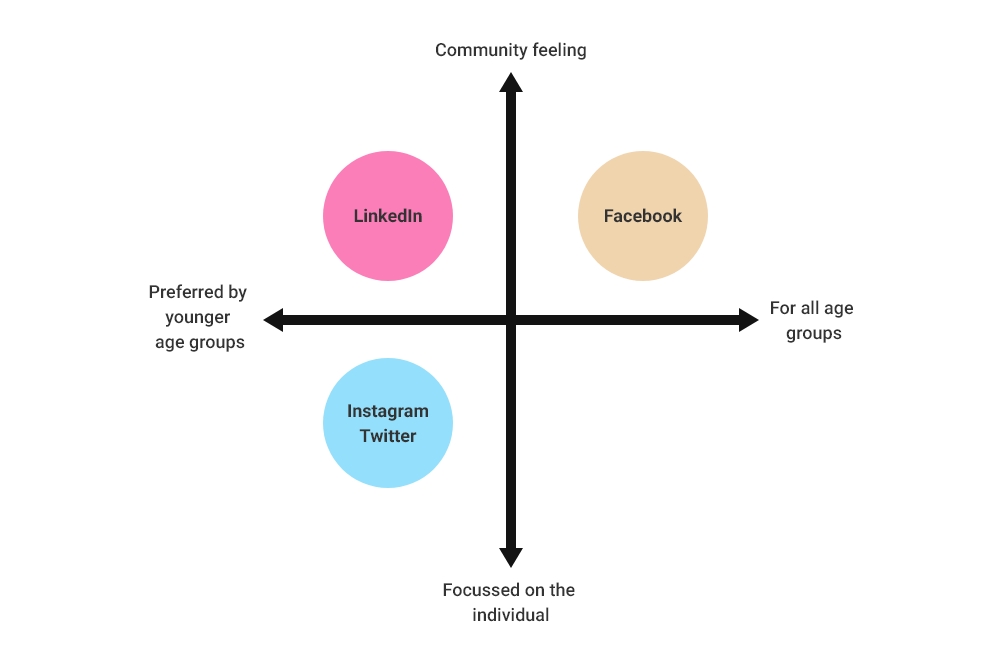 Facebook has outlived many of its competitors like MySpace and Orkut. How did it survive the test of time?
Constant Evolution
Facebook has grown tremendously from being just a social platform. Today many people use Facebook to consume news, promote businesses, play games, participate in discussions, and much more. By constantly adding more ways to use the platform, Facebook has managed to stay relevant through some pretty significant industry changes. Despite losing some market share to other social media platforms, it continues to lead the industry.
Brand Extension
Like its peers in the FAANG group, Facebook has also leveraged brand extension. It took over WhatsApp and Instagram who were its competitors. Instead of phasing them out, they have made branding changes to showcase all of them together as the Facebook family. The logos were modified to include other brand colors. Another change was the integration of the messaging tools of Instagram and Facebook. These might look at subtle feature updates, but they are strategies to keep the Facebook brand strong.
Amazon started by selling books online and has grown into an ecosystem over the last 30 years. Today Amazon is both a product and a service. Apart from being the go-to website for e-commerce, it also offers a host of other services. Amazon Prime is probably its most popular service. This, in particular, has helped build Amazon's brand image and strengthen its brand position.
Interestingly Amazon has been voted the most "trustworthy company" among the world's biggest brands. It has even beaten its peers in the FAANG group.
Amazon's Brand Positioning Statement
In the words of Jeff Bezos, "Amazon's major difference is providing greater value to customers by a combination of extraordinary convenience, instant access, and comprehensive selection."
This statement comes as no surprise as it aligns with how most customers perceive the brand Amazon.
Customer-Centric
The most common reasons people shop on Amazon are ease of access, range of options, and delivery to almost anywhere. All of these have the customer's user experience at the core. The message is clear – no matter where you are or what you want to buy, Amazon can help you.
Cost-Effective
The Amazon website has arguably the broadest range of products. In addition, a vendor and product rating offers customers transparency. Both of these give customers the option of choosing the most cost-effective product in a trustworthy environment.
Risk-taker
This aspect may not be on top of the list, but it is something that customers have come to associate with Amazon over time. The company has often called themselves "pioneers." They are constantly entering new markets and are not always successful. However, this has not deterred them. As Jeff Bezos said, "Our passion for pioneering will drive us to explore narrow passages, and, unavoidably, many will turn out to be blind alleys. But – with a bit of good fortune – there will also be a few that open up into broad avenues."
How Does Amazon Stand Out from the Competition?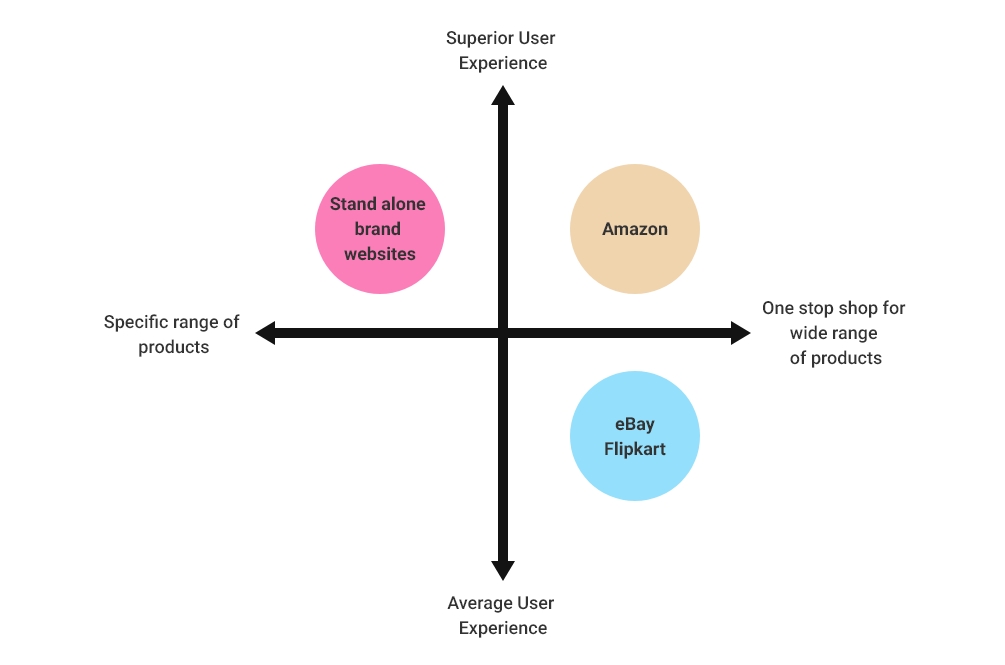 Globally, Amazon's biggest competition is eBay and Alibaba. In each region, they have different competitors. For example, in India, Amazon's biggest competitor is Flipkart, and Walmart is in the US. Despite the fact that Flipkart's head start on the Indian market, Amazon has been quick to catch up. How does the Amazon brand stand out from its competition?
Leveraging Data to Build Customer Centricity – Offering Better User Experience
One of Amazon's strengths is that it has been studying buying behavior for a very long time. As a result, it sits on a gold mine of data. Amazon has leveraged this to improve customer experience in many ways.
The most obvious has been the shopping experience itself. From the way pages are designed to the checkout process, everything has been well thought out. Every product page has similar products displayed at the bottom. If multiple vendors are selling the same product, this information is displayed upfront. In short, everything a potential customer wants is always one click away. This design is a huge differentiating factor between Amazon and its competitors.
By studying its vendors and how their products perform, Amazon has fine-tuned its in-house product line. So not just the Amazon service, but the products are also in line with the brand's image.
Changing Communication Strategy
As discussed earlier, Amazon is constantly entering new regions and industries. As a result, it ends up competing with several regional brands. Some of which may have been in that market much before Amazon's entry. For example, Amazon's groceries in the Indian market compete with local vendors who have been around for decades.
To not be seen as a corporate giant, Amazon has modified its communication strategies. They are more human, touch on emotions, and are often hyper-localized in regional languages.
For example, in the Indian market, Amazon Prime's biggest competition initially was Netflix. During the early days, more people preferred Netflix as they saw them as a specialist of that space. In contrast, Amazon was seen as a jack of many trades. This was despite the fact that Amazon Prime entered the Indian market first. One of the ways Amazon Prime was able to strengthen its brand was through localized content and marketing. "Indianising" their content and branding worked in favor of Amazon Prime. So much so Netflix has followed suit.
Apple was the world's most profitable company in 2020, with a profit of $59 billion. Their marketing and branding have played an enormous role in their success. Right from the start, Apple has put a significant focus on building its brand. They have set the standards for brand positioning, and it's no surprise that many brands look to them for inspiration.
Apple's Brand Positioning Statement
Steve Jobs famously quoted, "People with passion can change the world for better."
This quote accurately captures Apple's brand positioning over the years. Though their branding has evolved over the years, their core brand positioning has remained the same. The focus is not just on their quality products but also on their customers. Their brand positioning has time and again projected Apple customer's as people with passion.
Innovative
Apple's design and intuitiveness have always set it apart from the competition. The phrase "Only an Apple can beat an Apple" is quite popular with reason. Apple was the first to introduce GUI and Microsoft followed suit. However, Apple's brand focus has not been that it was the pioneer of GUI. Instead, the focus has been on its innovative and future-proofed technology. Instead of resting its laurels on one innovation, the message is that Apple will consistently innovate.
Aspirational
Apple's tone of messaging and images have a powerful aspirational theme. If you look at Apple's social media platforms, they have no pictures of their products. Rather than focusing on their products, the focus is on the users. The messaging is clear – look how fabulous Apple users are. While brands like Google Pixel have also tried this, Apple is way ahead. For example, the hashtag #shotoniphone has roughly around 21 million images. At the same time, Google's equivalent #teampixel is under 3 million.
Power of the Apple Universe
Apple is not the only brand to have an ecosystem of products. Microsoft and Google also have similar strategies. However, the ease of coordination and the power of using multiple Apple products together is phenomenal. Apple is well aware of this and leverages this to position the brand Apple.
How does Apple stand out from the competition?
Beauty in Simplicity
When Apple launched the first iPod in 2001, MP3 players had been around for a few years. The general trend in the market was to add as many features and buttons with every new product. More buttons were perceived as better. However, Apple went against the trend and launched the iPod, which had just one button. When the design was unveiled, it was met with much skepticism. Many wondered what Apple was doing in this space; some others were unsure if the simple design would work.
However, Apple's gamble worked, and the iPod became a huge success. It also set the tone for all of Apple's future products. Everything about Apple's branding, from their user interface, website, ads, etc., focuses on keeping things simple. Yet impactful. You can look at an image of a user interface and instantly identify it as an Apple product. That is how deep-rooted their brand is.
Protecting User Privacy
One of Apple's most significant differentiating factors is its high regard for user privacy. Their marketing also puts a huge focus on driving this message home. Apple was the first to start banning tracking cookies. It even removed apps that don't respect these guidelines. Other brands have begun to see how powerful this has been for the brand's image. Google Chrome has also followed suit, and it won't be surprising to see more brands join them.
Netflix started as a DVD rental company and, after some transitions, has become the world's biggest streaming service. As of 2020, it had 183 million paying subscribers. According to its co-founder Marc Randolph, Netflix was founded with the intent of creating "The Amazon of something."
Much like Facebook, the same companies skeptical about Netflix today vie to feature their content on the platform. Despite several players entering this space, Netflix continues to hold its spot and has become synonymous with binge-watching.
Netflix's Brand Positioning Statement
Netflix's tagline has been "Movie Enjoyment Made Easy."
This tagline might seem basic and obvious, but it highlights what the brand stands for.
Let's break this down further.
Movie Enjoyment – Golden Standard in Customisation
One of Netflix's USPs is its algorithm that suggests the right movie or TV show. Netflix is known to be pretty accurate in judging what viewers want to watch. Sometimes with freakish accuracy as reported by viewers. Netflix conducts intense A/B testing on all their accounts. They do a deep dive of really understanding individual preferences. Netflix looks at aspects like "Why did this viewer choose this movie?" or "Why did they stop watching a particular show midway." This consistent deep dive ensures that customers feel like Netflix understands what they want.
Made Easy – Accessible
Streaming services are now available across devices. A decade ago, the idea of watching a movie on your work commute might have sounded strange. But it has become quite popular today thanks to more accessibility of streaming services. Netflix pioneered this move. Want to watch on different devices? Need multiple screens from the same house? Or just need a free trial? Netflix has an option for all of this, making it very accessible.
How Does Netflix Stand Out from the Competition?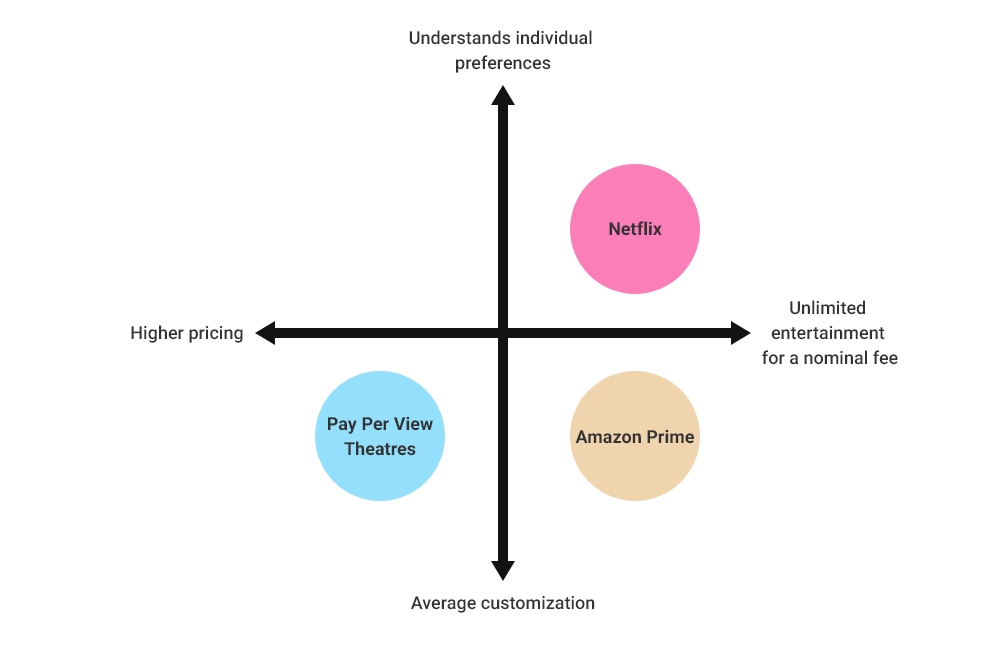 Some of Netflix's competitors are Amazon Prime, Hulu, and HBO. While Amazon Prime and Netflix compete for neck-to-neck in some regions, Netflix still holds dominance globally. How does Netflix manage to maintain its brand identity in this competitive space?
Focussed on Understanding Customer Needs
We know we have already mentioned that customization plays a key role in Netflix's brand positioning. However, it's worth noting this again. To say that Netflix is almost obsessed with understanding customer requirements won't be an exaggeration. The evolution of their business model is based on insights from their consumer research. This has ensured they have stayed relevant for decades despite tremendous changes in viewing habits.
Not everything they tried has always been a success. Netflix briefly allowed viewers to share directly to social media what movie or show they were watching. This feature was a failure as they quickly realized people were apprehensive about sharing this information. This feature was quickly removed.
Setting the Standards for the Rest
While Netflix has changed radically over the years, its focus continues to be offering good content. But they have realized that the definition of "good content" is constantly changing. In a way, Netflix has been responsible for continually moving benchmarks. For example, Netflix produced an interactive episode for its popular TV Show Black Mirror. Through this interactive show, viewers were allowed to choose how the story proceeded. Despite some backlash about privacy concerns, the episode was a massive success. Though this was not the first of its kind in the industry, it was a novel concept for most viewers.
Like Amazon, Netflix also uses its data to understand what audience and want and produce content in-house. A few years ago, Netflix began its line of content called Netflix Originals. The shows have become immensely popular. This success is not surprising as Netflix has leveraged what they know best – viewer preferences.
Google's mission statement is to "organize the world's information and make it universally accessible and useful. Which it does pretty well and is what the brand is known for.
Interestingly despite being an industry leader, Google was not big on marketing until a few years ago. However, with its growing portfolio and competition, Google saw the need for marketing communication.
Google's Brand Positioning Statement
Synonymous with the Internet
Google has become synonymous with the internet. And also vice-versa. We have all used the phrase "to Google something." There is a high likelihood your personal email is Gmail. We could go on, but the gist is that Google defines the way we use the internet. The Google ecosystem has an app or program for every possible way the internet is used.
Users see Google as the ultimate authority. Let's take the case of the Google search engine. Websites are constantly working on ensuring they meet Google's guidelines. Nobody questions this. Even in the few spaces where Google has intense competition, it has the upper hand. For example, it is pretty common to see iPhone users download Google Maps rather than use Apple's inbuilt "Look Around."
Innovation
Innovation is at the core of Google's brand. It is the primary reason for Google's stupendous growth. This focus on innovation starts right at the ground level at Google's company culture.
Google's innovation is intuitive and future-ready. It is not just about fixing bugs or making minor upgrades. Google's innovation often radically changes how things are used. For example, Gmail has wholly redefined what email can do. Google users are often pleasantly surprised with new features bringing the feeling of "I didn't know I could also do this."
Not all of Google's Innovations are successful. For example, Google Buzz could not compete with other social media platforms. However, this has not stopped Google from constantly innovating and improving the user experience.
How Does Google Stand Out from the Competition?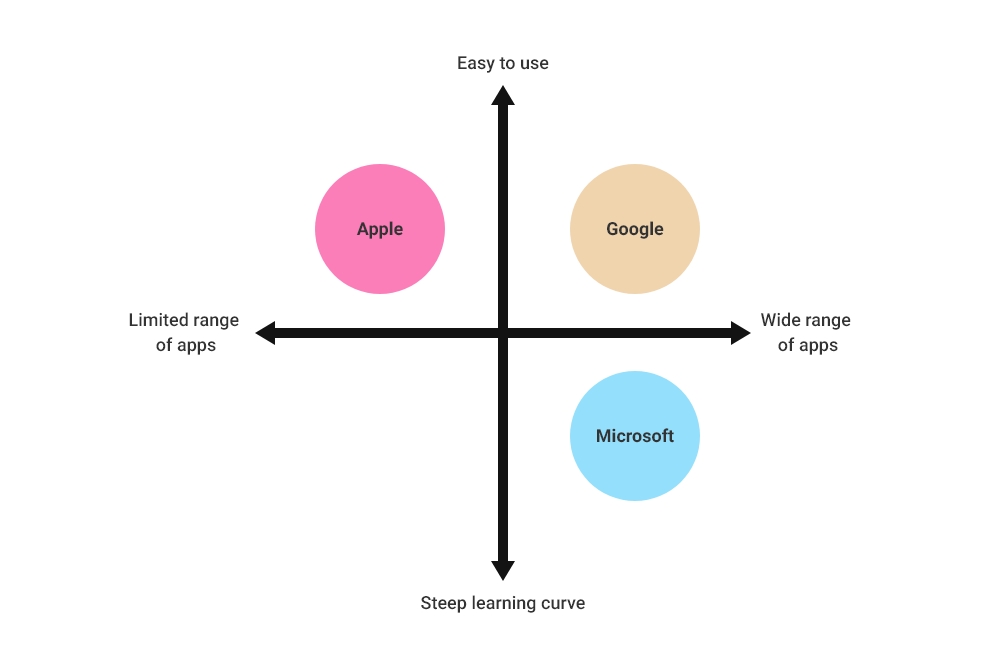 Google does not have one major competitor who can match everything they do. However, having such a massive portfolio means they have to compete with various smaller companies in each of their categories. Google has managed to maintain its brand identity despite this.
Keeping It Simple
Google and Apple have a very strong similarity. Both brands see the power of keeping things simple in an increasingly complex world. This strategy has worked well for both brands. As mentioned earlier, Google is constantly innovating and redefining technology. However, the focus is on simplifying user's lives. This focus on keeping things simple is also evident in Google's logos which are just the primary colors and simple shapes.
Brand Extensions
From being a search engine, Google is everywhere today. A lot of this has been achieved by taking over smaller companies with potential. Google's brand extension strategy has given them an unrivaled portfolio.
For example, Google took over YouTube about a decade ago. Google has managed to keep YouTube's brand identity while also showcasing it as an extension of Google. This move has worked well for both brands.
Indian Brands that got Brand Positioning right
In this section, we will look at Indian companies that leverage their brand positioning to stay on top of their segments.
Thums Up was launched in 1977 by the Parle Agro group. For almost a decade after its launch, Thums Up was the most popular cola drink in India. Other brands such as Campa Cola and Double 7 tried to compete with Thums Up with little success.
With the re-entry of Coca Cola and Pepsi in the early 90s, things got competitive. Most people anticipated that Thums Up would not be able to compete against these global giants. However, contrary to that, Thums Up has survived but continues to thrive in the Indian Cola drinks segment.
What is Thumb Up's Brand Positioning?
When Coca Cola bought Thums up in 1993, it had a considerable market share. Coca Cola's initial plan was to phase out Thums Up. They began advertising less and put the focus on Coke. However, instead of seeing increased sales for Coke, they started losing sales to Pepsi.
To counter this trend, marketing for Thums Up was increased. The Indian audience that always saw Thums Up as their first choice lapped this up. As a result, Thums Up regained its market leader spot.
Thums Up's branding changed over the years, especially when they were bought over. However, their brand positioning has remained almost the same for more than 40 years. Thums Up is still seen as a "strong" cola with an "Indian" flavor.
A strong drink for a Daredevil
Thums Up's ads often feature daredevil stunts accompanied by their icon tagline "Taste the thunder." These ads did have a fair share of controversies. In the 90s, there were multiple cases of children aping these ads with tragic consequences. The brand was quick to acknowledge that the turn of events saddened them. However, this did not change the way they positioned their brand. Their messages still focus on the thrill of adventure and living on the edge.
Keeping up with times, Thums Up has been careful not to come across as a masochistic brand. The brand clarifies that Thums Up is not a masculine drink but meant for daredevils of both genders. According to the brand, the somewhat aggressive brand positioning is focused on an attitude and not gender.
An Indian Cola
When Parle owned Thums Up and now Coca Cola, it never tried to be a Coke. While it is easy for the audience to confuse branding messages of Pepsi and Coca Cola, Thums Up branding has been different. While both Pepsi and Coke have an aspirational friendly tone to their marketing, Thums Up does not. This strategy was deliberate to ensure they retained their unique image. The product's flavor is a lot stronger and spicier than its international peers. This is more suited to the Indian palate and is one of the reasons for its popularity. Thums Up is well aware of this and highlights it as a USP.
How does Thums Up stand out against competition?
Coca Cola and Pepsi are not just soft drink giants but two of the world's biggest brands. Thums Up pulled an almost impossible feat by competing and holding ground. As mentioned earlier, even after being bought over, Coca Cola saw immense value in keeping the brand Thums Up. A strategy that has worked well for them as Thums Up continues to be the most cola drink in India. So how did Thums Up achieve this?
Leveraging On Its Indian Flavours
One of Thums Up's strongest suits is its Indian flavor. This was also the reason why other Indian cola brands failed. While others tried to duplicate Coca Cola, Thumbs Up's flavoring is spicier and stronger. Much like Indian cuisine. This has been leveraged with clever marketing strategies. The brand has worked with eateries to offer the drink as part of popular combos. As a result, Thums Up is often seen as the perfect accompaniment for popular Indian food.
Made for an Indian Consumer and Market
Thums Up wasn't just made for the Indian consumer but also Indian market conditions. The drink was formulated to maintain its fizz even without refrigeration. One of the reasons is that it is popular in non-urban areas.
When competitor brands like Campa Cola slashed prices to stay competitive, Thums up instead launched a larger version called Maha Cola for the same price. This became a popular option for large gatherings, which is quite common in India.
Thumbs Up continues to be the most popular cola drink and second most popular soft drink in India.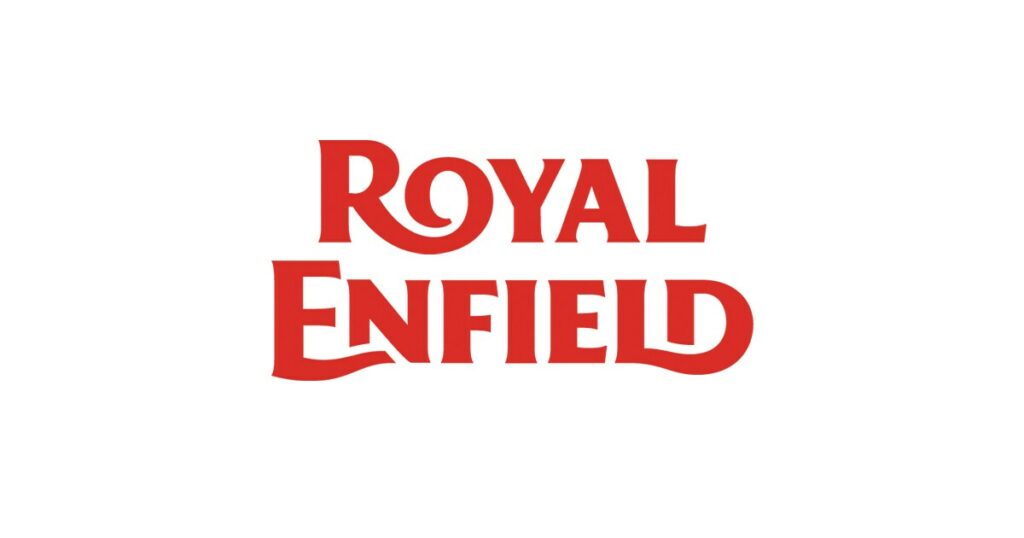 The Royal Enfield company prides itself on being "The oldest global motorcycle brand in continuous production".
While they do have a range of motorbikes, the Bullet is their most iconic product. The Bullet is known for its loud exhaust noise or the legendary thump as referred to by bike aficionados.
Royal Enfield has been in India since the 1940s and in the 1990s was merged with the Eicher Group. Despite being popular over decades, the company saw sales falling in the early 2000s. The company invested in intensive marketing to overcome this. The brand's iconic position was reinforced through a combination of advertisements and events.
What is Royal Enfield's Brand Positioning?
The Bullet's recent tagline is "Toh Bullet Chale toh Duniya Raasta De" (When the Bullet moves, the world makes way). However, the overall brand's tagline – "The oldest global motorcycle brand in continuous production", captures the brand more accurately. Royal Enfield's iconic status can be broken down into two factors – aspirational and legacy. Let's look at these two aspects in more detail.
Owning a Royal Enfield bike is a matter of pride.
With its loud exhaust noise, bikes like the Bullet bikes are head-turners, literally. Also, the Royal Enfield bikes are bigger and heavier than other brands. Not something everyone might prefer or can handle. Its bulky design also makes it stand out and make other bikes look smaller in comparison.
Royal Enfield's bikes are designed to be ridden even on rough terrains. The average bike owner might use a bike only for commuting. But the average Royal Enfield owner is most definitely a bike enthusiast.
The heritage of Royal Enfield
The original Enfield company was founded in 1893 in England. Over the last 70 years, it has been the only British bike to be manufactured entirely in India. Bikers agree that the Royal Enfield bikes have managed to maintain their original British essence. While also being an icon on Indian roads for decades. With its rich heritage, owning a Royal Enfield is seen as possessing a legacy piece.
When Royal Enfield was looking to reinforce their brand image, its first focus was on its heritage. They knew that despite a constant entry of new players, their legacy was their biggest USP. As part of its marketing efforts, the brand released a nostalgic video about its heritage.
The video was an instant hit and helped cement Royal Enfield's brand position.
How does Royal Enfield stand out against competition?
Some of Royal Enfield's biggest competition in India include Bajaj, Honda, Jawa, and Benelli. Some of them have better features and price points in comparison. It is fair to say competition is stiff in this segment.
Apart from growing competition, Royal Enfield also faced several challenges. During the 2015 Chennai floods, they had to shut their units for a period and suffered loss. Despite all this, Royal Enfield has managed to stand out against the competition for the following reasons.
Sense of community
Royal Enfield owners have a sense of belonging to a community. Several Royal Enfield biking clubs organize road trips and events. It is common to see these clubs use the phrase "Four wheels move the body, two wheels move the soul." It also aptly captures how the brand is perceived. Their association with the brand does not end with the purchase. Many Royal Enfield customers see it as a relationship rather than a transaction.
Royal Enfield saw the value of these communities and organize exclusive events for their customers. These events are hugely popular and help with brand reinforcement.
Focus on the experience
Much like many successful brands, Royal Enfield's messaging focuses on the experience of owning the bike. The bike's features take a secondary place in the messaging. Their message is often strong on emotions and nostalgia. One of their recent campaigns was a series of real-life stories of their customers.
Despite being a legacy brand, Royal Enfield has worked on keeping its messaging relevant to times. One of the earlier associations with the brand was that their bikes were for "macho men." Recently their messages focus on breaking the gender stereotypes associated with large bikes. The ads now feature women riders as well. Though it was Bajaj who first featured women bikers in India, Royal Enfield followed suit swiftly. There has been a consistent effort from the brand to showcase that Royal Enfield is for anyone with the spirit of adventure, and this is not restricted to a certain category of people.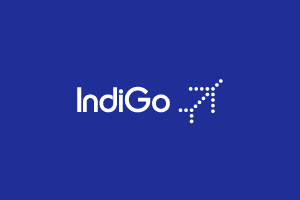 Private airlines in India do not have it easy. The last two decades saw the launch of several airlines but also quick closures. Brands like Kingfisher and Jet had to close down. Even brands like Spice had temporary troubles. However, Indigo Airlines has managed to hold fort continuously and today is the most popular airline in India.
It is noteworthy that while brands like Kingfisher did have a powerful brand position, it was not enough to sustain the business. However, Indigo has managed to carve a space for itself while remaining profitable in a volatile segment.
What is Indigo's Brand Position?
Their tagline "On time. Every Time" highlights one of the critical aspects of their brand positioning: their commitment to being on time. The other aspect is their economic airfares. By positioning them as punctual and affordable, Indigo has a strong position in the Indian market. This is because, unlike many other countries, air travel is still a luxury for most Indians. Focusing on being on time and being affordable – Indigo promotes itself as "value for money."
Being on time
Unfortunately, several Indian industries have come to accept delays as usual. For a brand in India to make a promise to be on time is always unique and bold. To keep its brand promise, Indigo follows several processes to ensure no delays. Their commitment to this promise and delivering on it is the most significant leverage for their brand positioning.
Flyers come to associate Indigo with being reliable, making it a preferred option for business travelers. This trend is a far cry from the scenario about two decades ago when one expected flights to be delayed.
Value for money
While other airlines tried to offer more services, Indigo did not hesitate to cut out the frills and keep their prices competitive. Indigo charges extra for food, baggage allowance, and seat selection. While this was initially met with criticism, it has helped Indigo manage costs.
Their focus has been offering economic airfare even though it meant cutting out on some benefits. This gamble has worked well for the Indian market.
What makes Indigo stand out against the competition?
In a market that has been pretty ruthlessly competitive, Indigo has managed to stand out and continues to do. Let's look at what has led to this.
No frills but still fun
Everyone remembers the extravagant marketing tactics used by Kingfisher airlines. It can be hard to compete with a brand like Kingfisher and not look dull in comparison. However, Indigo has managed to pull that off.
While Indigo has a massive focus on showcasing itself as economical, it also throws in a fun element now and then. For example, their food packaging has funny one-liners printed on it. Another example was in 2014 when Indigo hosted the country's first runway musical. With these tactics, Indigo's message is that being economical and reliable need not be boring.
Focus on the passengers
You have seen customer focus mentioned several times in this blog already. But a customer focussed approach can do wonders for branding. According to Indigo, every second passenger is a frequent flyer. What is the reason for this brand loyalty? It is their service and customer experience.
Back in the day, Air India was unfortunately known for its less-than-friendly service. Today is not uncommon to see airline staff break into a dance performance mid-air. While all private airlines have set the bar high for customer experience, Indigo has taken it a notch higher.
Indigo uses a combination of technology and well-trained staff to offer the best customer experience. Again the message here is that low cost does not mean mediocre service. By investing in their customer experience, they have let their service do its brand positioning.
Brand Positioning Examples of B2B Companies
Brand positioning for B2B companies is just as important as B2C but also quite different.
In several B2B industries, companies offer the same product or service with marginal differences. What differentiates is their brand positioning, which also has an impact on pricing. However, for these same reasons, brand positioning in the B2B space is a lot harder.
Here we will look at B2B brands that have cracked the brand positioning code.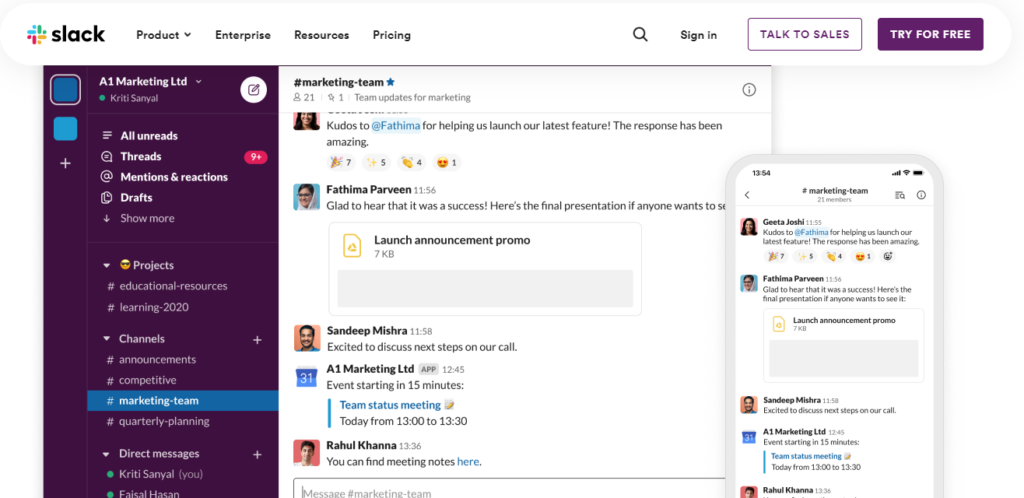 Originally intended as an internal communication tool, Slack was not created for public use. The founders saw potential in it and launched it to the public in 2012. Ever since then, it has grown to be one of the most popular communication tools around.
Slack was one of the first "new age communication tools." The previous generation of communication tools was purely for sending and receiving messages. While tools like Slack have entirely changed the way, we communicate at work. It has almost replaced many other tools by also offering collaboration and integration with other business functions. Slack does subtly highlight that it is a "modern" tool. For instance, some of its error messages often have a touch of humor.
What is Slack's brand positioning statement?
According to Slack, their goal is to "Make work-life simpler, more pleasant and more productive."
The statement says nothing about the tool itself but instead describes how you can feel by using Slack. This is also an indicator of how the brand positions itself.
Not just a communication tool
We have already mentioned it before – Slack is not just a communication tool. It is also a collaboration tool and even replaces email threads in many instances. Some of its strong points are its conversation threads and ease of teamwork. All this is done without overcomplicating things. In other words, it does make work-life simpler and, as a result, more pleasant. This is a far cry from older tools like Sametime, Skype, etc.
Leveraging on select unique features
Instead of positioning itself as a tool with many valuable features, Slack has focused on a few key features. For instance, its leave state synchronization feature. This feature shows you where every person in every conversation leaves. It also syncs their cursor position. This was one of the first features that put Slack in the spotlight. Even as it has grown exponentially, Slack still focuses on a few key features that they do well. Rather than portray themselves as a jack of all trades.
How does Slack stand out from the competition?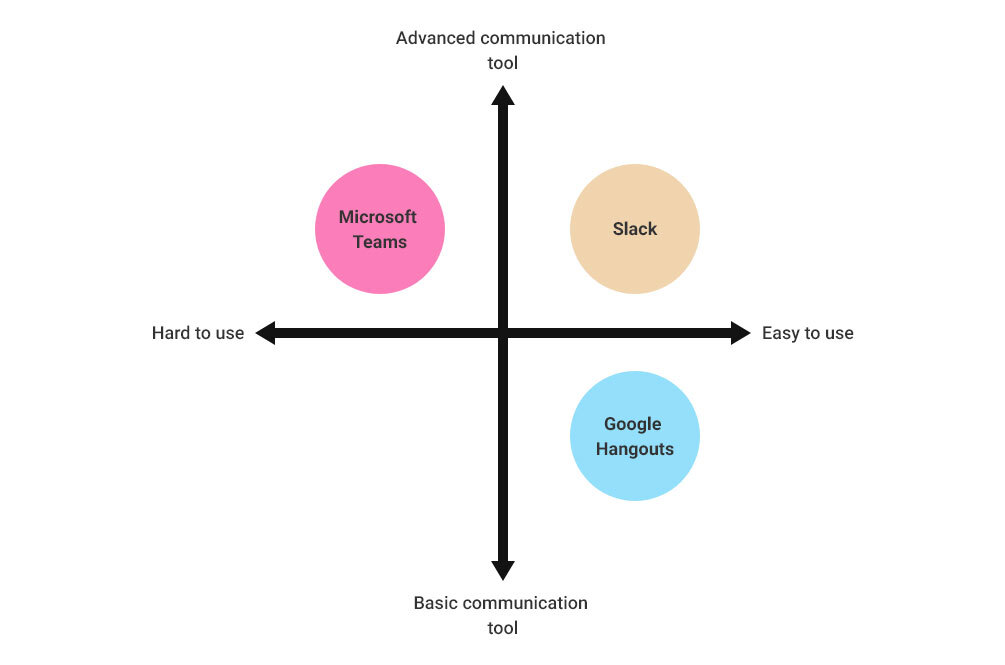 Some of Slack's biggest competitors are Microsoft Team, Google Hangouts, and Cisco Webex Teams. A few years ago, Slack bought out one of its competitors – HipChat and Stride, further strengthening its position in the market. It would be unfair to say Slack is the best in the space. Some of its competitors like Fleep and Chanty are more reasonable. Despite all this, Slack has managed to carve a space for itself, and here is why.
Integrate like a pro
One of the most popular reasons is its ability to integrate with more than 2400 other applications. True to its goal, Slack does aim to make work-life simpler and productive. While a lot of Slack's competitors also offer integration, the range provided by Slack is impressive. Making it one of the most associated aspects of the brand.
Slack has also leveraged these brands to reach new audiences. Interestingly a lot of Slack's brand building has been through word of mouth. This association with other brands has helped this strategy.
Takes customer feedback seriously
This point might seem like something basic that every brand ideally does. But Slack took this to the next level. Slack is constantly adding or modifying features based on inputs from customers. Slack has a nifty feature where you can message yourself. This is a seemingly simple but pretty helpful feature. There are several other features like this show that they are listening to what their customers want. This strategy is one of the secrets behind Slack's extremely intuitive user interface. Another one of their strengths. In comparison, some of Slack's competitors, like Microsoft Teams, are unfortunately hard even to set up.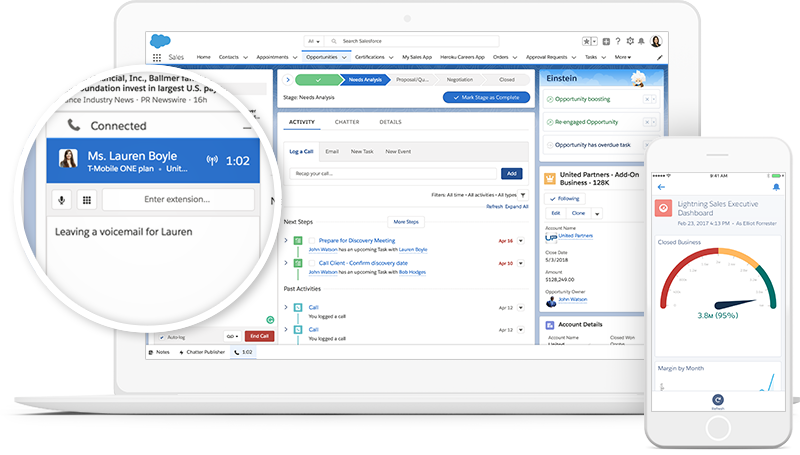 When Salesforce launched in 2000, it began with a big splash. A mock demo was held in San Francisco with protestors holding signboards that said "The end of software." It caught the attention of the world. Salesforce did end up changing the CRM market and is an undisputed leader today. From then to now, their branding has always been loud and clear – They are here to make disruptive changes.
This is also reflective of the founder's advice on brand positioning – "Position yourself either as the leader or against the leader in your industry."
What is Salesforce's brand positioning?
When it comes to branding, Salesforce is bold and not afraid to make strong statements. However, a critical part of their brand positioning is seen in their tagline, "We bring companies and customers together." Much like the other brands discussed here, their tagline is simple but yet conveys a strong message.
It's all about their customers.
Salesforce puts a significant emphasis on its customer success stories. A quick look at their website will show how their message is from a customer perspective. According to the company, "Stories are an integral part of a customer's journey at Salesforce; it's how we measure and communicate success, inspire customers and ourselves."
Salesforce has never shied away from highlighting how some of the world's biggest companies use them. The messaging focuses on "working together" and "building trust." This has helped Salesforce build an image of being a trustworthy leader.
Focus on quality of work
Much like Slack discussed previously, Salesforce also puts the focus on how they make their customers feel. Rather than the features of the product itself. Salesforce has always spoken about how disruptive their product is and how it has changed work life for many. This has worked as many have come to associate productivity and sales enablement with Salesforce. When you say CRM, most people tend to think of Salesforce first. This is proof of how strong their positing is in the CRM space.
How does Salesforce stand out against competitors?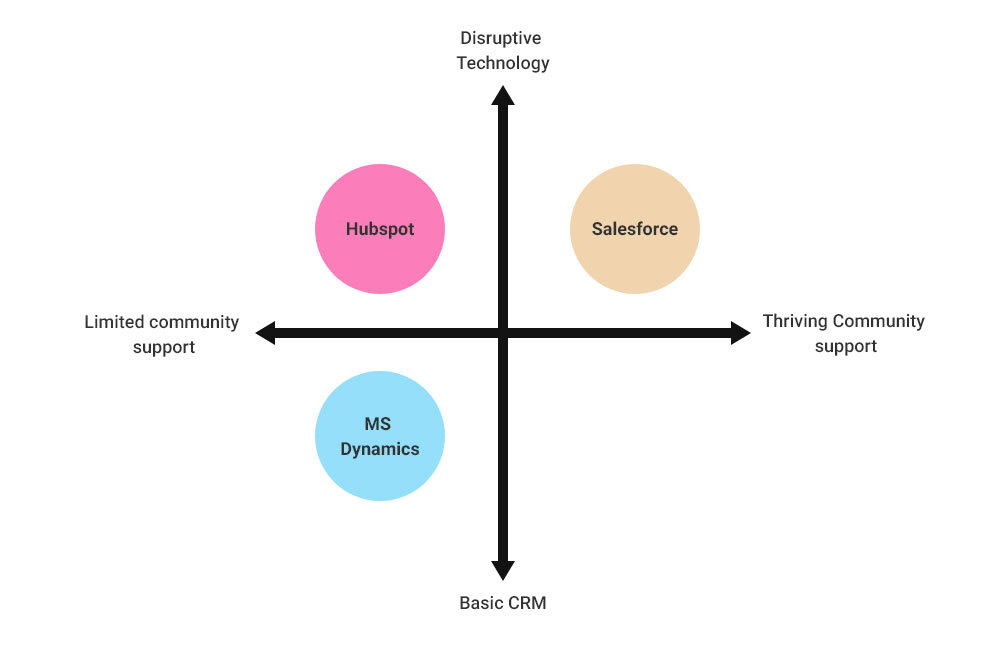 Some of Salesforce's top competitors include Hubspot, Microsoft Dynamics, SAP, etc. Several organizations also choose to build their in-house CRM tools. These are also a competitive segment for Salesforce. CRM tools can be deceptively similar, so it needs extra effort to stand out from your competitors. Here is how Salesforce makes its brand position clear.
Idea Exchange
One of Salesforce's unique marketing strategies is its Idea Exchange. This is a platform where customers can collaborate and share new ideas. This has helped tremendously in fostering a sense of community. Not just with other members but also the brand itself. Customers feel they have a role to play in Salesforce's growth and vice versa. It also ties back to the previous point about how customers feel valued at Salesforce.
Trailblazer Community
Much like the Idea Exchange, the trailblazer community is also a platform to make connections. This platform brings together customers, industry experts, and even students (future Salesforce users) together. There are over 1000 subgroups that meet both virtually and in real life. While a few other brands have similar options, Salesforce's trailblazer community is thriving and immensely popular.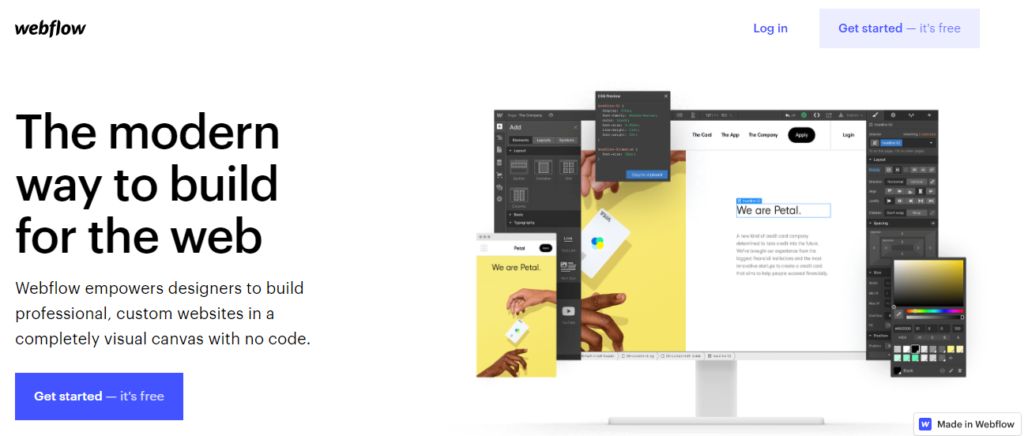 While WordPress and Wix have been some of the most common tools to build websites, Webflow has grown in popularity too. Apart from these brands, there are several more entering the market as well. The primary way tools like Webflow can differentiate themselves is by the ease of use. Webflow's no-code approach not only made it famous but also helped differentiate it from competitors.
What is Webfflow's brand positioning?
When it comes to website creation tools, there are some common perceptions. Wix and Squarespace are popular choices for first-time entrepreneurs and content creators. This is because of the range of off-the-shelf templates offered. WordPress is the tool of choice for bloggers and complex websites because of the wide range of customization options. Webflow is seen as a good fit for designers and freelancers.
When talking about what inspired them, the founder of Webflow said, "For far too long, if you wanted to build truly unique and complex solutions for the web, you had to know how to write code, a skill held by less than one half of one percent of the world. "
This focus on "no-code" and democratization of website design has influenced their brand positioning.
No Code – easy for beginners
While brands like WordPress offer a wide range of features, many are daunted by its complexity. On the other hand, while tools like Wix are easy to set up, they also have limited features. This resulting void has been filled up perfectly by Webflow. While it does offer a significant range of features, it is also simple enough to set up. This is mainly because of its "no-code" approach. The brand showcased this as their biggest strength, and today it is how the brand is identified.
The best fit for freelancers and designers
According to Webflow, their customer base has grown to a healthy mix of companies of all sizes. However, they are still known for being the best fit for freelancers and designers. This can be attributed to two reasons. The first being the ease of use. The second is that during its initial days, Webflow did focus its marketing efforts on freelancers. The idea behind this was to tap into larger companies via these freelancers. A strategy that has worked well for Webflow and also influenced its brand positioning.
How does Webflow stand out against competition?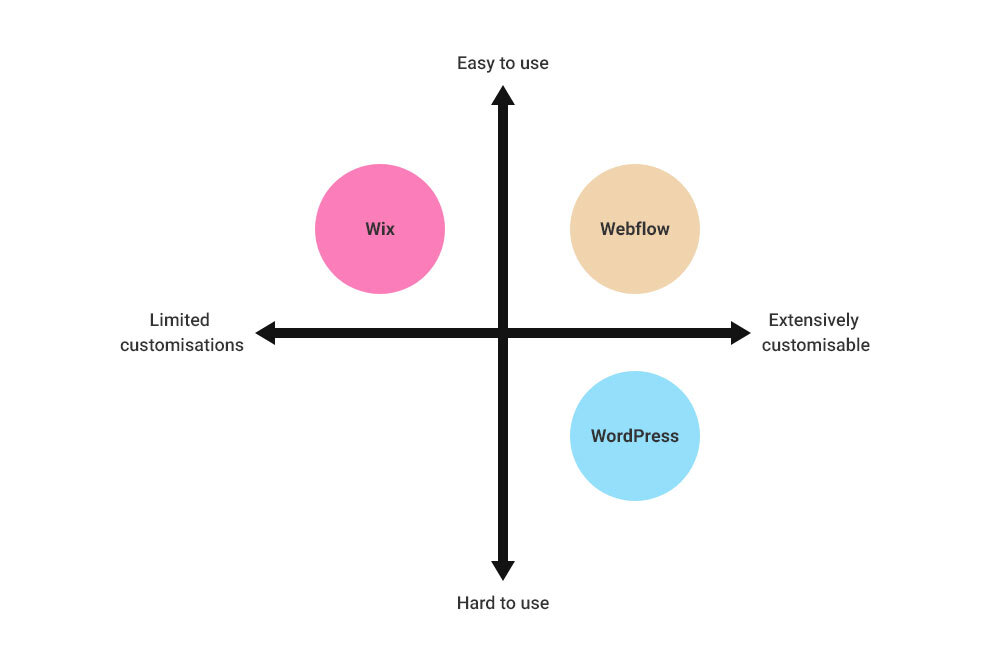 We have already spoken about how Webflow is perceived against its competitors. So how does Webflow go about achieving this?
Leverages content marketing
Webflow has invested a lot in content marketing. Their website is rich with helpful information content no matter what your need is. One of the handy features of their blog is the reading list. There are lists by industry, specific requirements, and trending topics.
"Webflow or WordPress?" is a common question that arises when deciding to build a website. Webflow is well aware of this and uses its content to push potential customers further down the funnel. They have a whole comparison section that explains their strengths in clear and concise terms.
Nurturing a community
From the Webflow university to online and offline events, the Webflow community is growing. For many users, a tool like Webflow is something they use when building a website and almost forget about it. Unlike tools like Slack or Salesforce, it is not something that is part of daily workflow. This can result in low brand recall after a point. To avoid this, Webflow invests in community building to show users they can continue to offer value.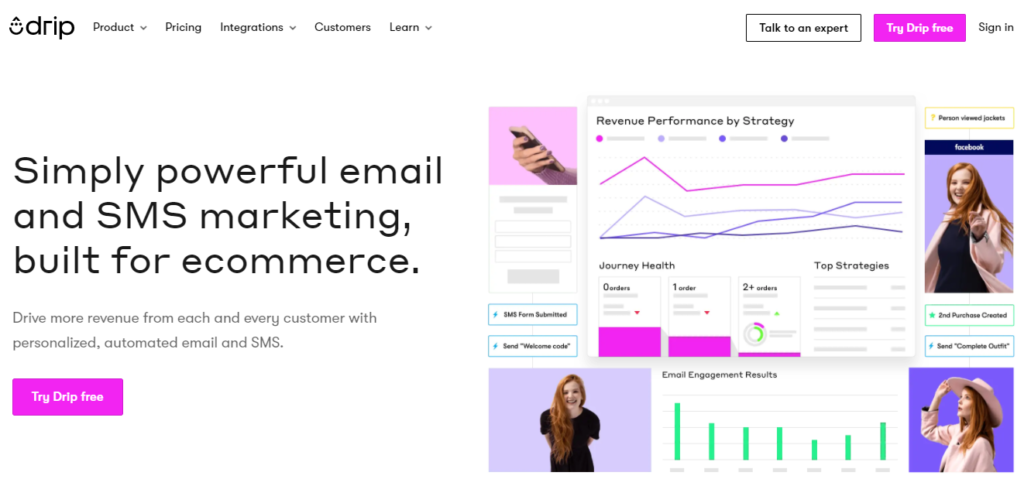 Drip is one of the most popular marketing automation tools for e-commerce. Founded with a key focus on helping small businesses, Drip has grown using a stair-step approach. They started small with products and gradually increased their offering.
What is Drip's Brand Positioning?
According to the company, they are "Empowering the e-commerce rebellion." This rather bold statement is an indication of how the brand has positioned itself. While using phrases like a rebel to describe a B2B brand can have negative connotations, it has worked for Drip.
Rebel with a cause
Drip was founded with the vision of empowering small and niche businesses. The founders saw that large e-commerce brands were pushing smaller companies out of the marketplace. With this vision, Drip has positioned itself as starting an e-commerce rebellion. A rebel who is helping e-commerce remain independent and giving businesses of all sizes a chance. As a result, Drip is extremely popular with companies that are struggling or just getting started.
User-friendly product
Drip has gotten popular because of how easy it is to set up and use. Its visual workflows, in particular, have been a popular feature among users. It also offers integrations with 100 + products making it a smooth fit into existing ecosystems—another reason why small and new businesses tend to choose Drip.
How does Drip stand out against the competition?
Some of Drip's competitors are Hubspot, ActiveCampaign, Omnisend, among others. While Drip has worked hard on its "rebel" image, it also has other aspects that helped differentiate itself from its competitors.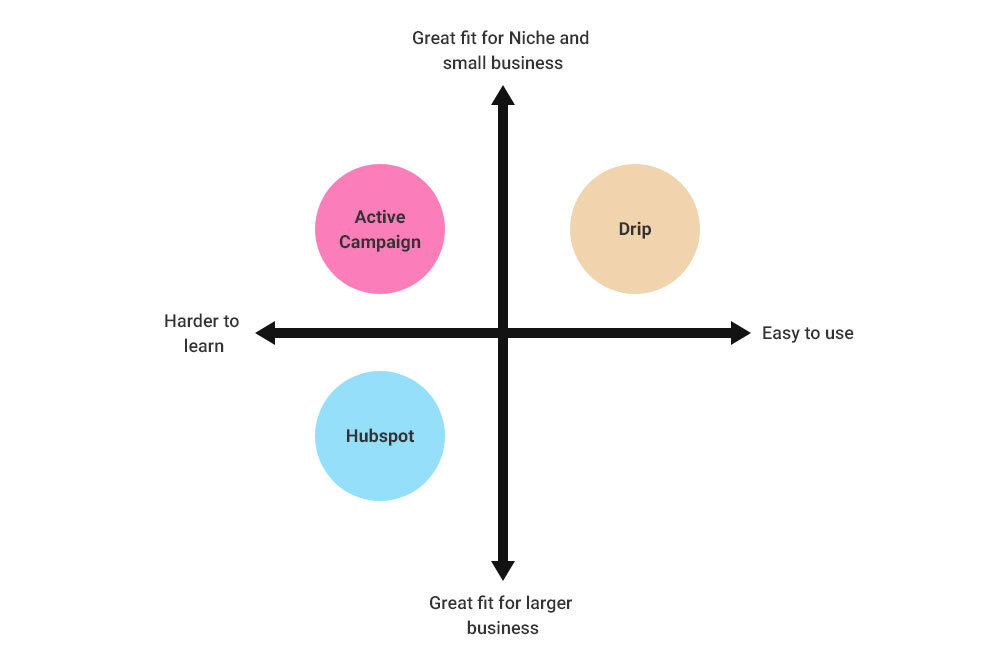 Brand Boost Program
In 2020 Drip launched a Brand Boost Program. It is a community for independent e-commerce businesses to help each other during this global downturn. This is in line with the brand's promise of "fighting for" small businesses. Creating an initiative like this when several small companies are struggling has been well appreciated. While several brands talk about helping each other, Drip has been one of the few to come forward and do something.
Revenue Engine
While Drip is, in essence, a marketing tool, it calls itself a "Revenue Engine". This is a lofty promise. Still, a lot of their features live up to this. For instance, it allows you to calculate a "lead score" that you can use to grade leads. Another valuable and popular feature is the view of each customer's journey. With this feature, you can pinpoint what exactly contributed to closing a deal. These clever features help you understand your business better.
With their strong brand positioning, these companies continue to inspire organizations around the world. Which other companies have inspired you with their brand positioning strategy? We would love to hear them. Let us know in the comments section below.