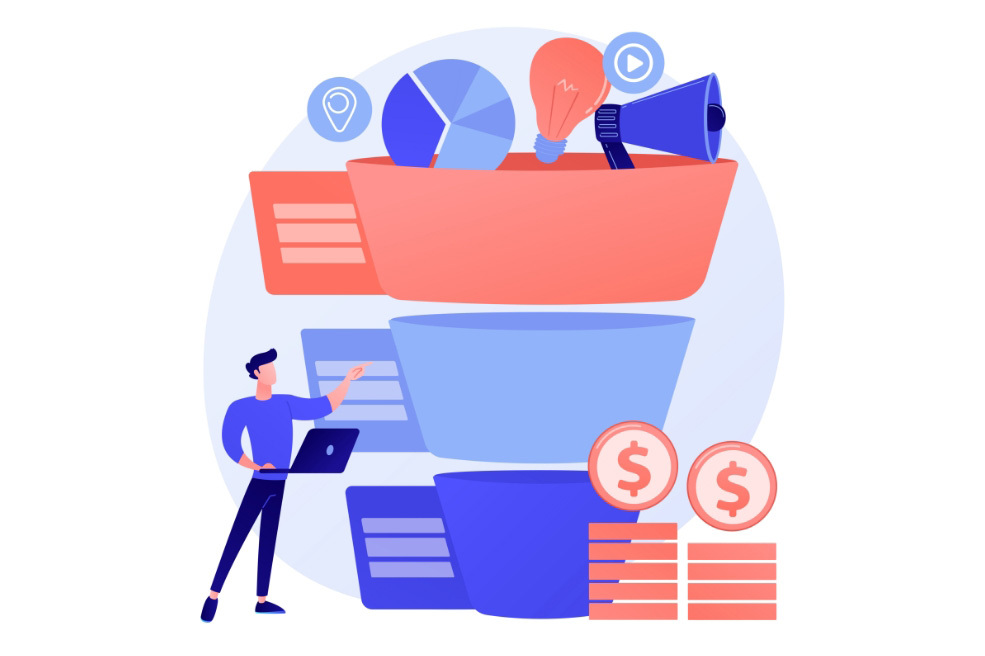 All marketers know that a good brand strategy can directly impact the company's bottom line. While numerous international brands serve as a benchmark, Indian companies are not far behind.
Here we will look at two Indian companies that have cracked the branding code. Since branding works differently for B2B and B2C, we will study one from each category. Here are the examples of brand building that help win customers trust.
Here are two examples of brand building
Example #1 – Tata Consultancy Services
Tata Consultancy Services (TCS) recently became the largest IT company globally with a market capitalization of $162 billion. Founded in 1968 as part of the Tata Group, it grew from an Indian brand to a global giant.
Over the last year, TCS saw its brand value grow by 11% and touch $15 Billion. Moreover, they have also climbed the list of most valuable and strongest IT Services brands. They beat other brands like IBM to reach the third spot. The global pandemic saw a shift in the digital space. The increase in the long cycle of technology spending has worked in favour of TCS.
TCS was a pathbreaker in many ways. It was the first software and services company in India. It was also the first Indian software company to set up shop in the USA. Also, they pioneered the network offshore delivery model. However, until as recently as 2003, their brand image wasn't reflective of any of this. Several of their innovations were often miscredited to competitors.
TCS realized that it was time to up their brand image. Just before they got listed, TCS ran a series of ads. The ads were to showcase that TCS put India on the global IT map. The theme was "TCS – Truly Global". Four full-page newspaper ads spoke about TCS with Indian roots and a global scale.
They used taglines like "IT put India on the world map. But who put IT on the Indian map?". Another slogan was "Money makes the world go round. But who makes the money go round?". Though the ad campaign ran only for a few weeks, it finally managed to break many misconceptions about brand TCS.
How does TCS build its brand?
Over the last two decades, TCS has invested in several brand-building activities. Here we will look at a few of their most important ones.
Increasing brand awareness through collaborations and events
One of the ways TCS has built its brand image in the global market has been through events. They have sponsored a wide range of events, often in collaboration with international industry bodies. The leverage of being associated with well-respected industry groups has helped them tap into newer groups. For example, TCS has partnered with the World Economic Forum and European Business Summit to host events. They also host sporting events around the world, including their famous TCS New York Marathon. TCS also collaborates with the world's premier academic institutions, including Carnegie Mellon.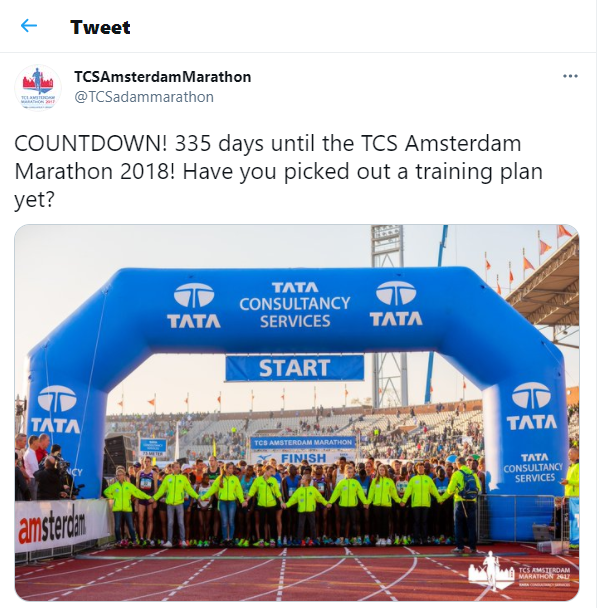 TCS's strategy of investing in their brand image through such events has paid off for them. According to a report done by ITSMA, TCS's brand awareness has doubled to 84% in the last decade.
2. Establishing the brand as a thought leader
Like several B2B brands, TCS has also used the thought leadership strategy. By offering a range of practical insights, they have established themselves as thought leaders. They demonstrated this when TCS launched their Digital Software & Solutions Group (DS&S Group). They made use of LinkedIn to offer insights specifically for telecom, retail and finance industries. TCS set up a LinkedIn showcase page that started offering a series of How-to content. The focus on practical content showed the clients they were 'Doers' who could bring transformation.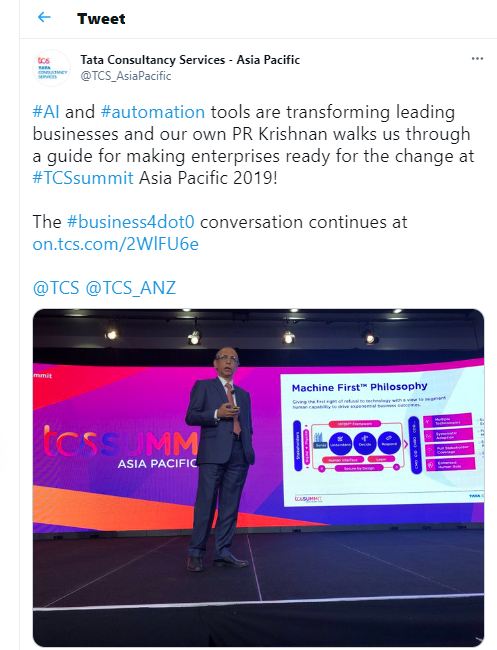 3. Showcasing how TCS has changed India
TCS has worked on several digital transformation projects in India. To showcase this, they ran a branding campaign titled #TCSPartOfYourStory. Rather than talk about their services, the message is about the value it brought people. The campaign had videos in a storytelling format. For example, the video about their Financial Inclusion services spoke about how several rural areas got access to banking services for the first time. The messaging focus was how TCS transformed these people's lives.
TCS's branding in a pandemic world
TCS had a big focus on live events, and this had to change during the pandemic. They swiftly converted many of their live events into virtual events. To keep the brand value of their marathons going, TCS also hosted virtual sporting events. According to the company, they increased their client engagement threefold. TCS focussed on staying close to clients to reassure them.
The company also attributes their success during the pandemic to its strong employee relations. Apart from building their brand for the world, they also focused on internal branding. To keep up with the significant change of working from home, they invested more in internal communication.
Example #2 – iD Fresh Food
iD Fresh Food was founded in 2005 in Bangalore. The founders saw a demand for convenience in the Indian food market. This saw the birth of their first product – instant idli/dosa batter. According to the founder, they set out to brand a common everyday commodity.
Today their product range has grown, and they have a presence in India, the Middle East and the USA. With revenue of Rs 150 crore, they manufacture 50,000 Kg of batter every day.
How does iD build its brand?
iD's branding strategies are reflective of their values of simplicity and authenticity.
Here are a few ways iD had built its brand.
Simple Message: High Impact.
The brand itself was born out of a vision of simplifying cooking. This idea is still at the core of their products. While their messaging is about simplicity, their campaigns are often about making a splash. One of their iconic products is the vada maker. Before the launch, a teaser video meant for a presentation was accidentally leaked to the public. This mistake worked to their benefit when the video became viral overnight.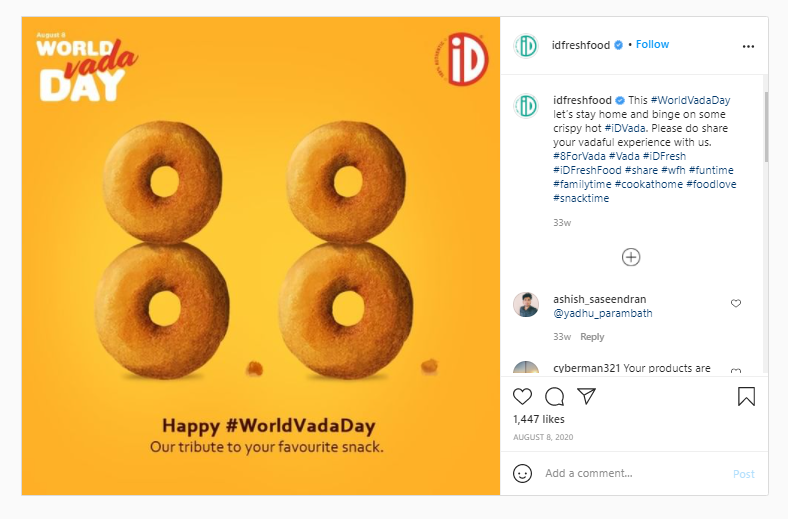 iD leveraged on this interest by announcing a World Vada day with several campaigns. They chose August 8 due to the date's resemblance shape of two vadas. This is just one example of their attention to detail with impactful creativity. Similarly, they launched their largest factory on World Idli day in March 2021. Another example of their impactful but straightforward ads was their filter coffee launch. Several leading newspapers carried a front-page ad that was upside down. This ad was a tribute to the way filter coffee was traditionally mixed in South India. All these launches get a lot of attention and a strong brand recall.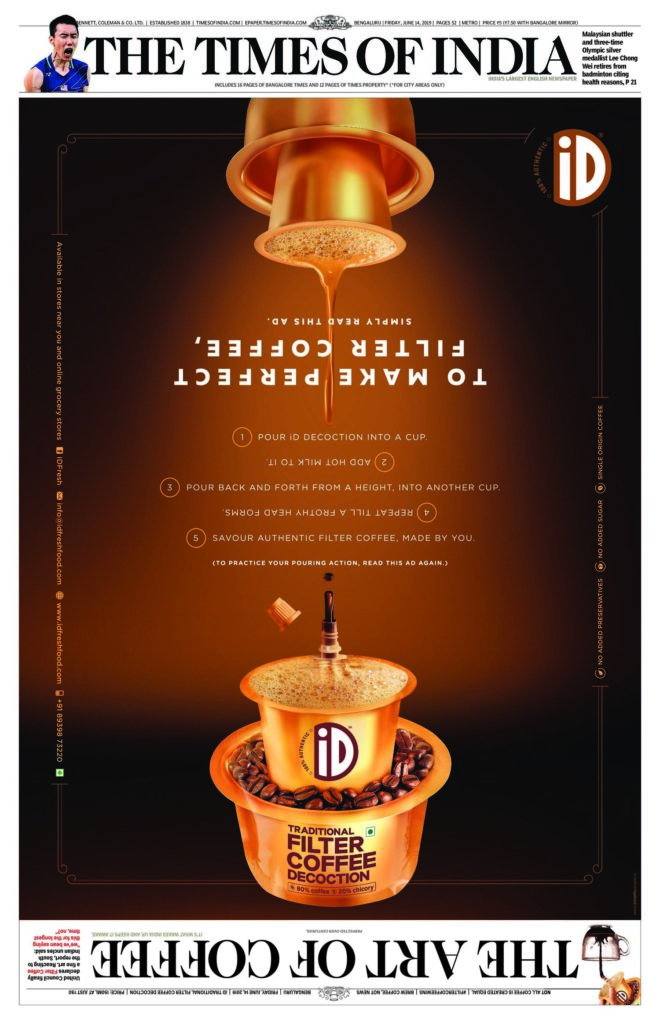 2. Brand laddering strategy in new markets
Despite their resounding success in Bangalore, they struggled in some new markets. When they decided to launch in Chennai, they had some challenges. They were up against several local vendors selling batter at much better price points. iD realized their brand message of – convenience would not work in this market. They pulled the idli batter out of the Chennai market and instead pushed their other products. The focus this time was showcasing iD as a trustworthy brand. Once they felt they had made headway in the area with this, they re-launched their other products into Chennai.
3. Aligning with company values
As mentioned earlier, iD's branding has its company values at the core. They go all out to get this message across to their customers. As mentioned earlier, one of iD's goals is to be a trustworthy brand. The organization felt that the best way to get there was to show customers iD trusted them too. In 2010, they ran a trust campaign across Bangalore. iD placed unmanned refrigerators with their products in public places. Customers were encouraged to take what they want and deposit money in the box. This gesture was a simple but powerful message about trusting their customers. The campaign was a huge success and gathered much publicity.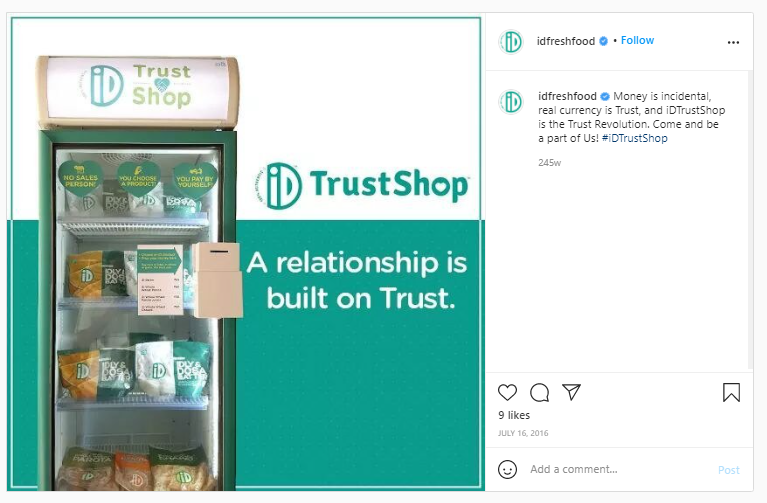 Another example of the brand showcasing its values is its #MadeWithlove campaign. The messaging showcased the brand as an integral part of Indian families. One of their mascots is an Indian grandmother – something an average Indian would associate with food made with love.
iD's branding in a pandemic world
The FMCG industry was one of the most severely affected during the Indian lockdown in 2020. iD, which always stayed clear of home delivery, decided to make a significant exception during this period. They used their fleet of delivery trucks to home deliver their products. The organization said this major business decision was to show their customers, they cared. iD realized that the pandemic world brought many challenges for everyone. The organization continued to collect customer insights, especially about the new normal and tailor their strategy. iD has reinforced its brand image by listening and delivering on its promise during a difficult time.
Hopefully, these examples can give you some inspiration for your brand strategy.If you are looking for a guide on how to create a brand strategy from scratch, check out our blog on The essential elements of a brand strategy.
Related Posts