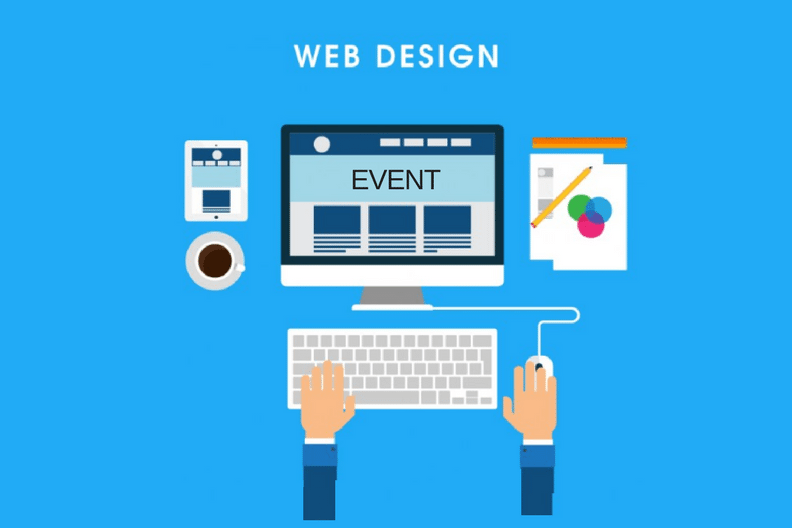 With the emergence of online event website design tools such as online registration and management systems, the way we communicate is becoming easier and easier. We now have the opportunity to seize the moment and engage with the audience, both online and offline, like never before. So today, we decided to write about website design ideas for your event and conference websites.
By understanding the audience before an event, event planners can deliver a targeted message that can create buzz and drive engagement. With the development of new communication tools and media and event planners, this message can be further reinforced onsite through event and conference websites with real-time communication and feedback, allowing planners to gather invaluable information and drive maximum value for attendees.
The main idea behind website design ideas is to serve a function, to solve a problem. An event website design has two main problems to solve:
Provide important, engaging and relevant information regarding the event
Get more people registering for the event.
Event website design ideas should be focusing more on solving these two problems, than trusting in attractiveness alone. An event website design should feature more clearly outlined event schedules, easy to spot "Register" triggers and comprehensive pricing options.
For example, "Online registration systems" gives so much more scope with how a message is communicated. Event and conference websites can help provide information to the audience on venues, agendas and convey the message long before the event itself.

Let us talk about goals, desired features, expectations, and trends of an event website design.
Major Goals Of An Event Website Design
Attract attendees
Good design, brand identity, and thoughtful user experience
The way your event and conference website looks tells users whether they want to interact or do business with you in just a fraction of a second.  Visually pleasing event website design ideas will help that first glance last longer and retain users. Regardless of size, any company can instantly gain a level of differentiation, credibility, and professionalism by developing their brand identity. Some events create their own identity over time, Construkt Festival is one of them.
Image Source: Google I/O
Great content that is focussed on the target audience
Content is the key to successful engagements at events. An incisive content marketing strategy and plan can help you increase attendance numbers, boost brand awareness and promote engagement long after the closing keynote speaker and finale celebrations.The content you create pre-event needs to drum up awareness and encourage the target market to register to attend your event on your event or conference website. You can do this with content such as blog posts, videos, and infographics that tie in with the event's key themes in the weeks leading up to the relevant dates.
During the event, focus on providing real-time information for attendees to use and share on social media so non-attendees can see what they're missing out on. Live tweeting is crucial for engaging with attendees in real-time, so ensure your Twitter stream is filled with interesting content throughout the event.

Once the show is over, attendees and non-attendees will be interested in hearing about the highlights. Publishing content related to the topics covered during the event and summaries of the best presentations can position your blog as an authoritative, informational resource on key market trends.
Read more on How to develop and effective content strategy for events.

Image Source: Greenbelt
This website gives tons of info on the event as well as its purpose.
On page and off page SEO optimization for events and conferences
There are countless SEO services and over 13 million posts with "SEO" in the title. The basic principles of technical SEO have not changed much in the last few years, however, the field has expanded a lot with dozens of new things to check and fix. What has changed though is that a technically healthy site is no longer an optional advantage, it's become a prerequisite for any SEO campaign. There's no doubt SEO will continue to evolve into a user-centric science.
This means those event organizers interested in driving visits to an event or conference website, will need to focus on producing uniquely valuable content that can not simply be paraphrased in a voice search. Read about how to optimize your event website for SEO.Image Source: WebbyAwards
Spread the word
Build an email list or use your existing list
Email marketing is a high-impact, low-cost way of delivering your marketing message to current customers and prospects. Creating an email plan to promote your event before, during, and after the event is an essential part of pre-planning. Because email is such a personal channel, it's the ideal medium to build excitement for events, send reminders, and reminisce post-event.In order to get the maximum amount of awareness and attendees from your event invitation email, try including these 5 different elements in the campaign on your event and conference website. A targeted list, a value proposition, a detailed description of the event including time and location, social proof and a prominent call to action button.

Read more to know how to build an email list in 8 efficient and quick ways!Image Source: WebbyAwards
Use social amplification tools and strategies
Social Media is heavily used for self-promotion, and what is a better occasion for selfies and show-off posts than a Live Event?
Using hashtags on social media campaigns can reach out to a wide number of audiences with a similar level of interests is a common social amplification strategy.

A few ways to use social media to create a buzz about your event:1. If your primary channels are Twitter and Facebook, schedule all social messaging with important information—the speaker information, workshop description, and event details such as location and relevant times—to be published on these networks first.
2. Secondary channels, such as Instagram or Pinterest, can have a slight delay in social messaging, but make up for the delay with more descriptive media, such as a video, a photo or a checklist.
3.  Schedule tweets to go out at reasonable intervals immediately before the event, and a couple of messages for the duration of the event, to make up any of the last-minute minds.
Image Source: FoodForThought

This is an incredible example of using the right artwork in the header to visually make an impact. Post event, the Twitter profile has been given prominence to keep the conversation going.
Create a social media strategy and enable easy sharing
An event — be it a networking gathering, open house, fundraiser or class — is by nature a social affair. People attend to connect, interact and share with their peers. Social media is an intrinsic part of how people experience almost every event now, and if you're a marketer, that means lots of new opportunities to get more out of your event marketing strategy. All you need is the right tools and a plan.
Image Source: WebbyAwards
Sell tickets online
Setup e-commerce to sell tickets
Selling tickets for events online is becoming more and more popular, even more so for international events such as music festivals or even WordCamps. There are a number of plugins out there to cater for this need, ranging in price as well as functionality, depending on the e-commerce platform you're using and the scale of your events, amongst others.
Image source: BumbershootThis website informs viewers of musical guests as well as venues and other small events. It also sells tickets online.
Configure a ticket selling plugin to manage sales
Events themselves come in many different styles from in-person gatherings to online parties and webinars. It can take a mountain of research to find the right plugin for your event website design ideas. Whatever your requirements, there is likely to be a WordPress events plugin out there already, it's just a case of finding it.
Image Source: Webby Awards
Integrate online payment gateways, local and international, with multi-currency options
Whether you have an online store, a travel website, or even just website design ideas which would involve visitors making online transactions, you would need information about a payment gateway. Since payment gateways handle very important transactions on your event and conference website, you want to ensure that everything happens seamlessly.Here's an ebook to help you know everything about payment gateways in India, "The most comprehensive report on online payment gateways"
Image Source: WebbyAwards
5 Best WordPress Themes For Event Website Design
1.  Conference Pro


Image Source: colorlib
Conference Pro is a clever and tech-savvy, modern and resourceful, wonderfully easy to use and highly responsive WordPress conference and event website design theme. It is a professionally developed WordPress website theme designed with a sleek sense of style and a careful attention to detail, including a sophisticated and seamless Facebook Event Import feature. 

2. Mesh

Image Source: colorlib
MESH can help you to create a sprawling network of social network contacts, given that it has built-in social media support. With just a single click, event previews, pictures or sample songs can be distributed to a large number of followers. Professional organizers understand the need to build hype. MESH can help you out with that task, given that it has incorporated a stylish countdown timer. The ticket purchasing process can also be handled online, and customers will be able to make reservations.

3. Vertoh


Image Source: colorlib

Vertoh is a sleek, modern and fully responsive WordPress theme suited for conferences, exhibitions, and other event management. It is a highly customizable theme with 4 different header variations and 15 beautiful color schemes that will site any conference or exhibition. The theme is tested by many event organizers and it promises high conversion rates for ticket sales and sign ups. Vertoh theme has a section for speakers, exhibitions, advanced schedule management that are easy to use and customize to site your needs.

4. Eventr

Image Source: colorlib

Eventr is a youthful and highly dynamic, colorful and lively, bright and luminous, trendy and tech-savvy, smooth and fluid, well structured and lightweight, fast loading and extremely modern, convenient and useful, unique and memorable, user and developer friendly responsive WordPress one-page event website design theme. Eventr is a marvelously innovative and deeply creative website building solution for modern webmasters, with or without previous coding experience, looking for an online home for their events, conferences, concerts or gatherings of absolutely any kind, shape or form

5. Eventum


Image Source: colorlib

Eventum is an excellent WordPress theme, allowing customers to design versatile online events portals. Every single detail of this product has been refined and improved, resulting in website design ideas that shuns mediocrity. Eventum lets you synchronize your activities with Facebook, creating a larger number of followers. Your site visitors can do this as well. You have the tools necessary in order to tailor your service towards a broad spectrum of potential clients. Options like recurring payments, subscriptions and trial runs are available.

Click here for much more WordPress themes for event website design ideas!
Desired Event Website Design Ideas
Marketing automation software and CRM systems are ubiquitous in marketing, and they're viewed as a necessary component to capture rich data for campaigns. View event management technology the same way — it has come a long way, and with the right tools, you can completely transform how you manage events and give event attendees a more personalized experience.
So here are some of the most desired features of an event website:
Event Registration and Ticketing
1. Multiple tickets and registration types with various quantities and prices.
2. Easily collect payment online or offline for ticket sales and registrations.
3. Allow customers to quickly register and buy tickets from their phone, tablet, and computer.

WordPress Plugins For Event Registration and Ticketing:

1. EventOn
This plugin also allows you to add custom color, featured image, Google Maps, event details excerpt, custom meta fields, categories and font icon to the events.
2. Event Espresso
This plugin allows multiple event registrations, MailChimp integration, ticket scanning add-on and much more.
3. Events Manager
Like Event Espresso, WordPress Event Management offers multiple ticketing options, event registration, and event calendar scheduling options for iCal and Google. There aren't as many customizable options, but it will more than get the job done.
Event Listing Design

1. Show the exact location of your event or venue with Google Maps and Easily link to your website and social accounts.
2. Include important info such as event description and share what makes your event special.
3. Highlight attendees and friends who are going to your event and Email marketing integration

WordPress Plugins For Event Listing:

1. Timetable Responsive Schedule
Even without a plugin, the best way out there to manage different events and appointments is through a timetable (a type of calendar). This plugin offers the same kind of user interface and gets the job done in pretty fast.
2. Booking System Pro
This premium one will help you configure calendar, activities, services, discounts and attach all these things to a product. You can set them in different orders, and even a shopping cart can be put right away with them.
3. My Calendar
The WordPress multisite supported plugin lets you create separate event calendars in different websites of your network. It is possible to display the calendars by the author, location, category or upcoming.
Payment Options
1. Accept Online payments for the event
2. Add an option to collect payments by check or invoice, and at the event.
3. Absorb fees into the ticket price or add them onto your ticket price.

Best WordPress Plugins For Payments:

1. Bookly
It supports most of the common payment gateways including PayPal, Stripe, Authorize.Net and you are even allowed to insert these gateways right on the event side.
2. Event Booking Pro
A plugin that will cost you $30 and it comes bundled with PayPal integration, Google Maps, multiple occurrences, multiple tickets integrations, user-friendly event creation, full control over appearance, CSV support and totally responsive design.
3. Ticket Tailor
This plugin handles all the aspects of ticket sales. It takes only minutes to set up, handles everything from multiple prices to payment collection and registration. It also integrates with PayPal.

Promotional Tools

1. Email Invitations: Send customized invitations
2. Facebook Promotion: Publish your event on Facebook and sell tickets on your Facebook page with a few simple clicks.
3. Social Marketing: Schedule posts and promotions on any social media channel
4. Discounts & Promos: Create promotional codes and direct URLs for discounts and promos.
5. Affiliate Program: Quickly set up individual URLs and sales tracking for your event promoters.

WordPress Plugins for Promotion

1. Modern Tribe
Not only does Modern Tribe help you integrate your events socially but they also are one of the few to have a community add-on.
2. Timely
Timely is a great Event Calendar and even the free version provides an astonishing good range of features for creating and promoting events on your WordPress website. What makes it great though is the social media integration.
3. All-in-One event Calendar
It's a high quality, fully customizable event calendar plugin. You can place the events in a page or any widget area as per your requirement and each event can be SEO optimized for more visibility.  



Image Source: WeareSocial
Top Event Website Design Trends

1. No More Hamburger Menu
According to StatCounter, 37% of website visits in 2015 were generated by mobile web browsers. In 2016, 80% of internet users owned a smartphone. And Hamburger menus don't work on mobile devices because they are difficult to spot and difficult to reach when positioned on the top left corner of the screen.
Apple, Google and Microsoft have moved away from the Hamburger menu, and so should you. The typical alternatives suggested for the hamburger menu are navigation bars and tab controls. Although these alternatives address the issues above by reducing the number of options for the user and by making them explicit.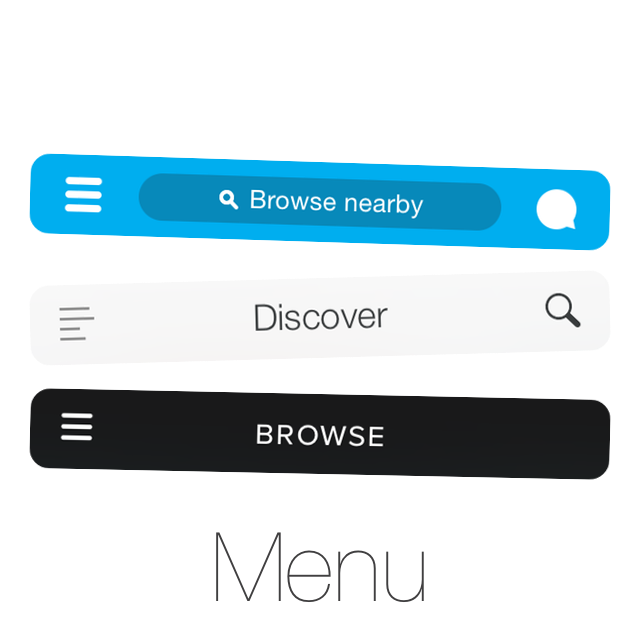 Image Source: Imjabreu
The problems with tab controls and bottom navbars are that they are not useful when there are a lot of options in a menu. Bottom sheets, bottom menu bars and floating hamburger buttons are the 3 alternatives to the hamburger menu which provide for a larger number of menu choices.
2. Vibrant Color Schemes And Neon Palettes
With the evolution of screen technology and even smartphones now supporting high-definition screens. Design should follow function, that also means that an event website design should follow important design trends.
3. Social Proof 

More events mean bigger competition for attendance numbers. One clear way of standing out from the crowd is through social proof. There are 5 types of Social Proof, and this is how they relate to your events:
Expert – famous or trending industry speakers in the schedule
Celebrity – celebrities attending the event, or part of the schedule; may also be a big corporate sponsor
User – testimonials from attendees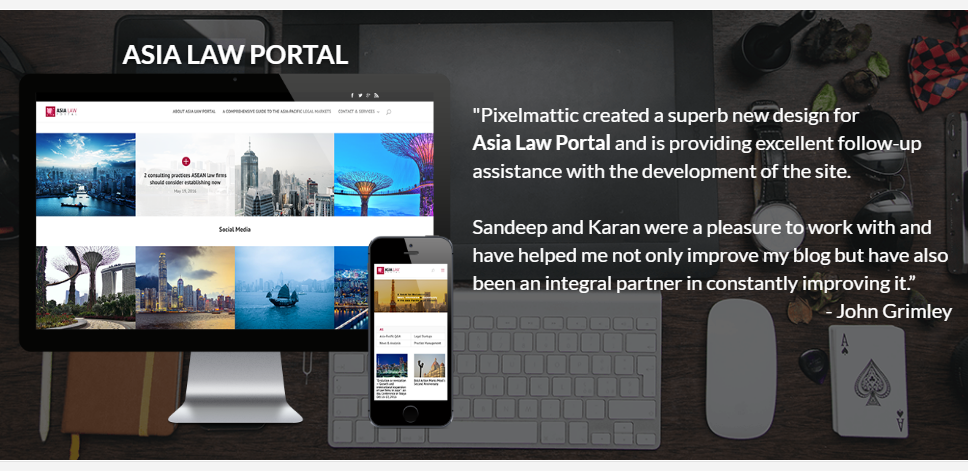 Wisdom of the crowds – previously high or currently big attendee numbers
Wisdom of your friends – referrals from attendees
To stand out from competing events, one or more of these 5 social proofs were added to the event website.
4. Conversation Triggers

Conversion triggers are design elements, statements, buttons and any and all website design ideas and elements that focus on alluring website visitors to sign-up, register and make a purchase. These are important because online visitors nowadays are ever savvier and prone to ADD.
Automated greetings are a fun and easy way for you to get started with intelligent conversation triggers. You can greet website visitors based on their geo-location. For example, a welcome message can be configured in French to greet visitors from France and another triggered in English to greet visitors from the United States & United Kingdom.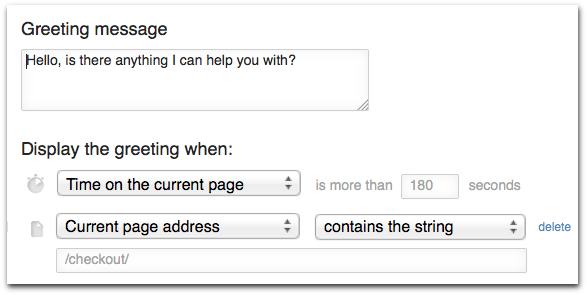 Image Source: ChatToolTester

5. Background Animations & Videos

Videos and animation will forever be more captivating, than pictures and text alone. A number of event websites now feature a background video from the last edition of the event in various forms. Videos are a great way to showcase the experience from the event and also provides engaging social proof right on your event's front page, the event's website.
One of our very own clients: Amagi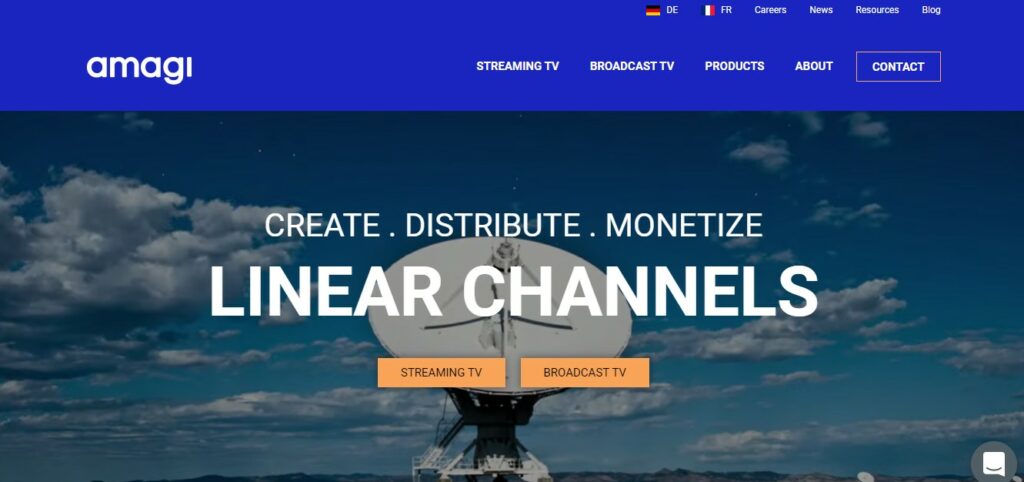 Image source 
6. Simple Typography

As we said earlier, online visitors nowadays are marketing savvy, immune to sales tricks and prone to ADD. That means you need to be direct and to the point with your event website design presentation and message. Using a simple, easy to read typography and focusing on your message, rather than the design alone is the key.
7. Networking and attractions
The only feature of live events not available online is the live experience. To distinguish your event from the competition, demonstrate uniqueness, grow your attendance numbers, you need to place more emphasis on the experience. The website is the right platform to show off your outstanding event website design ideas, distinctive activities, and unique sessions.
8. Long Scroll

With the evolution of landing pages and single web page designs and templates, long scrolls are now trending. There are also these two important trends pushing the long scroll:
1. Social media: Facebook, Twitter, Instagram, LinkedIn, Pinterest, virtually all social media websites and apps feature endless scrolling.
2. Smartphones and tablets: Browsing on a smaller size screen automatically lead to more scrolling.
9. Blurred Images

Blurred images are great at suggesting action, mystery, surprise, a buildup of excitement:
"A blurred background can bring focus to layers on top of the image such as text. Just make sure to select an impactful typeface. It can create new interest with an image that you use regularly, such as a standard brand photo. And it can be used with almost any type of content in almost any color scheme for universal appeal.


In combination with the brighter color palettes being used in event website design today, there is also a trend for grouping flowing gradients of color. Gradients are attractive and already gaining momentum for event website design ideas in 2017.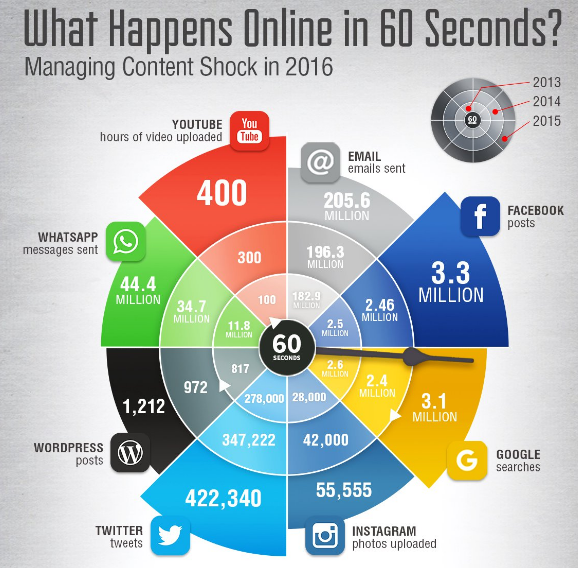 Image Source: smartinsights.com
When it comes to event planning, you have to prepare properly. The latest marketing technologies such as event website design, social media pages, and email marketing software make it much easier to reach large numbers of potential event attendees. Most of these platforms are free or cost very little to advertise on.
A wide range of paid online advertising methods makes it even easier to attract extremely targeted people who are more likely to attend the event you are advertising. Mobile apps for events, in particular, allow you to interact with potential event attendees and those who will be attending your event.
Here are some of the best website design ideas for e-learning websites and here's what you can learn from the best news website designs.
Email marketing systems and social media websites can be used to great effect after an event. You have the unique opportunity to keep in contact with attendees, who may be interested in your future events. As well as this, these people will be more likely to recommend your future events if they have had a positive experience and you take the time to develop a relationship with them.
A large number of individuals, businesses and other organizations who hold different types of events are benefitting from the latest technologies available. These technologies have the potential to attract larger audiences and improve each stage of any event you host.
To know how to make a website from scratch, read our ebook, 'Complete Guide To Website Planning'.