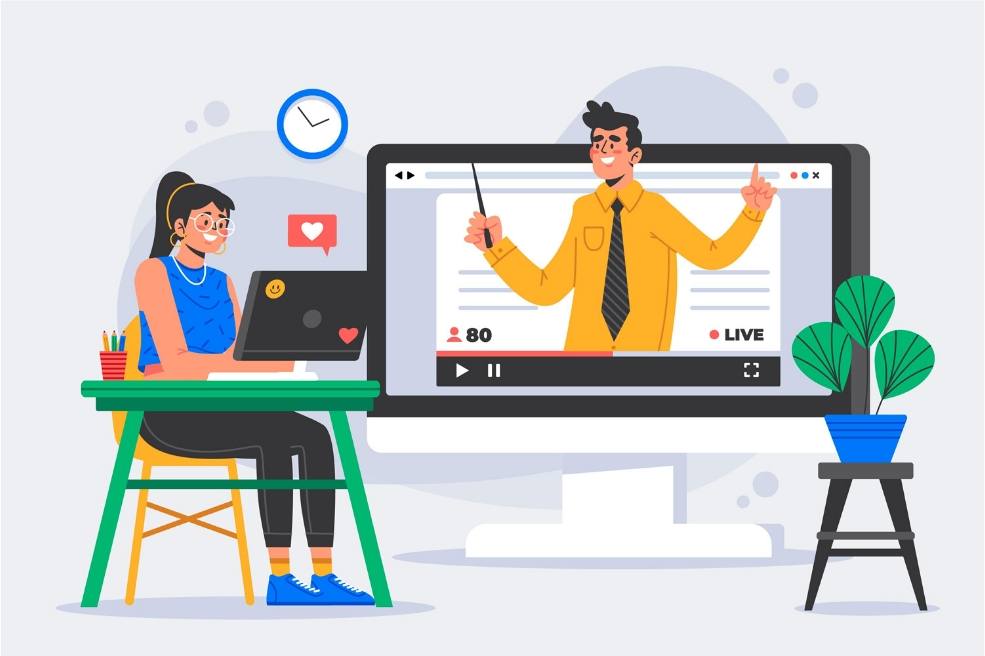 The e-learning industry has grown a staggering 900% since 2000. (source https://elearningindustry.com/top-elearning-statistics-2019).
Flexibility, better value for money, and customized experiences are a few reasons why e-learning has been gaining popularity. Apart from schools and universities, corporates also extensively use elearning for employee training. The e-learning website features most critical to improving conversion has also changed over the years.
The last few years have seen many changes in not just elearning space as a whole but specifically in elearning platform features. Some of the key trends in e-learning website feature revolve around app-based learning and video content.
Not just the businesses but end users as well have begun evaluating elearning features and advantages before making a choice.
Today there is a steadily growing number of websites offering elearning options. The global eLearning Market size is expected to reach USD 300 billion by 2025; according to a new research report by Global Market Insights, Inc.
With growing competition how do you ensure your business stands out? Your website is the best place to start. Having the right set of online learning features is not just beneficial for the students but also helps achieve business goals. Here we list down ten elearning website features you should have for great user experience and successful conversions.
Before we look at the e-learning website features, let's review the factors the negatively affect the conversions on your e-learning website:
Feature 1 – Online Admissions/Signing up for a course
Online admissions are the first major step towards elearning. Shortly after students enrol in a course of their choice, they'll be asked to log into a learning management system (LMS). This makes online admissions the first important e-learning website features.
The LMS is the platform where students can view their syllabus, learn how to contact their professor and access most course materials, including online readings, videos, audio files and other resources. This is also where students go to participate in discussion boards – written exchanges with fellow classmates. In some systems, students can also send emails and instant message to their classmates and instructors.
Although some schools design their own learning management systems, there are quite a few widely used ones in the market today. The last few years have seen several new brands entering the market.
Adobe Captivate Prime, Docebo and Moodle are some of the most popular ones. Some of the popular WordPress LMS plugins are WordPress LMS, Sensei and LearnDash. There is also Lift LMS and LearnPress which offer free basic versions. Lift offers additional plugins at added costs. For a budget-friendly option, you can just choose bare minimum mandatory options such as payment gateway plugins and go with the basic free version.
Advantages of an online admission system
Automated online software system works 24 x 7
Simplifies submission process
Reduces Paperwork
Dynamic and User-Friendly
Customizable Real-Time Reports
WordPress Plugins to Integrate online admissions to your website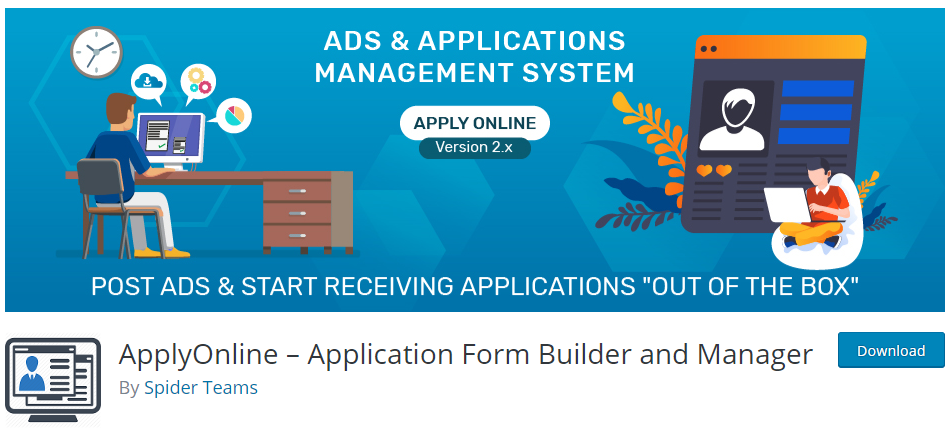 Feature 2 – Reporting and Data Analysis
Data Analytics has taken over every industry in the last decade and elearning is no different. Having a structured data tracking and reporting process is our second in the list of key e-learning website features.
Monitoring course performance allows instructors to make tweaks wherever required. Thereby ensuring students are getting the best value. The platform should allow easy collection of key data such as what are the popular courses, where they flag sections for questions, and how often they return to the videos for review, etc. Having this data allows instructors to intervene and motivate students who are struggling or falling behind.
Including learning analytics to your list of online website features is not enough unless it is ongoing and real-time. When elearning was at its nascent stage, one major drawback was not being able to monitor how students cope. But with improvements in technology, this is no longer a problem. This is where data collection and analysis plays a key role. By keeping a close eye on how a student progresses, additional resources can be offered whenever required. Not only does this improve performance but it offers a customized experience.
Most LMS now offer a live dashboard for a real-time overview of key data. This makes the tracking process easier and more efficient. Moreover, with the use of artificial intelligence, the factors being tracked have become more nuanced and refined. As a result, this offers improved and deeper drill down into insights.
Why should analytics be part of your e-learning website features list?
Learning analytics can reveal how a course participant is performing today, and this can predict performance.
Learning analytics can reveal which aspects of a training scheme are working best and also importantly the ones that are failing
It can be a guide for the optimum use of resources.
Learning analytics is fuelling the development of machine learning tools, social and content recommendation systems, network and discourse analysis, predictive analysis, content development, support and intervention strategies.
Learning analytics are being used to enhance the role of facilitators and instructors, to develop tools for automation within e-learning course structures, and to promote research.
Different kinds of e-learning analytics:
Time spent on the e-learning course
Rapid Page Exits
Learner Satisfaction Ratings
Online Learner Progress
Online Learner Preferences
Almost all WordPress plugins offer a wide range of analytics tracking options. For example, WP Courseware has a 'Grade Book' option that offers a simple way of tracking and even exporting student progress info. We will discuss this later in this blog post.
While other plugins like LearnDash offer Live tracking and in-depth progress reports. Most of these plugins also offer information in reader-friendly graphical formats. Google Analytics and Mixapanel are two tools for collecting in-depth analytics of your website. You can set goals to collect specific analytics and check if your marketing goals are being met.
Further Reading Suggestion: How to set goals on Google Analytics
Feature 3 – Assessment Management & Live Feedback
Next on our list of must-have e-learning website features is assessment and feedback. Including periodic quizzes and tests during the course can help students evaluate progress. It also helps students gain extra practice outside their normal classwork or ongoing projects.
This also helps to establish checkpoints for the learner to know if they can move on within the course or return to previous topics to redo a chapter.
71% of students believe that virtual learning provides increased flexibility to take classes.
However virtual classrooms can leave many students feeling disconnected as they move through their coursework. One-on-one interaction with teachers or tutors inspires confidence and helps students better understand their current assignments. This is why live feedback from instructors is critical for the success of a course.
Gradebooks
Gradebooks are a simple but powerful tool that can enhance several of your e-learning website features. Apart from offering feedback to students, educators can analyze performance metrics with this tool. Utilizing a super grade book platform also means teachers can intervene on time, helping students address problems.
Transcripts and teacher-parent conference notes don't always provide a complete picture of a student's strengths. By starting a data backpack or e-Portfolio, students and their parents can track progress even from elementary school up through high school graduation. The digital backpack also allows teachers to learn more about students right at the beginning of a course.
Feature 4 – Student Information Management
Student Information Management Systems (SIMS) take care of activities such as keeping records of tests, attendance, performance appraisal, etc. In short, adding this to your list of e-learning website features provides an end to end student records system.
Why should Student Information management systems be part of your online learning website features?
Enables self-service for students to perform basic administrative functions and tasks in a "one-stop" service and access environment.
Integrates data sources and processes through a single function that supports one-time entry of student data.
Ensures data integrity, privacy, and security in an open-access environment.
Centralized information sourcing and management
Centralized accounting and billing procedures
Facilitates the generation of real-time reports and customized reports.
Uploading of information to the system keeps the system up-to-date
The dependable security system allows only designated users to access all the system capabilities; it offers various levels of security to restrict access to undefined users
School Management, Institute Management and WPSchoolPress are some of the popular WordPress plugins to manage student information. Some of the key features these plugins offer are assigning classes to students and teachers, managing student admissions, promotions and transfers and even fees invoice management.
Feature 5 – Quality Content
Great content speaks for itself and can slowly, but surely find its way to target users and keep them loyal. Providing meaningful content definitely helps a growing user base. Content is always the king and this makes quality content one among the top 5 e-learning website features.
While quality content is key here are a few emerging trends that will change the way e-learning content is presented.
The boom of Video – Any audience especially younger students, is more likely to retain information from a video in comparison to printed text. With video consumption increasing at a staggering rate every year, this will be the future of content presentation. Moreover, several e-learning platforms have also made videos interactive for students.
More video content is uploaded in 30 days than the major U.S. television networks have created in 30 years.
User-Generated Content to Support Formal Learning – More and more e-learning platforms are encouraging learners to submit their own content. Not only does this offer variety in content, but it also increases student engagement and fosters a sense of community among the students.
Personalized content – With analytics offering insights into each individual student, it has become easier to offer personalized content. This can be customized on student progress, requirements, language and range of factors.
Employing AR and VR – Using augmented reality and virtual reality for learning is a relatively new trend but expected to catch up in the next few years. This is specially targeted at a young audience.
According to Forrester Research, employees are 75 percent more likely to watch a video than to read documents, emails or web articles.
If you are unsure how content can be useful in your checklist of e-learning website features, there are a few WordPress plugins that can come to the rescue. For example, WP Courseware comes with actual sample content that you can use as a guide. It comes with an easy to use drag and drop function. Other unique features include student progress visualizer, course outlines, and customizable email notifications.
Another popular WordPress plugin is CoursePress that allows you to create both free and paid courses. Another useful feature of this plugin is that you can create a preview of the course for students.
Feature 6 – Quick User Integration
Quick and smooth user integration can impact a student's choice of the learning platform. From signing up to choosing courses to even payment, every step needs to be smooth. Even if you have exceptional content but mediocre user experience, it can deter students from coming back. Hence seamless user integration should definitely make it to your list of elearning website features.
This factor is also important for organizations looking at e-learning programs for their employees. Integrating e-learning with workflow encourages better engagement. Hence user integration is a key factor considered by organizations before investing in an elearning website.
More and more contemporary edtech designers are constantly developing solutions to provide a hassle-free user experience. One such solution can be found in WordPress LMS theme for online courses, Skilled, which integrates with the Sensei plugin to produce quick signing up for courses and easy charging for courses through Woocommerce shop support.
WordPress Social Login is another great tool to integrate your e-learning website with popular social media platforms. Single Sign on (SSO) which allows logging into multiple applications is also gaining popularity in the e-learning space. For example some online learning websites allow you to login with popular applications like Facebook or Google. This makes the signing up process easier for users. Single Sign On for WordPress is a secure plugin that is also 100% compliant with all US & EU data protection laws.
Feature 7 – Easy Payment Methods
Making it as simple as possible for your customers to pay is essential for increasing conversions and sales. Online payments are faster and more convenient for both the student and the business. Thanks to the developments in the payment gateway industry, the whole process – from submitting an online payment to updating your bank account – can take a matter of seconds. The last few years has also seen the entry of payment options like Google Pay, that has made it quick while continuing to be secure. Having a good list of payment methods is next on our list of critical e-learning website features.
How to make the payment process easy:
Provide a range of payment methods including credit, debit, net banking etc.
Offer popular gateways that students know are secure
Allow payments without requiring an account
Don't use redirection
Ask for essential information only
Make errors easy to fix
If you are confused about which payment gateway to choose for your elearning website, read our blog post on Everything You Need To Know About A Payment Gateway Process Cycle for curated lists and reports on all payment gateways in India.
Feature 8 – Motivational Triggers
Steps must be taken to provide continual motivation and a sense of progress which is a feature found on every up-and-coming e-learning platform. Periodic and significant motivational triggers is an often overlooked elearning website feature. The key to achieving this is to create relevant and diversified tests to follow each lesson to provide students with a sense of completion and evaluation of their work.
To ensure a student completes a course successfully, a variety of motivational triggers can be used. Offering diverse ways of grading along with allowing students to earn badges and rewards is a popular option.
With Sensei plugin that seamlessly integrates with a vast majority of WordPress LMS premium themes, tests can be created and graded in numerous ways that add to the variety, which is always a desired quality in education. Additional successful means to motivate users is to provide visual progress tracking on progress bars above the lessons, a feature also provided by the Sensei plugin.
For surprising statistics on e-learning, read 50 Striking Statistics About Distance Learning in Higher Education.
Gamification
In the field of online education, Gamification helps improve engagement in a fun yet impactful way. Extensive studies show that games are very effective in increasing levels of interaction and motivation in learning, which in turn help to shape knowledge and optimize the learning process.
Over the years Gamification has become not just a popular but one of the impactful features in the constantly growing spectrum of elearning website features.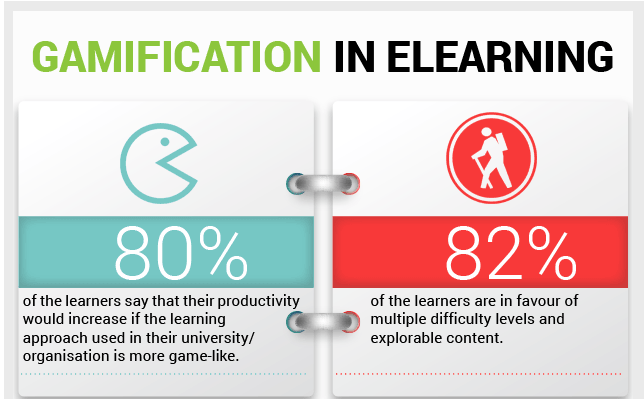 95% of employees enjoy using gaming-inspired elements in their work.
By 2020, the education gamification market is estimated to reach $1.5 billion.
Gamification participants score 14% higher skill-based assessments.
The gamification market was estimated to be worth $5.5 billion in 2018.
72% of employees claim gamification inspires them to work harder.
Using gamification may increase newly registered business users by 600%.
Source : https://review42.com/gamification-statistics
If you are still unsure if you should add gamification to your lineup of e-learning website features here are a few examples of how global brands have benefited from gamification.
3 Successful examples of Training Gamification
The Deloitte Leadership Academy – A virtual platform for executives training that generates content from Harvard, Stanford, and other Ivy League universities. The platform was implemented by a company specializing in gamification
NTT Data used the Ignite Leadership Game as part of their leadership skill-developing program. They were able to keep candidates engaged and motivated while also grooming potential leaders. (https://www.flashpointleadership.com/blog/gamification-how-it-benefits-employeelearning-and-development)
Feature 9 – Going Mobile and Apps for Learning
57% of consumers said: A business with a poorly designed mobile website is not likely to be recommended
(source: https://quoracreative.com/article/mobile-marketing-statistics)
M-learning or mobile learning has become synonymous with elearning. Users now want the flexibility of accessing a website from anywhere and across devices. This trend has been on the rise and ensuring your website is mobile-friendly is not just a good to have but an absolute must. Given the boom of M-learning market, we definitely recommend being mobile-friendly as of the most important elearning website features in 2020.
Today, more than 67% of organizations said that they offer mobile learning of one kind or another [1], with 99% of mobile users believing that mobile learning enhances their experience [14]. The mobile learning market is expected to continue to expand, reaching $37.6 billion by 2020—a substantial chunk of the overall market [14].
The other significant trend in this space is elearning through Mobile apps. Users today have an app for almost every function in both professional and personal lives. elearning is not very different. App-based learning makes the whole process customized and easily accessible.
List of the top elearning apps for business
There are also several plugins that allow converting your existing WordPress website into a mobile app. Some of the popular ones are Canvas by Mobiloud, Learner App, AppPresser among others. Apps like AppPresser easily integrate with WordPress LMS plugins like Learner Dash making the whole process seamless. Apart from offering access from anywhere, apps like LearnerApp also allow you to provide offline content, which is a huge bonus.
Moreover with REST APIs, building a mobile app that delivers your WordPress website content seamlessly is simple.
Feature 10 – Online Communities and Social Engagement
Online education leans heavily on individual learning. This can make connecting with fellow students difficult and leave them feeling isolated. This is why including communities and forums as part of your e-learning website features is key.
It is also important that students can connect with instructors on a one on one basis. Building a community can help with this as well. BuddyPress plugin is one of the most commonly used to integrate with premium WordPress themes.
There are also social engagement tools that can help disperse announcements and get instant feedback through social media platforms. Users can manage alerts and subscriptions on their end and take advantage of easy scheduling.
While social media remains a popular way to connect with peers, online forums create a way for students to mingle and discuss courses, assignments, and other pertinent information. It also provides an extra outlet for students to get answers to questions from fellow students or their professors which adds this to the list of the most important online learning website features.
According to one report, 73% of organizations will increase investment in social learning in the near future (Brand Hall Group).
BuddyPress is a popular plugin that works well with WordPress websites to create communities. While bbPress is another widely used plugin that allows easy creation of forums.
Conclusion
E-learning is here to stay and is expected to keep growing tremendously globally. With competition getting stiff in this space, offering a hassle-free user experience with good content will be the winning formula. Your website is the framework of your business and ensuring you have the right e-learning website features if the first step in this direction. We hope our list of ten essential online learning website features can give you a headstart.
Bonus: Other website features that boost conversion:
Strategically placed opt-in forms
Forms with a minimum number of fields
Social proof – testimonials, reviews etc
Lead magnets and content upgrades.
What other unique e-learning website features have helped your online learning business? Tell us in the comments section.