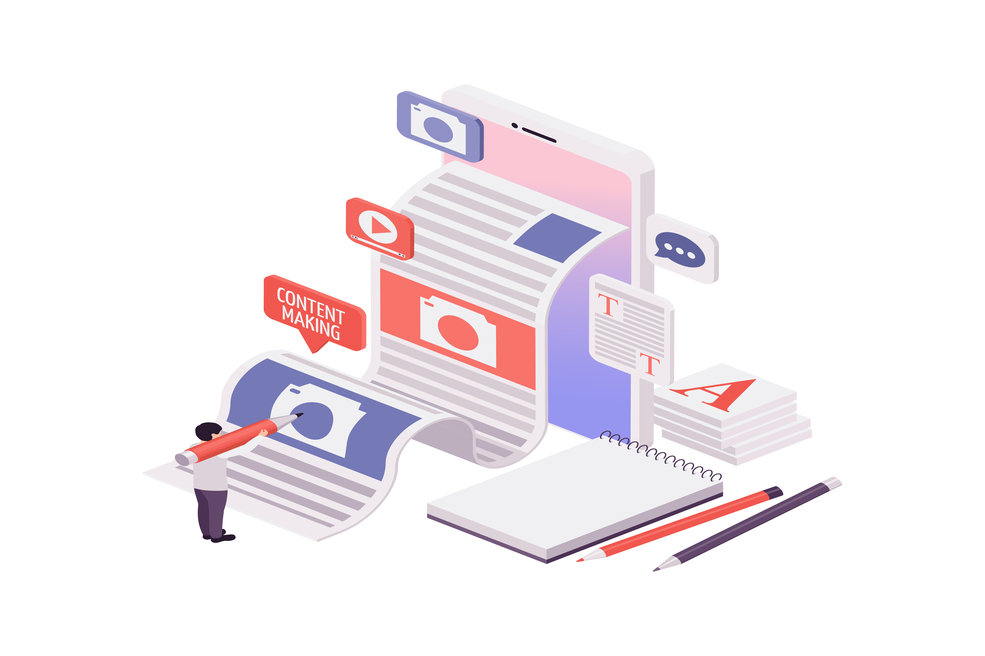 If you are a digital marketer, you have probably heard the phrase, "If the content is king, engagement is queen." Content marketing today involves a lot more than just creativity to be engaging. Here we look at eight content marketing examples of brands that have changed the game.
Case Study 1: Coverfox – Analytics and Content – A Powerful Combination
Coverfox started in 2013 as an insurance management website. Over the years, their services have grown to insurance buying, managing and claims. Insurance can be a tricky product to market. Messaging needs to be clear without being too distressing. Coverfox has managed to work around this and has a solid messaging strategy. Their content marketing shows that even a "serious product" like insurance can have light-hearted messaging.
A lot of their content marketing is in the form of videos. These videos are crisp, have relatable characters, and the messaging is peppered with humor. This strategy has worked well for Coverfox, and they have different videos for each of their business units.
While Coverfox has several campaigns that have worked well, the one we are looking at here was a unique campaign for vehicle insurance.
What was Coverfox looking to achieve?
Drivers often forget to renew their vehicle insurance. Not only is this illegal, but it also costs vehicle owners hefty fines. Coverfox wanted a fun but yet impactful way to remind drivers about their policy renewal. They wanted to ensure they were only targeting vehicle owners who had renewed their insurance. They also wanted to remind them until they bought the insurance.
Coverfox's Content Marketing Strategy
Platform: The most common renewal reminder method used by insurance companies is email. Coverfox realized that in most cases, these emails tend to get lost or overlooked. Hence they decided to use their most tried and tested method – videos.
Refining the target audience: The next step was to ensure targeting the right audience. Coverfox used the analytics tools from YouTube and identified website visitors who did not renew their subscription. Now they had a refined and focussed TG; the next step was to create content.
Engaging – The videos created for this campaign followed the usual content marketing practices of Coverfox. They were brief; each of the ten videos was only 6.5 seconds long. And it had a fun and humorous theme. However, Coverfox took it a notch further by moving beyond videos.
Apart from the videos, ads in the form of spoof news articles were placed on news websites.
They even set the messaging on products on e-commerce websites. This tactic was a unique way of giving the audience multiple reminders through different channels. Again these websites were carefully chosen based on audience habits. This was to avoid targeting irrelevant audiences.
Consistency: Coverfox used the power of analytics to ensure their end goal was met. The ads were played until the person renewed their insurance. Analytics kept track of how successful this campaign was. It also automated much of the process, thereby reducing error.
Problems – Retargeting can be intrusive
The marketing team that handled this campaign was well aware of the drawbacks of retargeting. Analytics and big data open up the world of retargeting. However, it also blurs the lines between customization and intrusion. Coverfox knew they had to work around this. They deliberately kept the videos only 6.5 seconds long. Hence the entire video plays before the skip ad button appears. Thereby ensuring the message reaches the viewer.
By working with big data, they also refined their targeting rather than a spray and pray approach. This way, they could be sure they were only focused on their target audience and not wasting time and resources.
The unique messaging quickly caught the public eye and became popular, helping with brand value as well. It also gave Coverfox the result they wanted.
What did Coverfox get right?
Based on analytics: Good content leveraged with data is a powerful tool
Unique messaging: Coverfox took the risk of trying different content strategies, and it worked.
Consistency: By using multiple platforms, Coverfox was able to consistently stay on the audience's mind till the goal was reached.
Case Study 2: Glassdoor – The Power of Backlinking
Founded in 2008, Glassdoor started as a website to review companies anonymously. During its initial days, it was seen just as a forum for disgruntled employees. As a result, not many companies took Glassdoor seriously. However, over the years, it has grown and become a stronghold of HR-related content assets. Glassdoor has more than 2 billion visits every year, with 70% of this coming from organic search.
What was Glassdoor trying to achieve?
Glassdoor was sitting on a mountain of data, and they saw the potential they had. Using this, they have become a go-to for HR data-driven content. This was achieved by a simple but well-thought-out content marketing strategy.
Today Glassdoor frequently publishes content pieces that even large corporations widely share. One of the reports that put Glassdoor in the spotlight was their "Demystifying the Gender Pay Gap" report. This report was published and put out across multiple platforms. It quickly became popular because of the relevance of the topic.
When Hilary Clinton spoke about the gender pay gap at one of her press conferences, Glassdoor saw an opportunity. They invited her to be part of an event on the same topic. While events are not a content strategy, an opportunity like this can further strengthen the value of a piece of content.
Glassdoor's Content Marketing Strategy
Glassdoor's content marketing and, ultimately, SEO strategy is built off its robust content repository. However, one key aspect that got them here was their backlinking strategy.
A close look at all of Glassdoor's content highlights one critical aspect. All their content is designed to be shared or backlinked. Aiming for audiences and companies to share their content is at the core of their strategy.
For example, Glassdoor has a report called "Top Companies to Work for." This report is published every year and widely shared by the companies listed in the report. It is not just the official company pages that share the reports. Employees of these companies also share them off personal accounts as a matter of pride. This is millions of backlinks for one report. A similar trend can be seen in all their reports.
Glassdoor has about 520 million backlinks from 109,000 domains. These numbers are constantly driving their digital marketing efforts. The source of all this is creating content that the audience wants to share.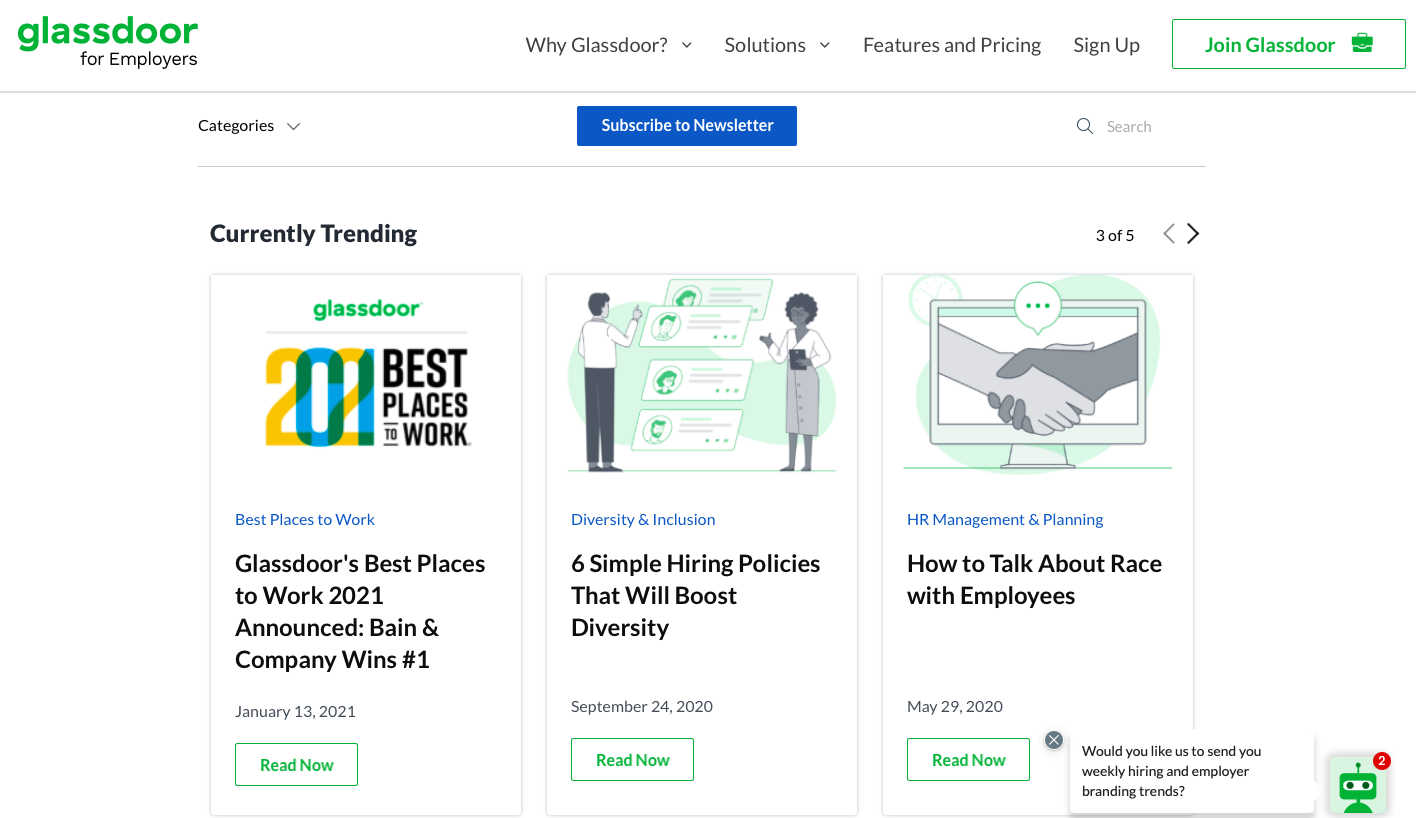 The Process
Glassdoor's content strategy was built over time. Topics are carefully curated. Reports also have headlines that make people sit up and pay attention. It is noteworthy that Glassdoor didn't always play safe. For example, one of their early reports was titled "These Tech Companies Pay Their Interns More Than The Average US Worker." The report created a lot of buzz and some outrage. It sparked many debates and was ultimately widely shared.
What makes Glassdoor's Content Strategy successful?
Simple but powerful tactics – Backlinking is nothing new to digital marketers. But what Glassdoor has done is chosen a simple content marketing strategy and drilled deep into it.
Leverage what you have in-house – Glassdoor saw the value of what they already had in-house – data. They were able to transform their brand image and become a market leader. Just by starting with what they had in the house
Consistency – Several of Glassdoor's reports are published every year. This makes the audience look forward to it every year, building brand recall.
Case study 3: Shopify – Content that Converts
Shopify, the e-commerce platform, was founded in 2006. While they have grown well over the years, 2020 was phenomenal for them. According to the company, their Q2 in 2020 was 70% more than the previous quarter. A large portion of this is attributed to many businesses moving online as a result of the pandemic.
Shopify boasts of a customer list that includes giants like Pepsico, Unilever, The Economist. Hence it is no surprise that their content marketing game is top-notch.
Shopify's Content Marketing powerhouse – The Shopify blog
Shopify's blog is full of information for entrepreneurs setting up their e-commerce businesses. One of the most valuable and accessed sections is the long list of case studies. These real-life examples of how different companies step up online stores come with a lot of value. The case studies are detailed, broken into steps, and supported by videos and images.
A blog with case studies is not new. A lot of businesses have it. But what makes Shopify's blog work for them?
CTA focused
Whether you are entirely new to Shopify or an existing freemium user, Shopify has a solid email marketing series. However, the first step toward this is to get a visitor to sign up for emails. Shopify's blog has been designed to get visitors to sign up with clear and attractive CTAs placed strategically.
For example, the image below is of a case study of a furniture store.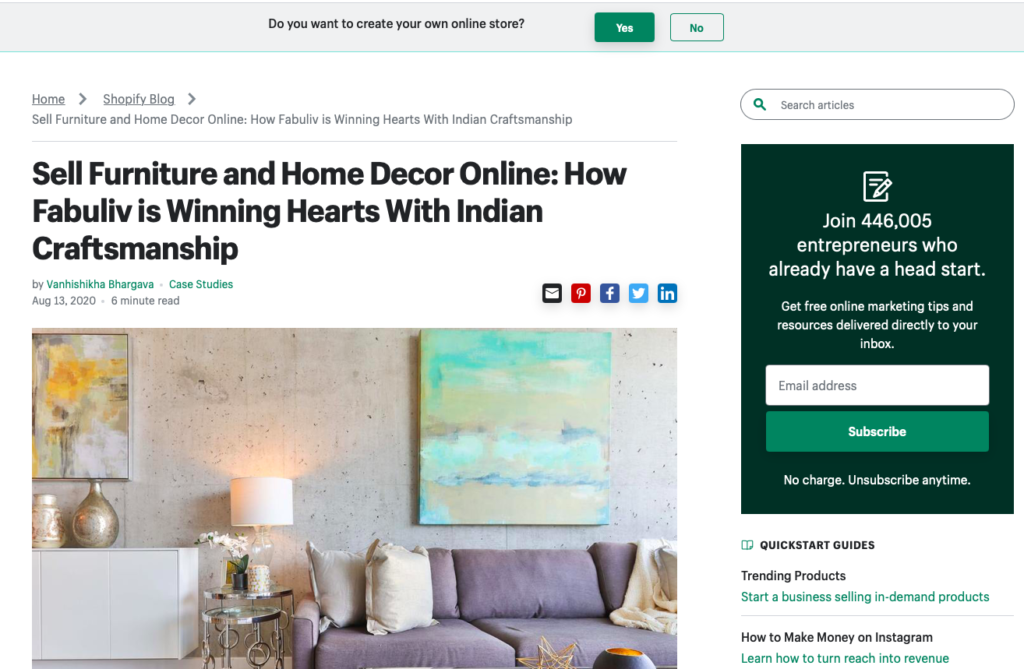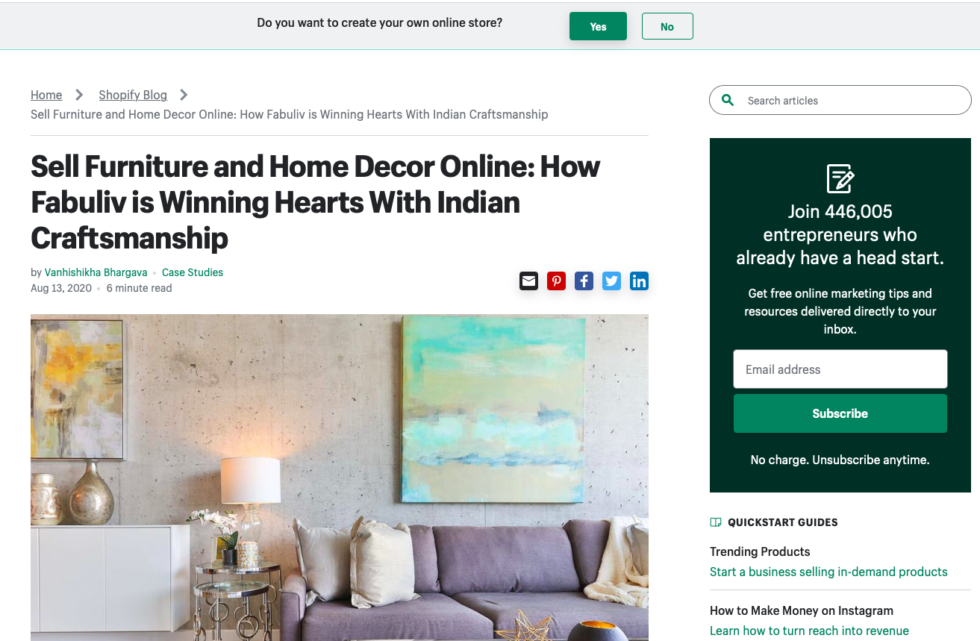 Right on top, there is a banner pop-up asking if you want to start an online store.
On the right side, a CTA is encouraging you to sign up for the email. The tag line shows how many people are currently on this. Numbers always attract attention.
Just below is a list of suggested readings and the topics are related to the current article. This encourages visitors to spend more time on the website.
Finally, you are once again asked if you want to join the email list or start a free trial or do some further reading at the bottom of the page.
While this may seem like a lot of CTAs, it offers various incentives for a visitor. Each CTA targets a different type of visitor -a casual browser, a potential customer, or an existing customer.
2. Well Planned Layout
Shopify's blog has a ton of information. At the same time, this could have easily been overwhelming. It is not. The main reason being the sitemap or the way information is structured been well thought out.
a.Structured from a customer perspective – The way the information has been segmented follows the thought process of an entrepreneur setting up shop.
Start – Sell – Market – Manage
b. Easy to follow menu – Every step is further broken down into sub-steps and again to different sections. Easy to use drop-down menus and straightforward labeling helps. A mistake many businesses make is to label sections as they would refer to them. However, Shopify's section labels have simple, commonly used terms that business owners will be familiar with.
3. One-Stop-Shop
Shopify's support section deserves a special mention. Apart from the standard support sections like a help desk and a forum, Shopify offers more. Due to its economical pricing, Shopify is used by several small businesses. Keeping them in mind, Shopify provides information on a wide range of free and valuable tools.
From free stock photos to websites for sales, there is helpful information for businesses on a budget. There are even links to business name generators and logo creators. The goal here is to offer everything a potential customer would want, even if Shopify does not provide the service themselves. This is to encourage the audience to keep visiting the website.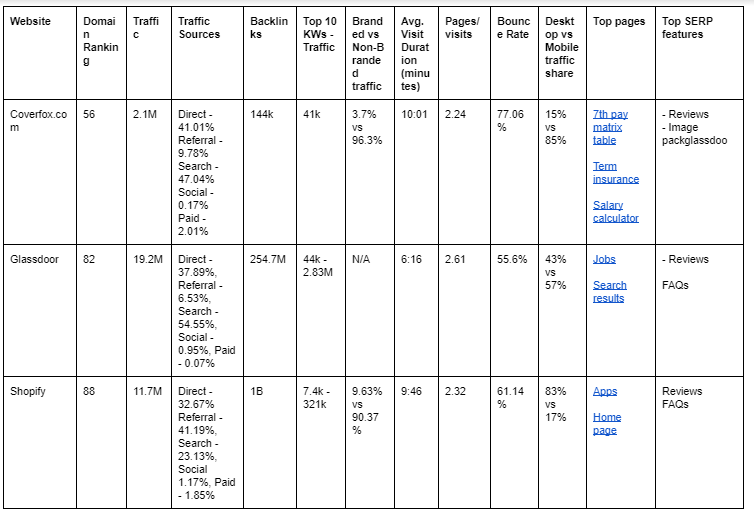 Website and organic search traffic analysis:
All 3 websites generate a significant amount of traffic from search engines.
90%+ traffic comes from non-branded search terms. If most of your traffic comes from branded terms, it means you have a very strong brand or that you are not acquiring traffic that is unaware of your brand.
Reviews and FAQs are the top SERP features for these 3 sites.
High visit duration, low bounce rate and 2+ pages per visit indicate the websites have good engagement and the content is relevant for the users, this tells Google to rank the sites higher.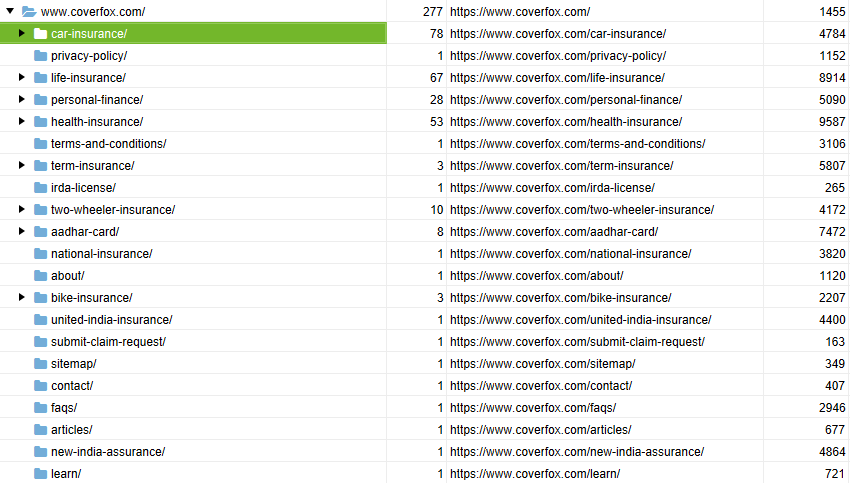 The folder structure of the website tells you how the content is organized on the website. And in the 2nd image, you see the traffic share among the top subfolders. Having a good site architecture is vital when it comes to building a content marketing website.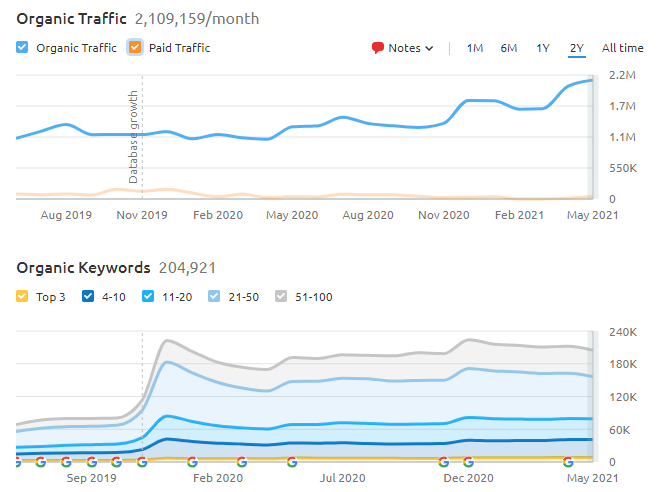 SEMRush data which is an approximation of the organic traffic the site has received shows a steady growth in traffic and the number of keywords the site is ranking for. It is a by product of a good content marketing strategy.
Content Marketing during the pandemic
The pandemic brought about some unexpected challenges for marketers. Having never faced such a situation before, brands were initially unsure how to carry forward.
Should scheduled messaging continue to give the audience a sense of normalcy? But this could also come across as being tone-deaf during a crisis. Some brands that did this received much backlash on social media.
The majority of the brands decided to focus on helping customers with critical info. This seemed to be the most appreciated.
87% of consumers appreciate brands that offered relevant information during the pandemic

67% of SMBs changed their marketing strategies as a result of the pandemic.
The brands that got content marketing right during the pandemic had a few things in common.
Showing empathy
Sales messages took a backseat
Offering critical and valuable information
The workplace was the most impacted during the pandemic. Several people lost jobs, and almost all businesses had to transition to a work-from-home process. This shift left many anxious and confused. Several B2B brands realized they had an important role to play and stepped up. Here are a few brands that used content marketing right during the pandemic.
Case Study 4: LinkedIn
With most of the world working from home in 2020, LinkedIn became a virtual hangout to connect with colleagues, peers, and clients. It was where the water cooler conversations moved. LinkedIn made a few changes to their messaging strategy to reinforce they were with their members during this time.
Offering free courses – LinkedIn opened up its LinkedIn learning courses. It started offering several courses for free during the peak of the pandemic. The courses were chosen, keeping in mind what will help the audience. Some of the courses were on productivity, managing work from home, how to ace virtual meetings, etc. LinkedIn also offered some free mindfulness courses promoting the importance of mental health.
Published reports with critical Information – It was no secret that social media trends changed significantly in 2020. LinkedIn published reports on these changing trends specifically useful for digital marketers. The reports contained actionable insights into what the audience was looking for. During an uncertain period, data from a social media giant was extremely valuable for marketers.
Displaying empathy – With businesses taking a hit, millions of people around the world lost their jobs. Several of them started using LinkedIn to look for new opportunities. LinkedIn staff often left an encouraging message on such posts. This was a simple tactic but one that showed the human aspect of the brand.
Case study 5: Zoom
Among the businesses that grew during the pandemic, Zoom probably tops the list. They saw phenomenal growth from 10 million users to 200 million in just three months. Zoom quickly realized they had a crucial role to play in the new work from homeworld. They set up a COVID resources section on the website. This section has a wide range of blogs and other resources.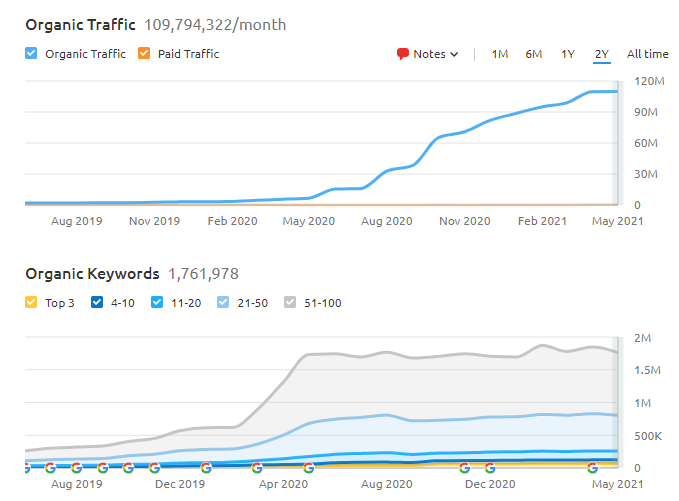 The content has been created, keeping Zoom users today is a very varied and mixed crowd. Several people are working from home for the first time and struggling. Apart from business, even teachers, volunteers, and healthcare workers use the tool today. Zoom's COVID resource section has valuable information for every one of them.
Easing working from home – From hiding a messy room to set up a WFH desk, there are hacks for everyone. Both seasoned work from home readers and newbies can learn from these tips.
Addressing different customer needs – The blogs are segmented to address the needs of other customer groups. For example, there are articles for teachers and health workers. Zoom has even included links to external resources on the subject—for instance, tips for homeschooling parents.
Daily demos – Zoom also hosts daily demos for different requirements and audiences. They happen twice a day during the workweek allowing everyone to join.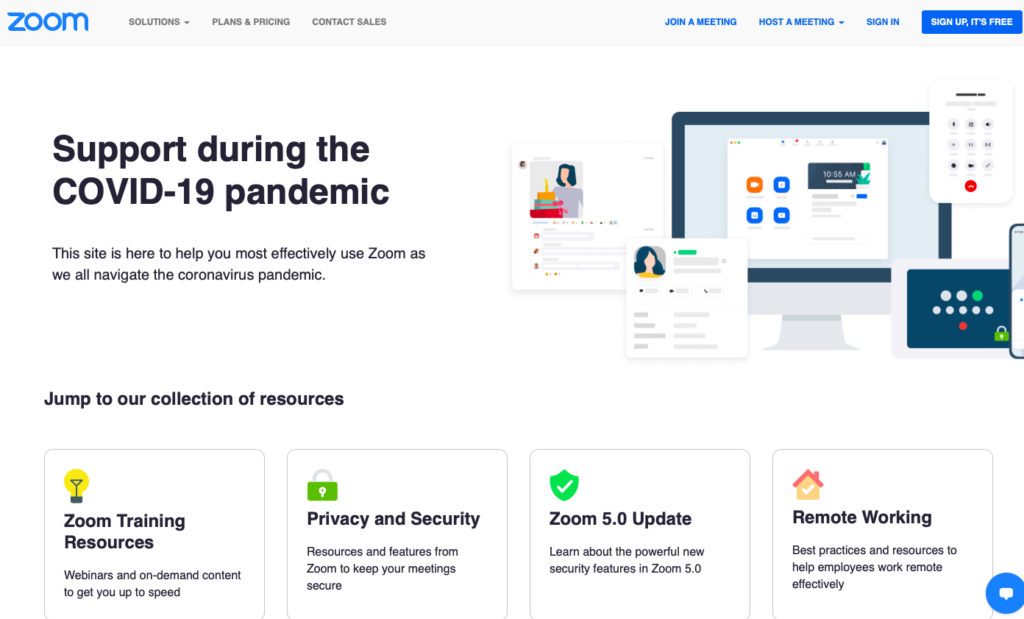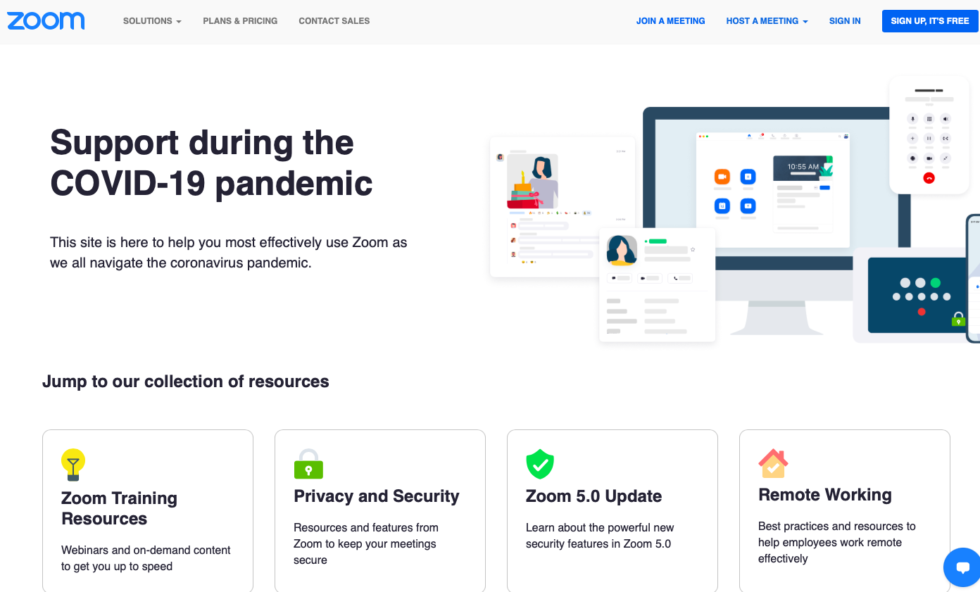 The primary focus here is not on how Zoom can help work from home. Hence it does not have a product focus. Instead, it offers valuable tips for readers with some information on the tool.
Case study 6: Slack
Like other B2B tools, Slack also realized the value of data-driven content during a pandemic. Several organizations have been making a long-term shift towards working from home. However, there wasn't much information around, especially for management and decision-makers. Slack saw the opportunity here and published 'Remote work in the age of COVID 19'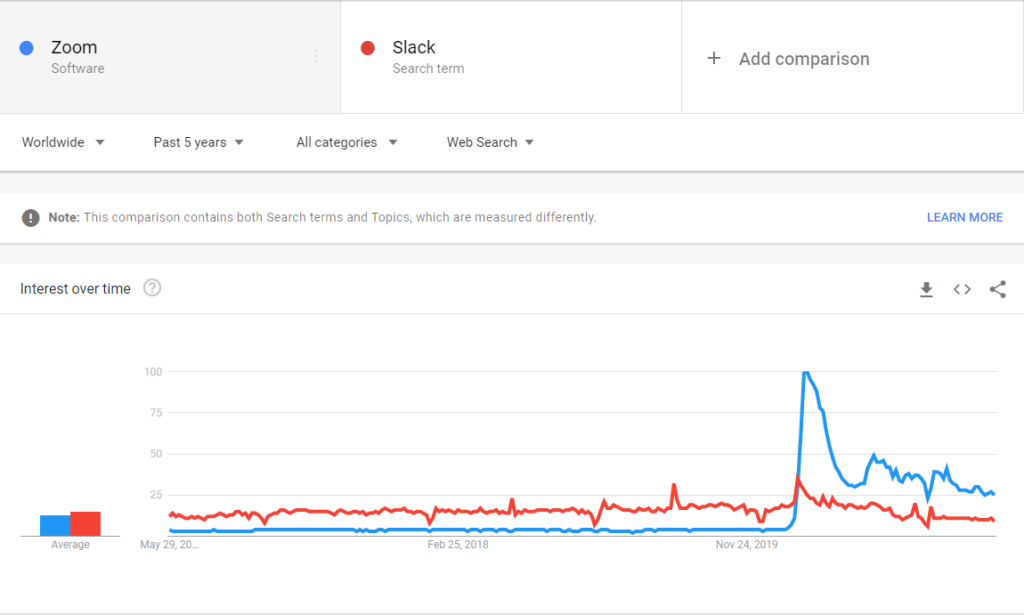 The report became instantly popular because it had:
Essential data points broken down by job functions
Primary challenges faced by organizations
Suggested solutions to fix these problems
Indian B2C brands that have aced Content Marketing
Finding a unique voice is a critical aspect of content marketing. A brand's voice can make or break your content marketing. Here we will look at two Indian brands that have created a strong brand voice and stood out in the crowd.
Case study 7: Tanishq
A division of the Titan group, Tanishq is a popular household name. As a B2C brand, their content marketing is predominantly through video ads and social media. Tanishq's messaging has a strong brand recall. Much like the rest of the TATA group, you can look at an ad and instantly recognize it as a Tanishq message. This level of brand awareness is marketing gold.
What makes Tanishq's Content Marketing stand out?
Brand identity – Tansishq's brand identity of modern yet Indian values is evident in all their messaging. From the storyline to brand ambassadors, every aspect of the communication has this at the core. Their ads often focus on traditional Indian festivals or events. At the same time, the focus on strong and independent women.
Consistency – You probably see this repeated several times in this blog. But consistency is one of the building blocks of a good content marketing strategy. It helps leave a lasting impression in the minds of the audience. Tanishq has been around for almost three decades. While the brand has grown, its content messaging has remained the same.
Taking a stand on social issues – This is not for all brands. Several brands prefer not to take a stand on social, political, or economic issues. Tanishq has done just the opposite. They have run several campaigns focussing on various women's rights issues. This again ties into maintaining their brand image and voice.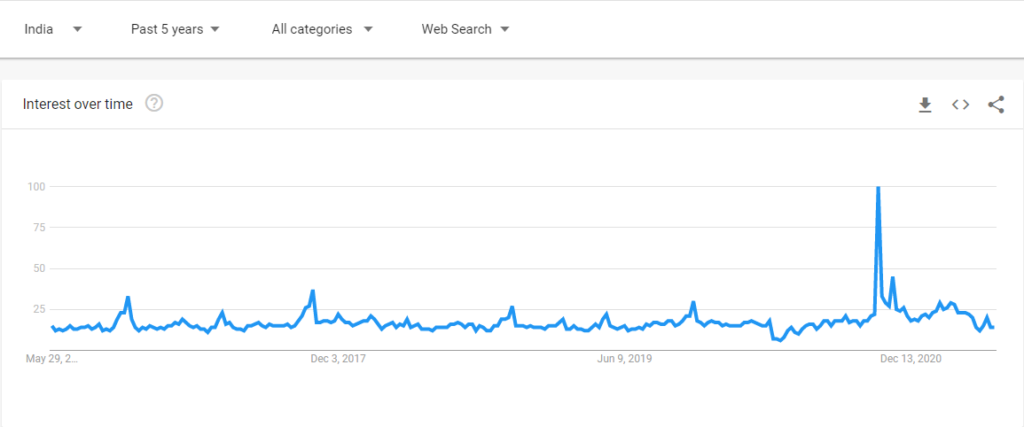 Challenges faced by Tanishq
Tanishq's brand growth has not come without challenges. Recently they had to pull down some advertisements after some social media outrage. However, what stood out in the whole episode was the amount of support the brand garnered. Interestingly a lot of the support came from urban women – Tanishq's most significant target audience, which was an indication that their message does resonate with their intended audience.
Tanishq's Content Marketing Strategy during COVID-19
In the middle of India's crippling second wave, Tanishq completely stopped product content on their social media. As of when this blog was written, it has been a month. This is an excellent example of saying nothing is also a form of communication.
Instead, Tanishq has been publishing stories of everyday citizens who have come together in a time of crisis. Called the #chainofgoodness, the stories highlight selfless acts of kindness shown by people during the pandemic. The goal of this series is to laud the efforts of front-line workers and other volunteers. Putting their brand marketing on the backburner and focusing on this, Tanishq won many hearts on the internet.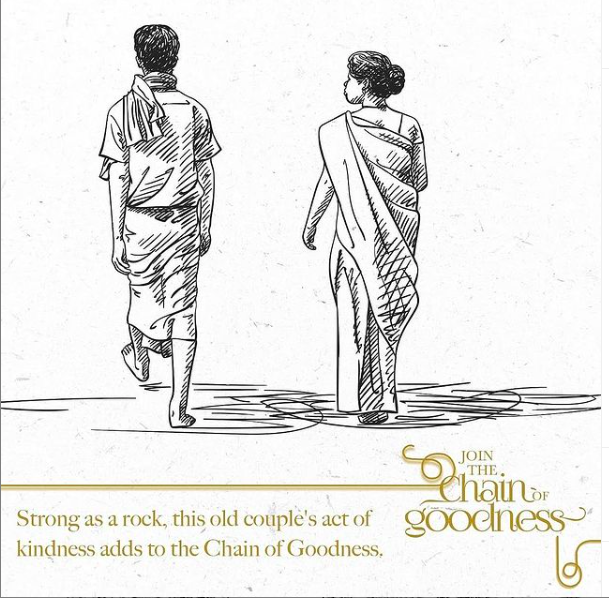 Case study 8: Dunzo
Dunzo has become one of the fastest-growing Indian brands of the decade. The delivery service app founded in 2014 has a solid digital marketing presence. Compared to brands like Tanishq, Dunzo is a relatively new kid on the block. However, they have established a strong brand voice with their content marketing.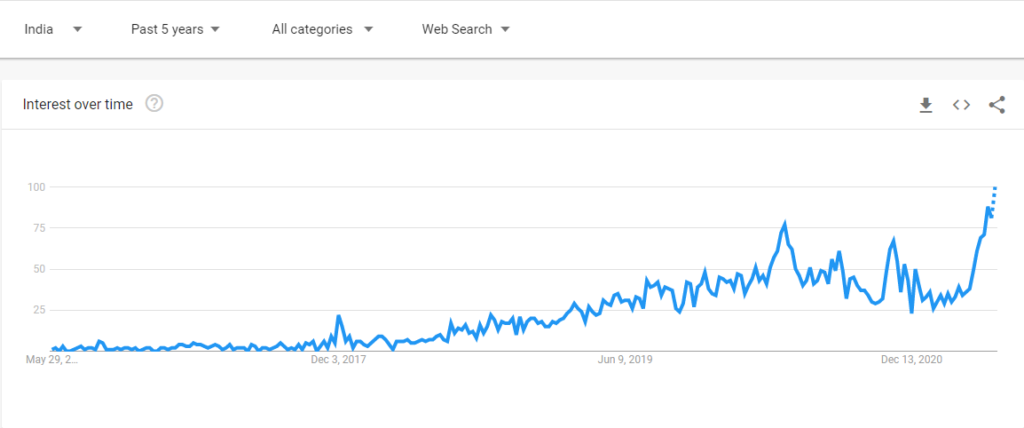 What makes Dunzo's Content Marketing stand out?
Focussed on primary users: Dunzo's users predominantly fall in the age bracket of millennials and generation Z. Hence their messaging is also focused on this age group. Their content is often fun, quirky, and centered around trending topics.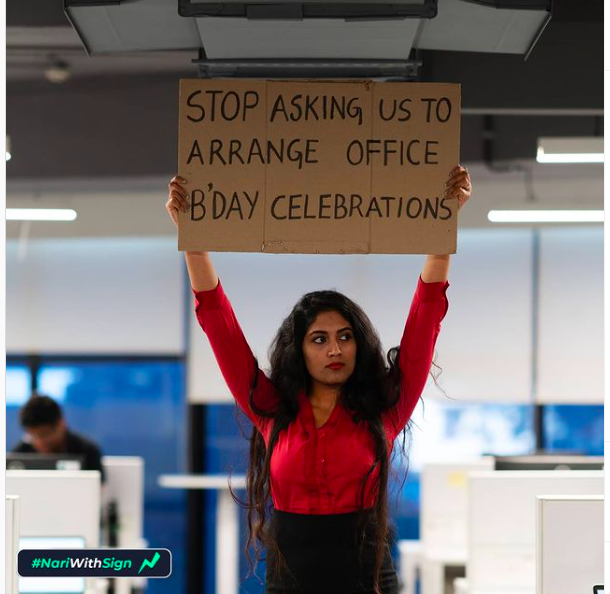 Dunzo published this image on Women's day. It is a spoof on the famous dude with a sign. While using a bit of humor, it also highlights stereotypes at the workplace.
Content can be anywhere: Dunzo's witty one-liners are not just restricted to their social media. From error messages on the app to notifications, humor is in their content everywhere.
Hyperlocalization: Dunzo's wears its Indianness proudly. A lot of their content uses Indian language phrases and has references to Indian pop culture. Content is also often created for a city or even for a specific area within a city.
Dunzo's Content Marketing Strategy during COVID-19
With lockdowns and other restrictions, the demand for services like Dunzo rose dramatically. However, instead of using this as an opportunity to push their service, their focus has been on the larger problems.
Dunzo shared this image of delivery persons from different brands with the hashtag #everydayheroes. All the brands depicted here are, in fact, Dunzo's competitors. The focus here is on the delivery staff irrespective of brand. This was a strong and thoughtful message from Dunzo.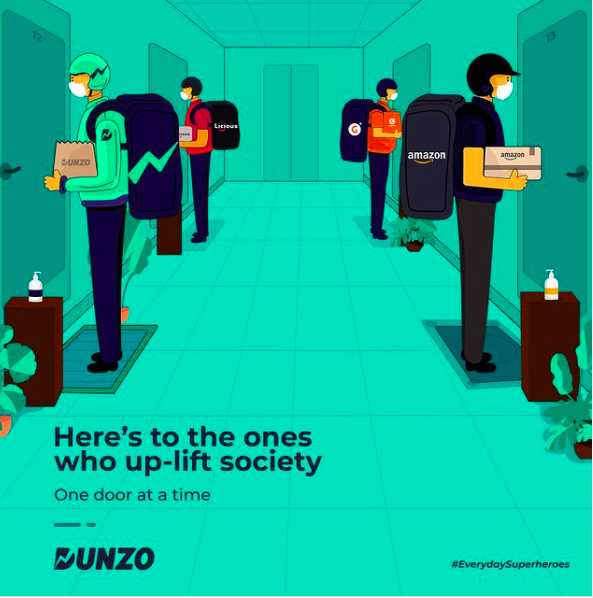 Studies have shown that audiences did not appreciate humor with respect to pandemic messaging. However, Dunzo seems to have proven this wrong with their content marketing.
Dunzo published posts showing the struggles of finding a vaccination slot. The comments on the post-show that the audience could relate to this and do appreciate the humor. This is an example that sometimes you can go against the trend, and it can still work.
We hope you have been able to take some inspiration for your business from this blog. If you like to learn more about how content marketing can help your business read our blog on 8 Reasons Why Content Marketing Is Important For Long Term Success.
Want to use Content Marketing to grow your business? We devise a smart content strategy and help you build a great content marketing website. Contact us to build you a reliable lead generating system.