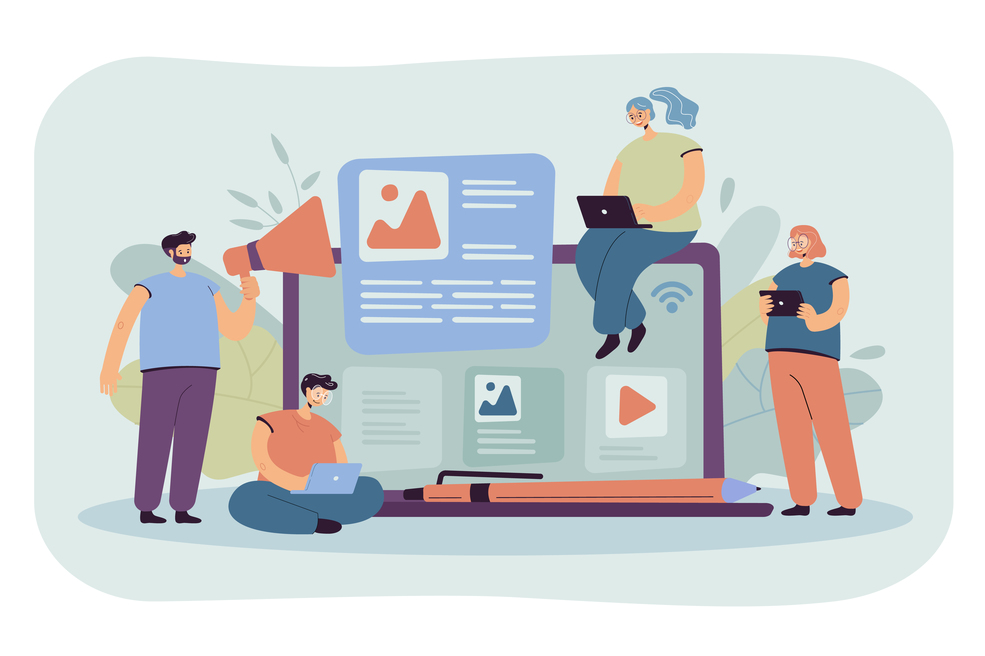 The Importance of Content Marketing
Content marketing is no longer just – using content as a marketing tool. It is acknowledging that the audience has evolved. Just churning out content and expecting your audience to consume it no longer works.
Content marketing today is a strategy that understands that the audience can choose to shut out what doesn't interest them. It needs a content plan that attracts, engages and converts.
It also needs to be platform-agnostic and stand out from the noise. It sounds almost impossible, but with the right tactics, it is achievable, which is why a content marketing strategy is important.
But first, is content marketing right for your business? Here are our reasons why content marketing is important and can help ANY business.
8 Benefits of Content Marketing
Prove your credibility and build trust – According to Demand Gen Report, 95% of B2B buyers trust a brand based on its content. Offering insights that can help your customers not only gives them value but builds your credibility. Sharing real case studies backed by data also helps build trust.
Generate relevant leads – You can offer content for free, gate it or have a paid option. All three work at different levels but bring invalidated and relevant leads. Free content is a slower form of marketing but the most preferred by the audience.
Push leads down the funnel – Customizing and offering variety in content can push leads to the next stage of the funnel.
Get to know your audience – Content is not just for your customer to get to know you. It also works both ways. By analyzing what content works, you can collect valuable insights about your audience.
Economic marketing tactic: Studies show that content marketing costs 62% less than some other marketing tactics. And it still works well.
Reusable and repurposable – A piece of content can be reshared in bits as a whole or parts. For example, a blog post can be repurposed as multiple infographics. However, this works only for content that is not time-sensitive.
Foundation of digital marketing strategy – Content is a critical building block of SEO and social media marketing. Good quality content does half the job, even if you don't have a complex digital marketing plan in place already.
Tell your story – Finally, the most apparent purpose of content marketing. How do you build your brand? By telling your story, of course. Content marketing is a means of doing this without appearing too "Salesy".
How is Content Marketing different from Traditional Marketing? 
Some of the benefits discussed in the previous section also apply to other forms of marketing. However, there are some traits that make content marketing different from traditional marketing. These unique features demonstrate the power of content marketing.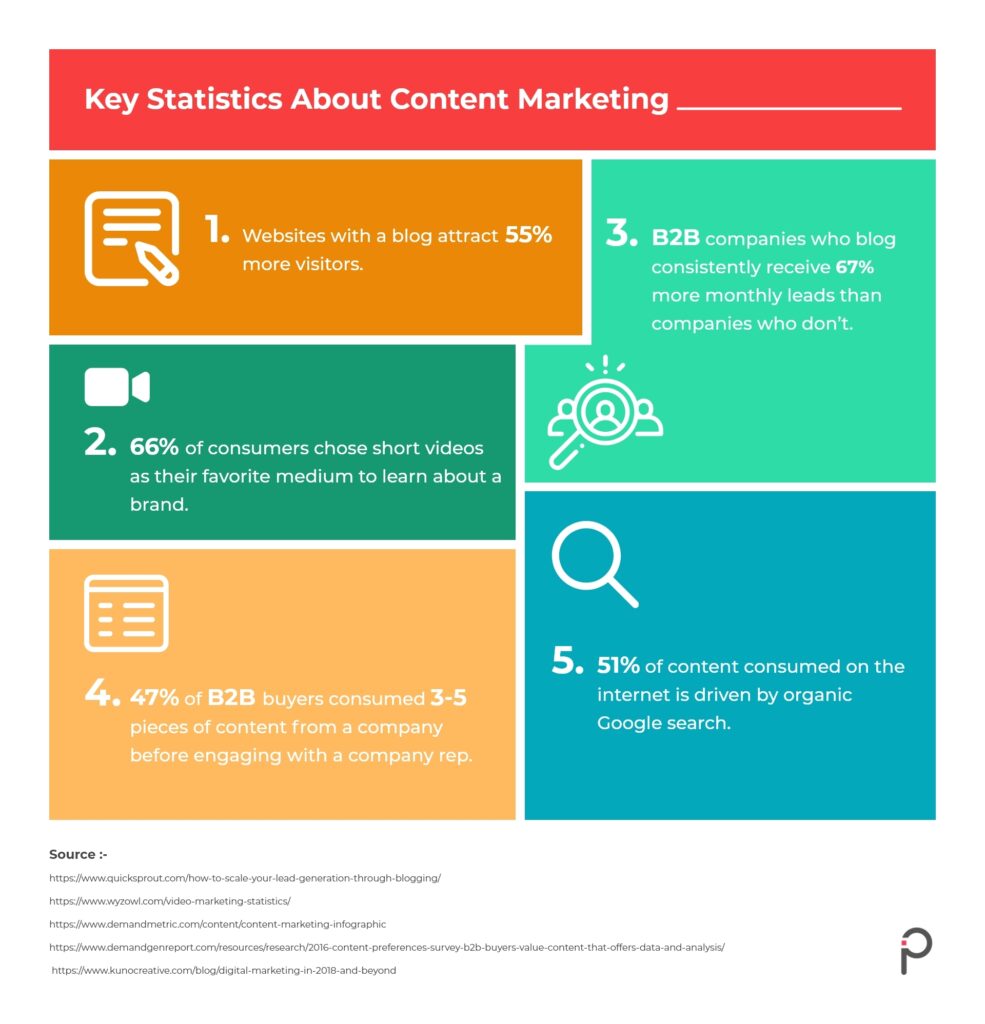 Design Considerations for a Landing Page
Permission Versus Intrusion 
Some forms of marketing, especially ads, can be considered intrusive. An audience is not given an option when an ad pops on their social media feed or a video. When a customer lands on your blog or Youtube page, they are there because they are looking for information. Hence content marketing is more permission marketing. As a result, the audience is more open to listening to what you have to say. In today's world of so much noise online, this is valuable. 
2. Pull strategy works better for long term
Some marketers would categorize content marketing pull or inbound marketing. This strategy might take longer to show results but has a more sustainable impact. In the long term, it helps build a conversation and, as a result, a relationship with your customers. Compared to other types of marketing like digital ads, which work well for short term results.
3. You don't need a big budget to stand out 
Content marketing is a great tool, even if you are a small business. Good content needs customer understanding, creativity and effort. Having a big budget is great but not essential. Some of the best pieces of content marketing are not flashy but focus on offering value.
4. The absolute best option for B2B companies
Suppose you are in B2B space. Content marketing is your most potent strategy. B2B lead generation is a long process that needs to be highly compelling. Having a clear content marketing plan for every stage of the funnel is the answer. Valuable and customized content drives B2B sales. Content marketing does not stop with the lead acquisition. It also helps with keeping the customer onboard and even upsell. 
5. Encourages referral
Good content should be designed to be shared. Your content doesn't have to go viral to see ROI. Customers sharing your content with colleagues are influential too. Peer influence is the strongest when it comes to purchasing decisions. Audiences are more likely to engage in a piece of content when shared by someone they know personally. By creating good content, you can make your customers your brand ambassadors. 
Here's a quick video on the differences between Traditional Marketing Vs Content Marketing.
Content Marketing and sales enablement
Sales enablement is the process of ensuring that the sales team can leverage marketing content properly. Hence, sales enablement is a critical process for content marketing success. But also an often overlooked aspect. If you create great content, but your sales team is not using it the right way, it is a significant loss. Marketing and sales often work in silos and can look at the same piece of content very differently.  Many salespeople may not even be aware of how content marketing helps. Hence, it is crucial that sales and marketing are on the same page about content marketing strategies. 
While there are tools for sales enablement, you can get started with a few simple steps.
Streamlining content marketing and sales enablement:
Align marketing and sales goals – When creating your content marketing strategy, don't forget to ensure it aligns with sales goals. While the end goals of both teams might be similar, strategies might vary. Hence be aware of sales strategies to ensure marketing content is not contradictory to sales communication. 
Collaborate on content – Sales teams are in constant touch with customers. They bring valuable insights in terms of what the customer wants. Involving them in content ideation can address frequently asked questions. 
Train your sales team – Once the content is created, it is worth the effort to train your sales teams. Run them through the content, highlight critical aspects and offer suggestions on how it can be used. Explaining the reasoning behind a piece of content will help them leverage it better. 
Keep conversations flowing – Sales enablement is not a one time process. Create a mechanism to keep conversations flowing between the two teams. Salespeople have a closer eye on ground reality. They can offer critical inputs to fine-tune content marketing.
Track progress – Tracking and analyzing is key for the success of any strategy. Set a process to track how the sales team is using content. This process can include listening in on sales calls or having a marketing rep in sales pitches. 
Content Marketing for organic search 
Why content marketing is important if you want to do SEO.
There are several myths around the relationship between content marketing and organic search. Many treat them as separate entities. Sometimes the search aspect is treated as an afterthought, much after content is created. Some assume that content marketing and organic search can replace each other. All of these are incorrect.
Content marketing and organic search are interconnected. They have a massive impact on each other and cannot exist in silos. Hence SEO strategy needs to be an integral part of content marketing strategy. It needs to be aligned with content marketing goals much before you start creating content. SEO research needs to form the framework for the content you create. 
While individually, they can bring some short-term results, they are more sustainable and impactful when used together.
Content Marketing is the engine of your growth system
Content is the fuel for marketing. SEO optimized content is like high octane fuel. And content marketing is the engine that can power your business' growth engine.
At Pixelmattic, we believe that marketing needs to be sustainable and scalable. If you need to put in the same amount of resources and effort to generate leads, then it is not sustainable. The classic example is paid social media campaigns. When you stop the ad spend, the lead generation stops.
When a set of marketing strategies and tactics lead to results requiring less effort each time, it creates a virtuous cycle of long term success. The value of content marketing lies in the fact that content is reusable, it can be repurposed, but most importantly, it has a long shelf life. 
An evergreen piece of content that ranks well will continue attracting traffic and generating leads over a long period. A one-time effort and minimal maintenance afterwards produce consistent results. This is why content marketing is important to long term success.
Our Digital Growth System is founded on this principle and leverages the benefits of content marketing to drive the growth system. 
Case studies – Brands that got Content Marketing right
Here are a few real examples of how content marketing is changing the game:
IBM – Leveraging influencers for Content Marketing 
Content marketing is for everyone. Even global giants like IBM invest in content marketing to maintain brand image. IBM has a blog on their website offering content across topics and in multiple languages. IBM has also used video content in their favour. Their videos range from instructional demos to interviews with experts.
IBM also saw the value in partnering with tech influencers to increase their access to insights and on-ground information. By partnering with these influencers, the company also aimed to grow the reach of its content. According to the company, their goal was to be accessible to companies of all sizes and regions where they had no presence.
IBM reached to their business partners, tech bloggers, industry experts and other possible influencers. Over the years, IBM's influencer community has grown tremendously. These experts contribute content of various forms to each of IBM's divisions. According to the company, this has helped IBM build their brand image as being balanced and objective. 
Coding Sans – Good content is an investment for the future 
Coding Sans is a Hungarian software company that creates various web applications. In a bid to increase credibility and trust, they launched a content marketing campaign a few years ago.
They invested time in creating a State of Software Development Report. The report includes surveys, interviews and industry trends. Putting together this report took a lot of investment. However, once they published the report, it became an instant hit with close to 700 downloads in the first week. The company saw close to $300,000 in new projects attributed indirectly or directly to the report.
Since the report was such a hit, they continue to publish this annually. As a gated content, it continues to provide the company with quality leads. Investing time and money in offering valuable content to your audience always pays off.  While in the short term it brings leads, it also helps build your brand over time. That's the power of content marketing.
Buffer – Consistency is key to Content Marketing 
Buffer is another content marketing success story. What started as a simple Tweet scheduler tool has now grown into a marketing tool. Right from the start, the company saw the value of content marketing. To build their brand image, the founders took to blogging. They focussed on common problems faced by marketers and tips to overcome them. 
It was a slow start as they were an unknown brand. However, they blogged consistently and slowly started increasing frequency. In the initial period, the founders say that other blogs were not keen to publish their content. However, once the Buffer blog garnered a large audience, things improved. They were able to pitch blogs for other websites and started growing even more.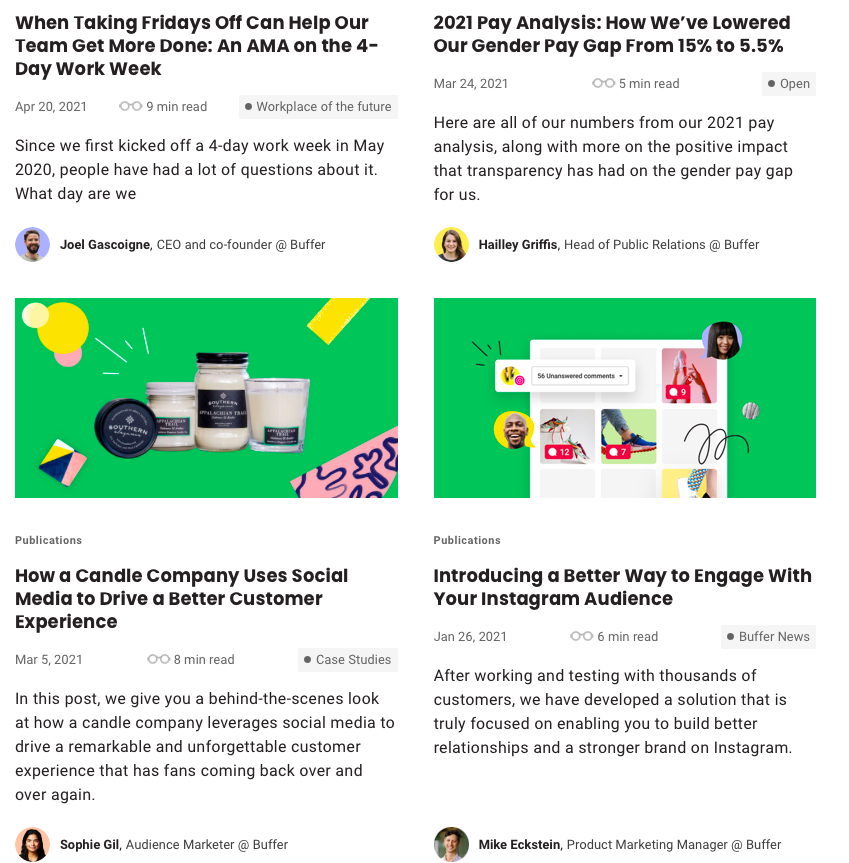 Over the years, Buffer went from being a Twitter tool to a social media tool with 2 million users. Their content marketing strategy also evolved with the brand change. Today the Buffer blog is a go-to for many marketers. The variety of topics covered has also grown. The key takeaway here is that you can start small with minimal resources. But with consistency and an audience focus, content marketing can give desired results. 
Further reading: Content Marketing with WordPress
Have a question about content marketing? Schedule a call with us.