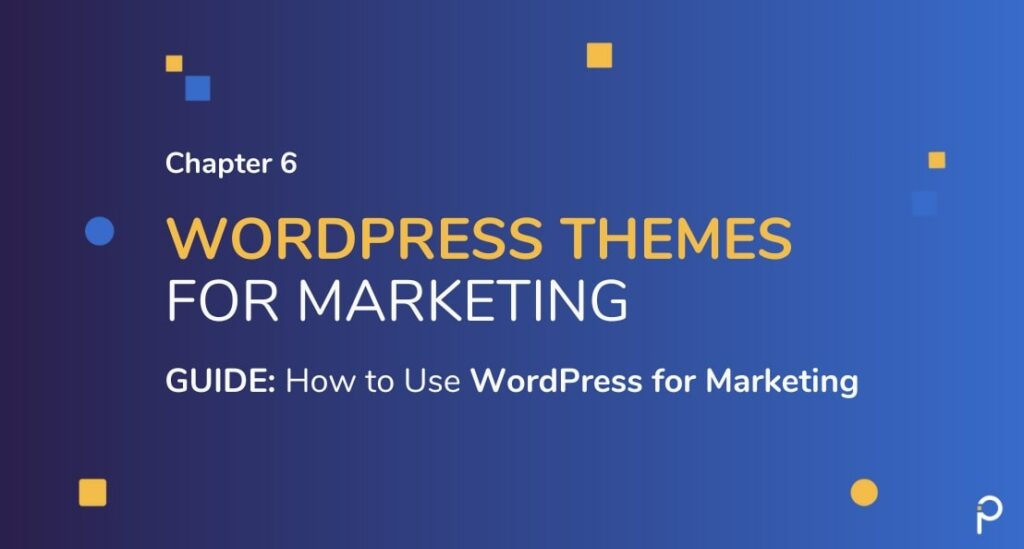 If you've read the previous chapters on settings goals and wireframing your website, you would be following a methodical approach to building a website. Choosing a WordPress theme is one of the most important decisions in this journey. If you're reading this guide, it means you are keen to have your website optimized for marketing. So it only makes sense to ensure that the WordPress theme is optimized for marketing as well.
WordPress themes for marketing have 3 important characteristics:
Light-weight for high-performance requirements
SEO compliant code
Good support ecosystem for customization
What are WordPress Themes and How Do They Work
In simple terms, a WordPress Theme is the "look and feel" that you choose for your website. Ideally, since your theme decides what your website looks like, it should be in line with your business brand image. WordPress offers a vast range of free and paid themes. Once you have chosen a theme, they can be easily managed from your admin dashboard.
WordPress themes include a little more than just visual aesthetics – they have features. Sometimes they are bundled with plugins. This can be a potential problem if the theme depends on plugins to function and one of the plugins stops being supported in the future.
What is The Difference Between a WordPress Theme and Template?
A WordPress theme contains templates, which are PHP files, used for creating the look and feel of a page. Templates can also be used to define the column structure of a page and whether it should include sidebars or not.
It's common to see page template with names similar to the ones mentioned below:
Default Template
Full-width Template
Boxed Template
With Header and no Footer
With Sidebar
The page template can be applied to a single page or to multiple pages.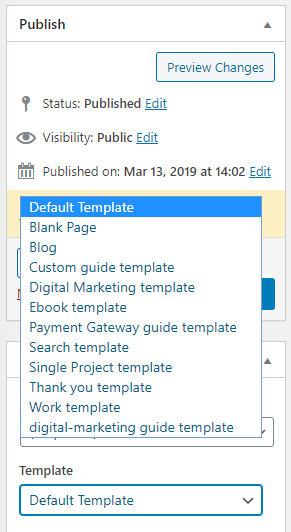 Read More about Page Templates in WordPress here
How to Choose a WordPress Theme for Marketing
WordPress comes with a few default themes, and you can switch easily between them. If you want to choose new themes, you can go to the WordPress Theme Directory, which has close to 3000 themes.
But if you are on the lookout for shortlisting the best WordPress themes for marketing, then consider the following parameters:
1. Performance

It is important to note that choosing a theme is not just a matter of aesthetics. Choosing a theme that is fast to load is critical. You can have a fabulous looking website, but if it is slow to load, it is pointless. Nothing frustrates a website visitor more than a slow page.
WordPress themes for marketing are generally optimized for performance. As a result, they don't come up bloat associated with "Multi-purpose WordPress themes". The minimal code and in some cases the lack of jQuery usage can provide significant performance benefits.
If you start off with a heavy theme, that contains thousand's of lines of code, your optimization efforts will be hampered.
2. Customization
While technically all themes allow you to customize them, working with starter themes can be a different experience compared to a "multi-purpose" theme.
There is no right or wrong approach here.
If you're building an MVP and want to quickly test the idea with a website, a specific theme for your niche can found on one of the many WordPress Theme marketplaces. Installing it and replacing the dummy content with yours is a straightforward process and you should be up and running in no time.
When you want to make small tweak and customizations, the in-built options in terms of layouts, colour palettes and font styles can greatly improve your customization experience.
It is only when the customization of the theme goes beyond 20-30% of what the original theme was intended for or looked like, you will start running into issues. The time taken to fix these problems will quickly lead you to a point of diminishing returns.
Often, it is at this juncture that a lot of our clients reach out to us, desperate for help. We are then faced with two options:
Continue tweaking the website (even with the knowledge that the effort does not match the desired expectations of performance or customization), until the technology debt is severely impacting the website growth.
Rebuild it as a custom WordPress theme
If you are building an MVP or on a low budget, picking a free or commercial theme might be your best bet. We came up with a rating system previously to shortlist themes for this scenario.

Our recommendation for established businesses is to always go with the custom WordPress theme development. Even in this scenario, there are a couple of options you can take:
Build the complete WordPress theme from scratch
Build the WordPress theme using a "starter theme"
At Pixelmattic, we started off customizing commercial themes but quickly realized its limitations. We then moved to design websites using an in-house custom theme.
Currently, we develop our WordPress solutions using the GeneratePress theme. It's light-weight, SEO friendly and perfect for building custom WordPress websites.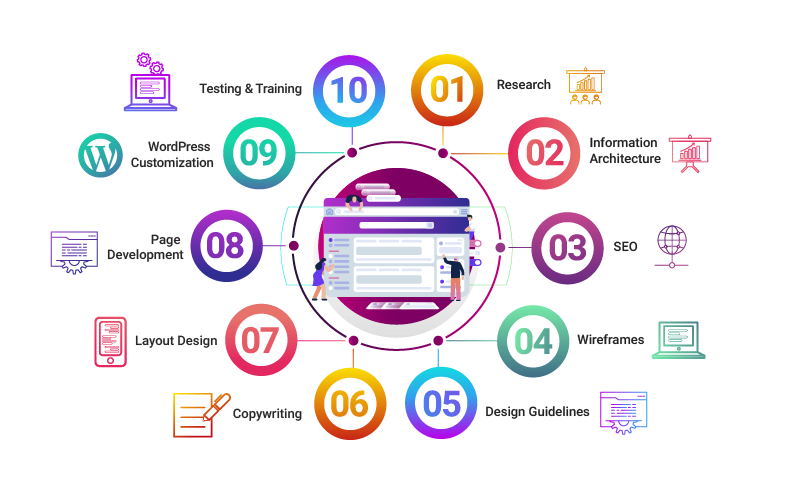 We did a comparison of the pros and cons of going with a commercial theme vs building a custom WordPress website.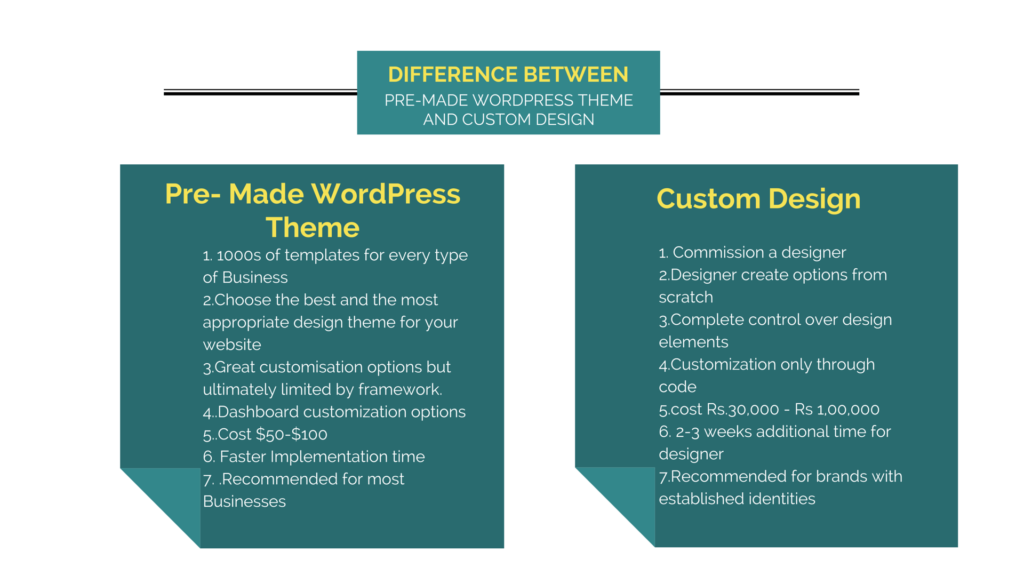 Fastest WordPress Themes for Marketing Optimized Websites
Here are our top 5 recommendations for WordPress themes for marketing websites.
Theme
Pricing
Key Features
Performance

Genesis Themes
$60
Offers 1/2/3 column layouts
– Easy to adopt and scale making it ideal for all business sizes
– Strong search engine optimized foundation
Performance Comparison

Generatepress

$49.95 (also includes a free version)
– 15 modules with multiple functions
– 30-day money-back guarantee
– Advanced page wise customization features
Performance Comparison
Avada
$60
– Offers easy to follow and elaborate demos that can be imported
– Includes a wide range of features labeled function-wise with easy to grasp instructions
Performance Review
Divi
$89 upwards
-Easy to use drag and drop builder option
-Access to over 800 premade layouts
-Integration with Woo Commerce



Performance Review
Astra
$59 upwards
– Pre-built websites
– No jQuery used
– WooCommerce integration
Performance Review
Check out this list on Best Freelance WordPress Designers to hire.
X