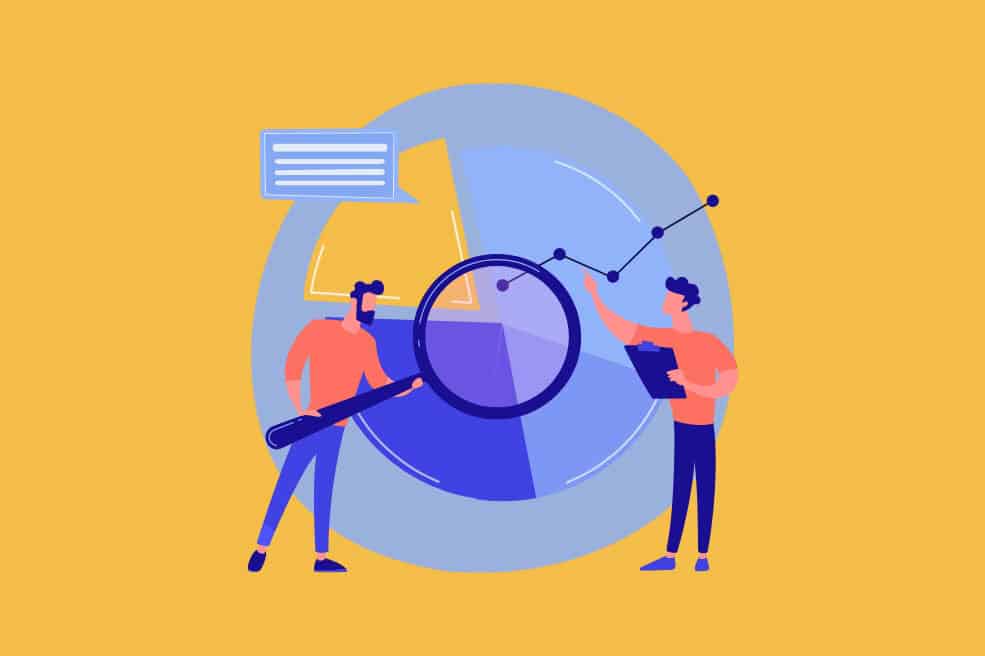 If you are looking to do a marketing audit and unsure how to begin, this blog is for you. Let's start with the basics.
What is a Marketing Audit?
A marketing audit is an end-to-end evaluation of your marketing ecosystem. An audit includes looking at your collateral, creatives, campaigns, strategies, and anything remotely associated with your marketing.
Key factors to consider before you begin
Why are you doing this audit? – Identify the goal of your audit. In other words – what inspired you to carry out an audit. Some examples are relooking at strategies, upgrading your brand, launching a new product, significant changes in your industry, etc. This will help plan your marketing audit better.
How will you measure your goals? – Once you have identified why you are doing an audit, the next step is to create measurable goals. You can have a different goal for each aspect of your marketing. Not having sufficient or clear goals will make the entire marketing audit pointless. Some good goals are identifying bottlenecks in the marketing funnel, improving website traffic to a certain number, or increasing engagement by a certain percentage. The more specific the goals, the better it is.
What is the frequency of your audit? Marketing audits should ideally be an annual process. Customers and industries are constantly evolving. Hence marketing strategies tend to become irrelevant over time. Scheduling an audit every year helps stay relevant and profitable.
What are the key elements of a marketing audit?
SEO – All aspects of your SEO strategy, including current numbers, keywords, goals, etc.
Creatives and Collateral – Any form of creative and collateral used across marketing platforms. This also includes engagement rate and other performance metrics.
Digital – This includes all forms of digital marketing communication – email marketing, online ads, content on other platforms, etc. This should include both the actual content and performance metrics.
Social media – While social media can be classified under digital, keep this separate if you have multiple active social media channels. Factors to look at include demographics of followers, engagement metrics, advertising metrics, etc.
Offline – includes print ads, print articles, billboards, flyers, the collateral used for events and exhibitions, etc.
Competitive benchmarking – If you have already done any form of benchmarking, this should be part of your audit. This is ideally benchmarking your company to competition or industry standards in general.
Tip – Have clear, measurable, and realistic goals for each of these critical elements. Depending on your business, you can have multiple goals for each aspect.
Macro-environment audit and micro-environment audit
A marketing audit can be divided into a macro-environment audit and a micro-environment audit.
A macro-environment audit involves factors outside your business such as:
Your customers
Your competitors
Industry trends
Other influencing factors such as industry bodies, governments, etc
A micro-environment audit involves factors within your business such as:
Marketing strategies and goals
Brand Assets
Tools and resources at hand
It is critical to look at both environments for a 360-degree audit to ensure you are not missing out on anything. The reason behind this segmentation is that they require different approaches. A micro-environmental audit is more straightforward as all the factors are within your control. However, doing only and doing both in silos will not make sense. Both audits need to be in sync. Findings from each audit can have an impact on elements of the other.
Difference between digital, marketing, and website audits
Marketing audits are often confused with digital and website audits. The critical difference is audits such as digital and web are more functional. They focus on only one function or aspect of your marketing ecosystem. For example, a website audit only targets your website, as the name suggests. On the other hand, marketing audits are all-encompassing.
Marketing audits are more intensive and time-consuming. Since they aim to cover every aspect of marketing, it can also involve sales and business development. Since these two teams often have an overlap with marketing.
If you are interested in learning more about other types of audits, do check out our blogs on web content audits and digital audits.
How do you choose the right type of audit?
Every business should do a periodic marketing audit. Ideally, once a year, but some might choose to do it with a longer gap. A good marketing audit will cover web and digital audits as well. However, sometimes depending on a specific need, you might do just a website audit or a digital audit. For example, if you are migrating your website to a different platform. Or you have seen engagement drop on one of your social media platforms. In these cases doing just a functional audit might suffice.
Advantages and disadvantages of a marketing audit
As we have discussed already, marketing audits require intensive resources and a lot of time. So, is it worth it? The short answer is yes. Here is why
Optimize resources and budgets – Audits help you identify what resources you need, underutilized, and what you can let go of.
Identify gaps and solutions – A good marketing audit will focus on identifying process gaps and solutions to fix them.
Identify new opportunities – Audits can help spot new and previously untapped opportunities.
Better alignment with sales – Marketing audits are an end-to-end process and will involve related teams. As a result, it can improve alignment between sales, marketing, and business development teams.
Showcase marketing efforts to the rest of the company – An audit is a way to find gaps and aspects that have worked well. This information is helpful for annual presentations, requests for budget increments, etc.
Are there any disadvantages of doing a marketing audit? It can be time-consuming and expensive if you do not have the right resources. A workaround this can be hiring an agency to carry out the audit.
How to do a marketing audit?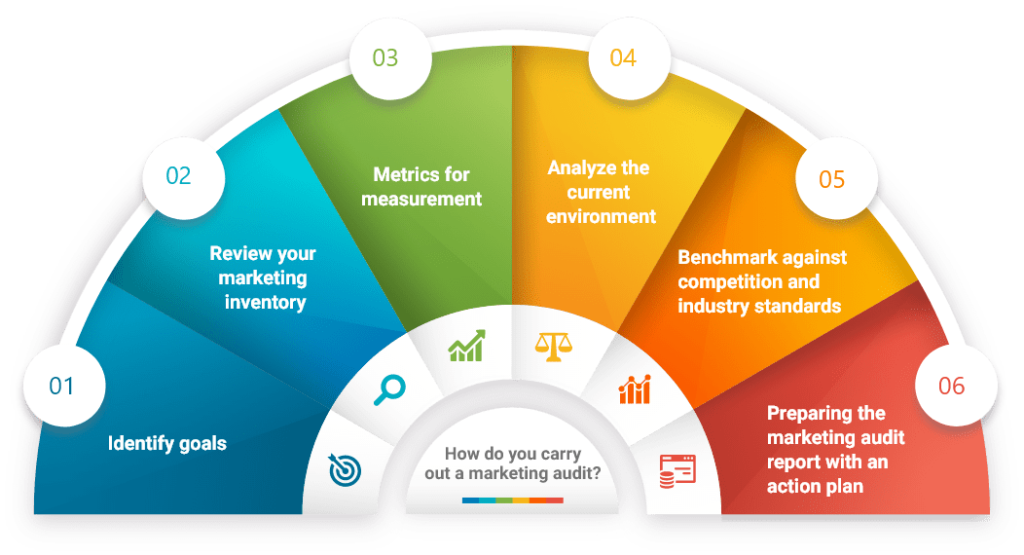 Step 1: Identify goals
A marketing audit is just the first step towards finetuning your marketing. To move to the next stage of actually carrying out changes, you need a guide. Setting up goals helps you get started on this path. Without clear objectives, the marketing audit will be a pointless exercise.
Here are some guidelines for setting up goals:
Identify individual goals for each aspect of marketing – SEO, website, social media, emailers, etc.
Choose measurable goals – Having quantifiable goals are easier to measure and offer better clarity.
Keep it realistic – While you might have an ideal engagement rate or lead conversion rate. Do also consider your resources and current market trends.
Tip: Consider having short and long-term goals. The first audit can help lay the foundation for longer-term goals.
Step 2: Review your marketing inventory
Before reviewing marketing inventory, it is essential to note that this is not restricted to visual collateral. Your review should cover emails, blogs, telemarketing scripts, and any form of written communication. It is also vital to review content and imagery that get sent out to customers by all teams. Not just marketing.
There are two steps to reviewing the inventory. The first is getting all marketing collateral to one place – preferably on a cloud. This helps with storage, security, and better accessibility. Here are some of the places you will need to review.
Website
Social media
Emails
Offline avenues – posters, billboards, branded goodies, etc.
Other forms of communication – Telemarketing scripts, internal communication, publications on other websites, etc.
The second is preparing an overview document or spreadsheet. Every piece of content needs to be entered and labeled with the following information:
Type of collateral – Videos, static images, blog posts, etc.
Objective – What was the goal of the content – Some examples include: New product announcement, lead generation, improving brand awareness, etc.
Target audience – Was it meant for a section of your target audience? For example, new leads or leads that further down the funnel.
Engagement analytics: How did the collateral perform? Digital assets are easier to track with click rates, engagement rates, etc. With offline marketing, you might need to dig deeper. Did putting up that billboard bring in more inquiries? Did you see increased website traffic after publishing an article in a newspaper?
ROI- What was the amount spent. This needs to be compared with engagement analytics to understand if you received value for the amount paid.
Relevance – Is this piece of content still relevant? For example, changes in your company or even the industry might require tweaking some content or eliminating it.
Once you have this information in place, you can assess which assets have performed well and which have not.
Based on your business, you might want to add more labels. For example, if you have multiple business units and have content that is used across. You will need to see if the asset has performed well across all units or just a few.
Step 3: Metrics for measurement
We have already discussed how important it is to have measurable goals for the marketing audit. Choosing the right metrics is essential for this. Here are some metrics to consider for different aspects of your marketing ecosystem.


If you have the resources or if you plan to get external help for the audit, the following factors can also be measured:
Brand awareness
Brand loyalty
Share of voice
Lead conversion rate
Step 4: Analyze the current environment
This is the core step of the whole marketing audit process. Once you know what you are analyzing and how you will measure results, the next step is to begin the actual analysis.
If you are doing this in-house, consider involving staff from different departments for an objective analysis. The actual analysis process will vary depending on your business and marketing. However, here are some tips to guide you:
Compare goals with the current situation – Compare how your marketing strategy has performed to the goals set.
Ask questions and dig deeper – Do not stop with a high-level overview of if marketing goals have been met. Did deeper and ask questions on how things can be improved, compared campaigns and platforms, look at new technology available, etc. A campaign or social media channel might be doing well. However, digging deeper can offer insights on improvements.
Look for both gaps and opportunities – Audits are not just to capture gaps and shortcomings. It is also a time to find new opportunities. This could be because of recent developments in the market. Or even a previously overlooked opportunity.
Compare with previous reports if available – If you have done any marketing audit previously, it can be used for comparison. Do not hesitate to use it even if it's basic or covers only some functions.
Create a system to cover all areas – Unlike other functional audits, a marketing audit has to cover every aspect of marketing. Hence it is vital to have a systematic approach to ensure everything is covered. Map out all your teams and then map out every form of communication that goes out and comes into those teams. Then identify everything that can be labeled as marketing. Finally, create a flow to ensure everything is covered.
Step 5: Benchmark against competition and industry standards
Once you have your analysis in place, the next step is to see where you stand in the market.
Against competition – Getting information such as social media reach and competitors' website traffic is simple as these are publicly available information. However, if you need other information, you might make some calculated guesses based on whatever information is available. When looking at competition, look at alternatives to your product and not just your closest industry competitors.
Against industry standards – Do not stop by just comparing yourself to your closest competitors. Your closest competitors' numbers may be way above the industry average. Making a comparison only with them can give an incorrect impression.
Tip: An easier and more accurate way of doing this exercise is to get the help of a research agency. They use tools like customer surveys and interviews to collect a more objective view of where you stand.
Step 6: Preparing the marketing audit report with an action plan
The final step is to prepare the actual marketing audit report. Here are a few pointers to keep in mind while designing the report.
Make it actionable – A good marketing audit report showcases what is lacking and what needs to be done. Insights are great but backed with a roadmap; it becomes better.
Back it up with numbers – Insights backed by numbers are easier to understand and more reliable. The same applies to the marketing audit report.
Share it across teams – Unlike other functional audits, a marketing audit directly impacts related teams. Present the report to different stakeholders and get their feedback as well.
Have timelines for the action plan – This might seem obvious, but surprisingly many audit reports do have a timeline. Adding actual dates gets the ball rolling on your action items.
Consider having short-term and long-term plans – In all likelihood, your marketing audit will bring up a long list of action items. Breaking them down as short term and long term will help tackle them better.
Who should conduct your marketing audit?
While you can do the audit in-house if you have the resources and time, there is a benefit in outsourcing it. Here is why
Objective Assessment – An independent audit is a more fair and objective assessment. It can give your organization a fresh perspective on aspects you may have missed.
Skilled Assessment – Agencies that conduct audits usually come equipped with a team of diverse skills supported by powerful tools.
Benchmark against industry standards – Independent agencies will have insights into what others and even similar industries are doing. Thereby enabling better benchmarking.
If you are interested in getting an in-depth marketing audit done, do reach out to us here.