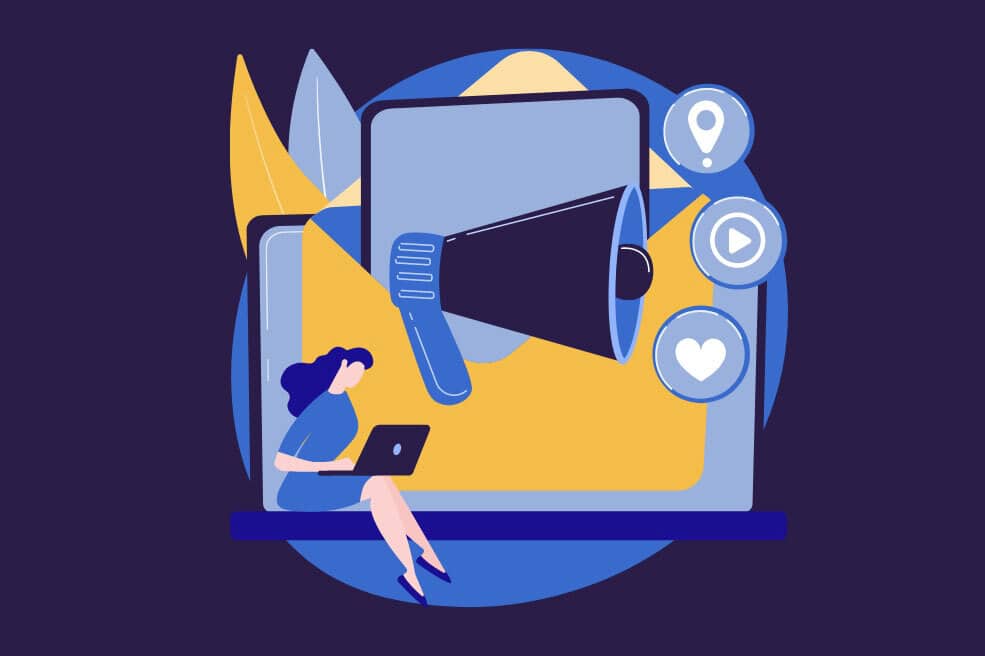 Email marketing is a walking-the-tightrope kind of situation: engaging without spamming. It does have a higher conversion rate as compared to many other types of marketing campaigns. Thus, a nuanced understanding of email marketing strategies would impact the marketing campaign's performance. We'll cover the components of B2B email marketing campaigns and examples in this article.
Business to business email marketing rules are quite different from those for business-to-customer emails – so, you must craft emails with a distinct understanding of B2B. For example, one of the distinctions between a B2B and a B2C email is that the former has to stress logic and showcase delivery, track record, and innovation, while the latter is about tapping into an emotion.
Components of B2B email marketing campaigns
Intense competition for customer attention has become the norm. Thus, email marketing without a sound strategy is likely to fail. Let us look at some critical components of B2B email marketing campaigns:
Email service provider
First things first, if you want an email marketing campaign that scales up, use an email service provider that will reach out to your curated database. Various email service providers are popular today, such as Mailchimp, Campaign Monitor, Hubspot, etc. Choose one after consulting your digital marketing team to see which one is best for you.
Define objectives
While you can do much with email marketing, every business needs to fix a core goal behind the email marketing campaign.
Besides the core objective, email marketing will have many targets and benefits to achieve and offer, but having a central goal will help align everyone's efforts. The goal can be customer engagement, lead generation, pushing for a social cause, information about new products, declaring discounts and offers, and so on.
Creating and managing data
One of the continuous tasks in email marketing campaigns is building and filtering your data. The better the quality of data and the filters, the better the outcome of your B2B email marketing campaigns.
Automation
The more automation you bring to the system, the more time you can spend on aspects like creating the right email and focusing on scalability. You can use various tools to achieve this, but this is also a continuous task.
Examples of innovative email marketing
You cannot send multiple emails to a client with the same content over and over again. You have to be innovative, thoughtful, and strategic, or else the client will not hesitate to unsubscribe or ignore emails altogether.
How can one not spam a customer while still retaining their attention?
The answer: make it all about them.
Taking comprehensive care of the client is the key behind these B2B email marketing examples. There are various creative examples and strategies for keeping the client engaged via email. Take a look at this list of B2B email marketing tactics:
1. Sharing resources
In the pandemic era, observant, alert organizations have been communicating with their clients. One of the best ways to show you care is to share online resources. These can inform them of the measures they can take to protect themselves in these unprecedented circumstances.
You can choose emotive words to reflect your honesty and concern. For example:
"At GAP, we care for our clients. Our team has created a list of medical resources on how to treat yourself if you live alone and catch the disease even after vaccination: …"
2. Activation
Quite often, a customer doesn't use a product or service because they are overwhelmed with the idea of putting their mind into something new. An email about how to do it may be well-appreciated by the client. Again, use select words to emphasize the ease:
"Our software is hassle-free: once you get started, you'll never want to go back! Here are 3 simple steps to begin using…"
3. Case study
Before the internet revolution, brochures used to carry a section on case studies. These were examples of how your customers have benefitted from your products and services. B2B email marketing era, too, uses this – only with a different medium. Emailing with a crisp yet insightful case study can be a better idea to engage with your clients than repeating emails on product information.
4. Announcement
Whenever you have an announcement to make, send an email. It leaves an impression to the recipients that you are an active organization always reaching new milestones. A successful B2B email marketing campaign can leverage this subtle way to convey that you are a vibrant organization.
5. Webinar
One of the gifts of the unprecedented rise of the digital revolution is the ability to hold a webinar with people from across the world. An offer to attend a webinar on email conveys to your customers that you are eager to educate them and invest in their training. You can even create a webinar with the sole intention of sending out an email to customers and engaging with them.
6. Re-engagement
Several organizations lose touch with their customers. An email marketing effort should be able to reach out to these customers and begin talking to them. This can be the right strategy for firms that do not want to constantly send messages to their clients yet show that they value them.
7. Whitepaper
Business-to-business email marketing rules are such that you should appeal to the customer's logic and reasoning. Your client is most likely knowledgeable and discerning; therefore, a strong emotional appeal may not work with them. Sharing a whitepaper that is relevant to them can be of interest to your database. Besides, it is the right thing to do as a caring business, which your recipients are sure to notice.
8. Event information
If you have an event in which customers can participate, that becomes an opportunity to email them. Sharing event information, such as the theme, speakers, schedule, dates, venues, etc., can help a customer evaluate the event and consider participating. A typical B2B email marketing example is one informing clients of their presence in a key industry exhibition.
9. Free trial
A few customers may begin using your product or service if it is available for a free trial. Filter a database of leads (and not existing customers) and draft an email informing them, and emphasize why they should start a trial now.
10. Discounts/Offers
You would want to sell more to existing customers. In this case, offers or discounts can be instrumental. Besides, a related email informing them about lucrative offers will be a welcome change from receiving a repetitive message about products and services – something that often happens with those who do not carefully craft a B2B email marketing campaign. Using the correct database is a must when pitching a discount.
There are many more besides the above examples. Digital marketing planners can help you navigate this process and be successful in gaining client attention as competitors jostle to get it.
Starting your email marketing strategy? You can't do it on your own. Subscribe to our monthly newsletter for more insights on branding, growth, and b2b marketing!
A successful B2B email marketing campaign lies in the intersection of tools and content. While apparently simple, email marketing is a competitive job, as capturing and maintaining customer attention is tough.
There are numerous B2B email marketing examples of utilizing innovation and creativity to communicate with clients and retain their attention. These examples can help your organization create a cohesive campaign. Today, customers are used to ignoring emails and unsubscribing. A sound B2B email marketing campaign strategy developed by specialists is a must to avoid such a scenario.