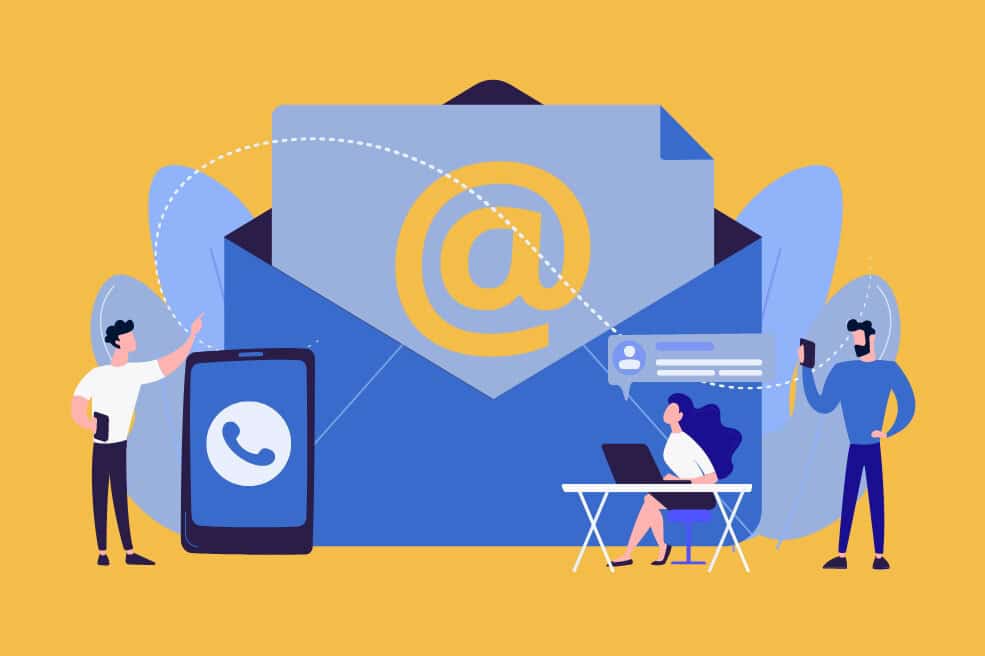 60% of marketers consider content 'essential' or 'foremost' for their overall plan of action. Inbound marketing is an approach that intensifies the customer's experience by providing helpful content at each stage of the buying journey.
This means attracting them with content that increases awareness of their problems, engaging them with a solution to that particular issue, and eventually providing them with an excellent experience.
Under the umbrella of inbound strategy is email marketing. so, How can email marketing fuel your overall inbound strategy? To give your clients a full-scale inbound marketing strategy, you must provide them with a foolproof plan that supports email marketing.
Why is email marketing important?
By 2019, there were approximately 3.9 billion email users. This number has been growing exponentially since then and is a thriving part of marketing strategies everywhere.
Timing is also your friend here, as Tuesday is the perfect day to send emails since this weekday has the highest open rates. Having a well-tailored, strategically-thought-out email marketing strategy can fuel your inbound strategy and will leave a positive impact on the customer relationship.
Besides that, what is that one thing everyone in business wants?
Money!
Email marketing is sufficiently inexpensive if we compare it to other marketing tactics and strategies. The most elementary and elemental part is drafting perfect emails which fit the occasion and fulfill your goals.
What is inbound email marketing?
Inbound email marketing is the practice of receiving queries and answering customers via their inboxes. It's about generating a dialogue with your audience by conveying helpful and timely content which interests them.
Moreover, email marketing is among the most hassle-free, efficient ways to reach future customers. An inbound email marketing strategy is usually created by:
Recognizing the target audience, their goals, and what they desire from your brand
Making a list of companies that fall under the target market with similar products or services
Discover which company has the best relationship with the target audience, e.g., which company gets the most engagement and reach
Constructing a lead-nurturing program that includes helpful content for potential customers so that when they face a related issue, they immediately recall your brand
An email lead-nurturing program is primarily a marketing and sales strategy that requires sending targeted emails based on factors like whether the receiver requires more information; or has interacted with your website, say, by downloading your company's brochure.
How can email marketing fuel your overall inbound strategy
Email marketing leaves a tremendous positive impact on your inbound marketing strategy. For beginners, it generates a medium for open communication between the customer and the company. Additionally, different types of emails can be created with this process. This results in a more customized experience with potential customers.
Email marketing syncs closely with your CRM (Customer Relationship Management) and other data platforms. CRM is a system of managing your company's relations with existing customers and potential customers. Its only goal is to improve relationships and aid business growth.
With this kind of marketing that operates in relation to your curated customer base, you can distinguish your audience into various groups and send them relevant content which they find helpful.
Components of a successful email marketing strategy
Besides understanding how email marketing can influence your overall inbound strategy, you must know how to implement it. The first thing to have in mind for an email marketing strategy is a foolproof email structure.
Think about the message you want to deliver and how to execute it as effectively as possible. The idea here is not to send a long, drawn-out email or a short, confusing email. You need to look for that perfect middle ground.
Once the message is drafted, fix email sequences to dictate which email will be sent to whom and when.
The determining factor of a successful email is the subject line. Some readers won't even open your email if the subject line doesn't arrest their attention or is too technical and boring. Ensure your subject line is intriguing enough to catch the reader's eye.
Above all, add a Call-to-Action (CTA) at the end of your emails. Try to add a CTA that revolves around any of your products or services. However, if the email content doesn't call for such a CTA, add something else that will be interesting to or reel in a particular target group to your website.
While writing the email, always put yourself in the receiver's shoes—what subject line would immediately captivate you? What CTA would motivate you to know more about the sender company? Above all: what topics would you like to learn more about as a consumer? Make the content helpful and tempting enough to make your customers want more emails.
Turn leads to customers with email marketing
The most important goal of email marketing is converting leads into customers. When looking at a buyer's journey, dividing your audience into different groups and providing them the right information at the right time will be crucial for converting them into customers.
If the potential customer is at the first step of their journey, sending them case studies or product comparison charts would not be the right approach. You can send them a welcome email first, and later on, engross them with details about your products and services. Arranging your database is essential to keep a track record of the buyer's journey.
If a customer submits information on your website, you should set a workflow to engage that particular receiver in a series of automated emails.
This brings us to automation: if you want to create buzz around your content, automating your emails is key. Automation won't require you to email every few days. It creates a workflow for sending emails to those who add their email address into your database, according to your chosen schedule.
Email marketing examples for B2C businesses
With email marketing for B2C, marketers can achieve conversion rates as high as 50%.
Here are some examples of B2C email marketing topics worth noting:
Welcome email series
Product/service update emails
Newsletters
Reminder emails
Birthday emails
Feedback emails
VIP emails
Re-engagement emails
Order confirmation emails
Security check emails
What are the benefits of email marketing in an inbound marketing strategy?
Email marketing is a powerful way to reach your desired audience. It's easy to track the results of campaigns. Thus, marketers can easily see what works and what doesn't.
Email marketing makes it easy to differentiate customers based on their interests, which is why it is deemed one of the best ways to increase conversions.
Email is not a revolutionary, new thing. It is over 25 years old and is considered among the most effective forms of communication to date.
Email marketing provides a trouble-free, easy way for marketers to deliver their message across prospects. Besides, reading emails is completely free.
It helps businesses construct a database of emails for targeted ads and various types of promotions. As a result, it provides a noteworthy increase in ROI (Return on Investment) and is significant for an inbound marketing strategy's success.
Emails let you reach your potential customers in their comfort zone. They give them the flexibility to window-shop through your products or services without facing cost barriers. They also help businesses deliver instant updates on sales and products right in the customer's inbox, which they can read anytime.
Conclusion
Email marketing is one of the most effective ways to reach your leads and loyal customers. It facilitates open communication and provides you with several ways to showcase the products or services you want the targeted customer to see. Inbound marketing will continue shining as a revolutionizing marketing tactic, with email marketing fueling the overall inbound strategy.