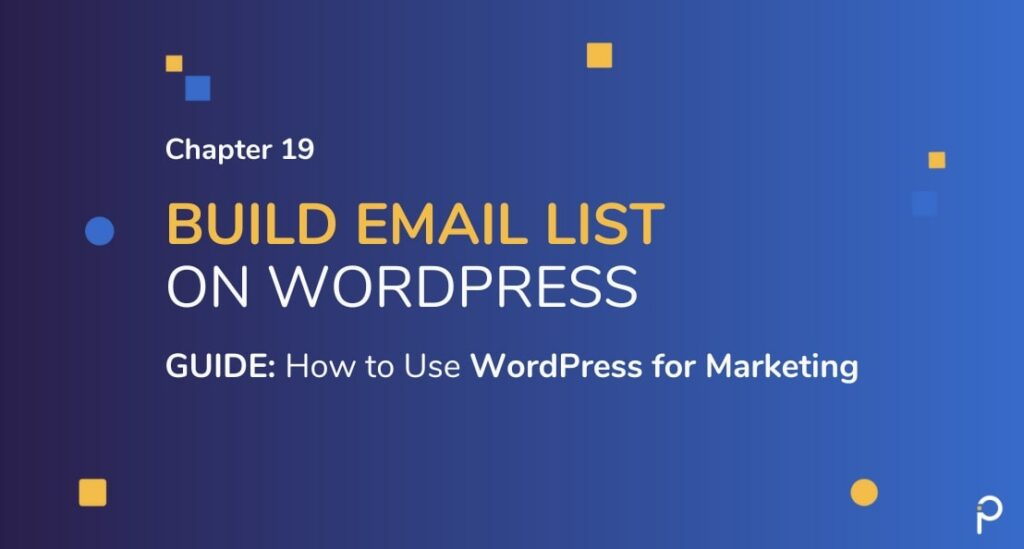 We've discussed marketing automation in detail in chapter 17. In this chapter, we show you why email marketing is a powerful marketing channel, how you can set up email marketing with WordPress and the most popular WordPress email list building tools.
Why is Email Marketing Excellent for Lead Generation?
Despite the emergence of social media, numerous case studies back up the claim that email does better when it comes to engagement and lead generation.
Email is a primary currency on the internet, whether it is for registering for a service or downloading information. A majority of us still use it as a mode of communication and more so in a B2B context.
For every $1 of spend on email marketing, the average ROI across industries if $42. Travel, tourism and hospitality industries see an ROI of higher than $50.

The ROI of Email Marketing from Litmus
Getting your potential customer to commit to sharing their email ID is a critical milestone in the customer journey. You have built some trust with the visitor to get their email. With the email, you can now build trust further through relevant and personalized communication.
Email provides opportunities to retain and upsell your existing customers, an often undervalued marketing strategy.
Brands increased their email marketing budgets in 2019 and while the Covid-19 pandemic might have dampened the growth in some industries, the long trend in using emails to reach customers will continue to grow.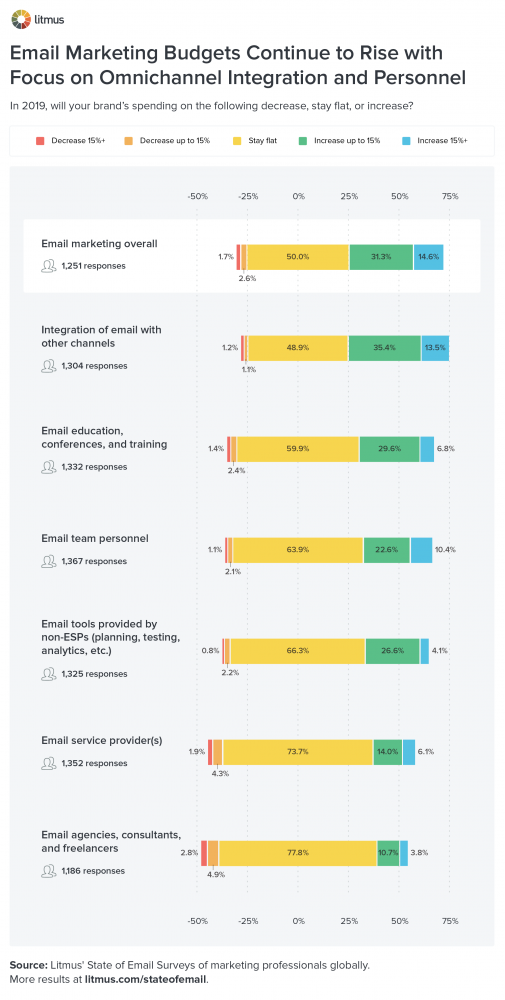 Here is a snapshot of email marketing numbers across industries: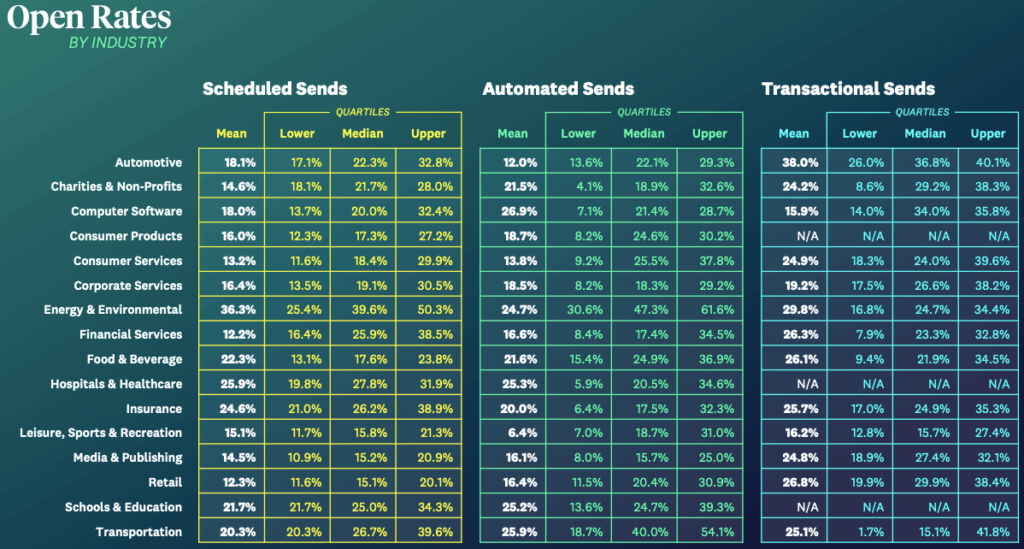 How Does Email Marketing Work?
What you see in the diagram is a depiction of the email marketing process working to move the visitor, who has just subscribed through one of the email list building tactics on the website, down the funnel one step at a time.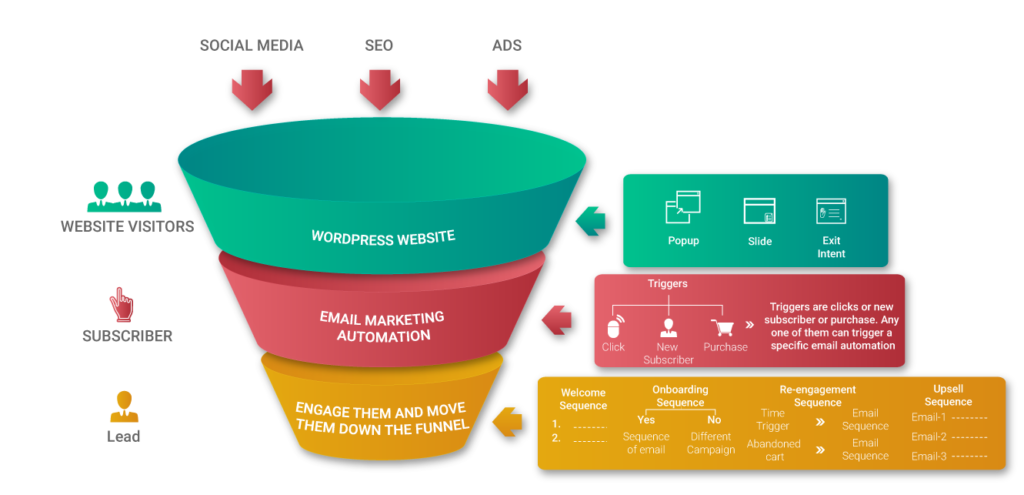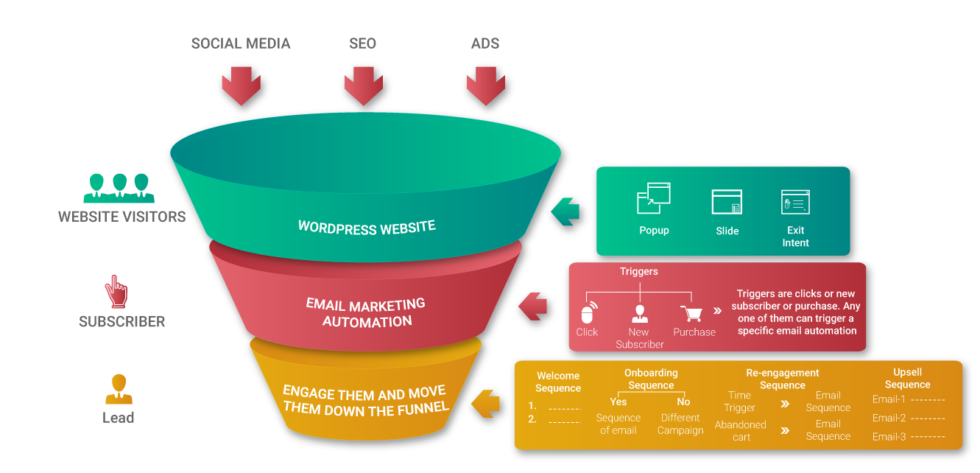 Here are the steps to creating an email marketing automation with WordPress:
Define email marketing goals (brand awareness, brand engagement, lead generation and upselling existing customers)

Use email listing building tools on your WordPress website.

Segment lists based on interest, location and other business-specific parameters

Decide on the types of emails you will send (Welcome email, onboarding email, thank you email, reminder email, cross-selling email etc.)

Create a schedule for sending emails.

Format emails so that they are mobile-friendly, easily readable and have a clear CTA.

A/B test your email with variations for subject lines, CTAs, headlines, offers and images. You could see as much as a 37% jump in ROI with A/B testing.

Monitor reports and track open rates, CTR, unsubscribes and hard bounces.
10 Tactics Using Email List Building Tools on WordPress:
Use the "welcome mat" that acts as a mini landing page to showcase your big offer before they browse your website. This tactic works for SaaS products and bloggers.

Exit-intent popups are an extremely effective way of getting the attention of a visitor who is about to exit your website. An offer that reengages the visitor's interest and brings them back to the site is required. This tactic is particularly useful for sites with high bounce rates.

Timed-popups that show up after a visitor has scrolled more than 50% of the page. The time trigger works on the assumption that user having spent time on the website is ready to engage with your offer.

Hello bar is a non-intrusive way of permanently showcasing an attractive offer or latest content. The CTA in the bar redirects the user to a landing page.

A floating box which stays as you scroll through the website is excellent for promoting offers.

Inline forms are a natural fit for blog posts and long-form content.

Set up email marketing integration for all your contact forms. When the visitor is submitting an enquiry form, you can give the option to opt-in to your email newsletter.

Website visitors who leave blog comments are ideal candidates to promote your email newsletter.

Promote your email newsletter on often ignored and hygiene pages like About us, Search results and Contact us.

Chatbots offer a conversational approach to engaging visitors. Depending on the responses you can pre-select the offers or redirect them to a landing page.
The offers you promise can include pre-orders, limited time or quantity offers, discounts, trials, demo and freebies.
Read further to find out which are the best WordPress plugins for email marketing.
Bonus Email List Building Tactics:
Facebook page CTA, posts and lead ads is another way to build the email list.

Optimize your Twitter bio, LinkedIn company profile and Pinterest to grow your email list.

Run contests on social media to engage your audience and collect their email IDs.

Get your team members to update their email signature with a link to an email subscription landing page or a content offer.

When you run customer surveys, use the window of time after the survey submission to offer something of value and opt-in the user to your email marketing database.

Grow your email list in the offline world at events and through business cards.
Email marketing, as shown in the diagram above, consists of growing your email list and creating email automation sequences for subscribers. These email marketing WordPress plugins can help you implement email list building tactics.
The second part of the email marketing process is what happens once the emails are in your database. Here is the list of the most popular email marketing automation platforms you can integrate with WordPress
For more details on how you can automate marketing activities on WordPress, have a look here.
To automate your email marketing, we set up triggers and email sequences.
Email Marketing Automation
Here is a list of email sequences and triggers that can help you create a rewarding email marketing automation process:
New Subscriber or Customer:


When a new customer signs up, send a welcome email sequence.

If the user engages with these emails, automatically trigger an onboarding email sequence.

Otherwise, experiment with a different campaign to improve engagement.

Don't forget to send a thank you email when the lead turns into a customer.


Visitor or Customer Likely to Disengage


For someone who spent a reasonable amount of time on the website, but didn't engage, send them a reminder of offers.

If a subscription renewal is coming up, send a reminder.


Qualify Visitors Based on Locations or Who Show a Specific Interest


Send email sequences based on seasons or events specific to their geography.

Send relevant emails to subscribers who showed interest in a particular category of topic or products.


Existing Customers


Send upsell or cross-sell campaign emails to someone who has just purchased a product or service from you.

For repeat customers, set up a loyalty email sequence.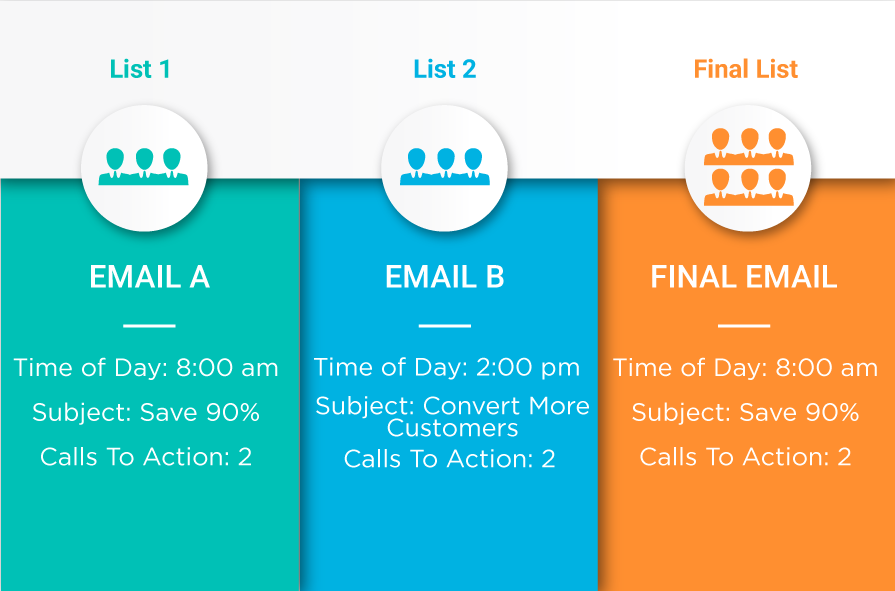 Email Marketing Platforms Compatible with WordPress
Here is a quick comparison of our top picks for email marketing with WordPress:
Platform
Pricing
Key Features
Drawbacks
Mailchimp

The basic package is free and is a great option if you are looking to experiment
– Offers simple to use landing page creation tools
-Can easily integrate with a wide range of apps


Has limited features compared to other tools in the market
Drip

Packages available from $49 upwards
– Good option for E-commerce websites
– Visual workforce builder and smart email segmentation are some of its unique features


Has very few email templates compared to the rest
Aweber
Packaged available from $19 upwards
– Good option for small businesses
– Easy drag and drop option to design newsletters
– Allows use of web fonts

Not all automation features are user friendly and require a bit of work
Hubspot
Packages start from $35 upwards
-Offers extensive analytics
-Great for inbound marketing

While the base package is pocket friendly, as you upgrade the pricing can get steep
Best Email List Building Tools in WordPress
WordPress Plugin
Features
Pricing
OptinMonster
– Geo-location, page-based, referral, device-based targeting
– 2-step Opt-in forms
– Drag n Drop builder
– Multiple list building tactics
– Triggers for time, exit-intent, inactivity and scroll


Basic – $14/month
Plus – $19/month
Pro – $29/month
Growth – $49/month
Bloom
– 6 Opt-in types with 100+ templates
– Scroll, time, inactivity and post action (comment & purchase) triggers
– Page and post level targeting
– A/B testing
$89 per year
$249 for lifetime access

Note: You also get access to Divi theme, Divi Page Buider, Social sharing plugin and 100+ layouts
Icegram
– 12 types of list building tactics
– 120 campaign templates
– Unlimited usage, geo-targeting and more
Free plan available
Pro – $97/year
Max – $147/year
Thrive Leads
– 10 different email list building options
– Mobile design customization features
– Targeting options
$67 for 1 site and all features included
$97 for 5 sites
$147 for 15 sites

Or $19/month for all Thrive products with 25 licenses
Now that you are all set to run set up email list building forms on your WordPress site and create email sequences, here is some final round of email marketing tips to keep handy.
Email Marketing Strategy Tips
Personalize emails but not at the cost of authenticity. Hello <First Name> does not always work and might make your subscriber wary.

Go long with your subject lines for better click-through rates and short if you want higher open rates.

8 pm to midnight might be a good time to send emails. Test it. Test for 6 am, 10 am, 2 pm and 8 pm. Or whatever are the least busy times for your audience. Send emails on weekends!

Templates and tools as offers seem to work better than ebooks.

Keep mobile in mind always as a large part of your audience will view it there. Have a clear CTA above the fold.

Don't start email marketing without having clear and well-defined goals.

Segment your lists based on interests, location, product or service purchased. These can help you personalize emails in different ways.

Set up a "double-opt-in" to have the highest quality of subscribers. Marketers saw a 13% increase in ROI with this tactic.

Remove emails that are inactive for more than 12 months. Your open rates and CTRs will go up automatically.

DO NOT BUY AN EMAIL DATABASE. Not only is it unethical, but possibly illegal too. Nobody likes spammers.

Do a manual review of new subscribers and study their information to understand where, how and why they possible subscribed.

Upload your email list to Facebook Audience Insights. Facebook will use the information uploaded to give you interesting insights on demographics and other data.

Don't be annoying or overly aggressive with your email collection.

Sign up for a free trial with another email marketing platform and send a sample campaign. Compare open and delivery rates.

Check if the email address you're using is spammy with tools like litmus.com and mail-tester.com.

Sign up for your own email sequence and see where you could improve it.

Use an inverted pyramid approach to designing emails – banner image at the top, text with a narrower margin below that and finally a CTA at the bottom.

Design single-column emails not wider than 600px for it to be mobile-friendly.

Let subscribers set their preferences when they sign up for your newsletter.

Add alt-text to your images. When the images don't load in the user's email client, the alt-text will provide a description instead.

Send your most popular content first.

Ask subscribers to whitelist your email by adding it to their contacts in the welcome email.

Email consistently at a frequency that works for you.
A Case Study
A/B Testing is an integral part of digital marketing. From email marketing to your website, it can be used on many different avenues to understand what makes the audience tick.

A confectionary brand was planning on revamping the whole look and feel of their website. But before they went all out, they wanted to test two versions and see which one resonated with their audience better. They used WordPress A/B Theme Testing plugin to compare two different themes. The inbuilt analytics tool offered them enough insights to make an informed decision as to which one was better.
X