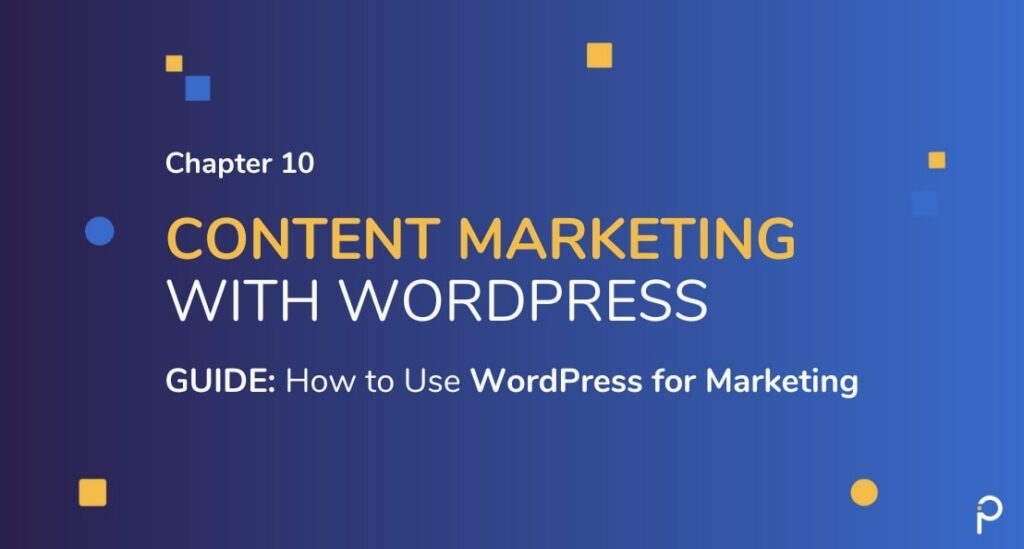 We'll show you how you can build a content marketing platform using WordPress with a plethora of content marketing tools available to you in the form of WordPress plugins.
We have spoken extensively about creating a good WordPress website and also touched on how to bring customers to your site. But all of this will be of little value if you do not have good content on the site. The mode and medium of communication will keep changing with technological developments, but good content will always continue to be a powerful marketing tool. Hence you must have a good content strategy in place.
Here are a few tips to keep in mind when planning your content strategy.
1.Know Your Audience
Invest time in researching your audience and building buyer personas. Each customer's buyer journey is different, and similar ones can be clubbed together into one buyer persona bucket. This step will help you understand what drives and influences them and, as a result, give you insight into what triggers buying decisions. This should ideally be your first step in planning content as it will impact the entire framework of content strategy.
If you haven't read our previous chapters, we recommend going through the Website Planning Process chapter.
2. What is your Brand Positioning Statement
Your USP is what makes you different from your competition. This is how you position your company and make it stand out in the market. This theme needs to be at the core of all communication, including website content. Surprisingly a large number of organizations do not have their brand positioning statement articulated well. A good positioning statement creates a clear link between what you have to offer with the need of your audience. Putting down a brand positioning statement is a simple but critical starting point for content strategy.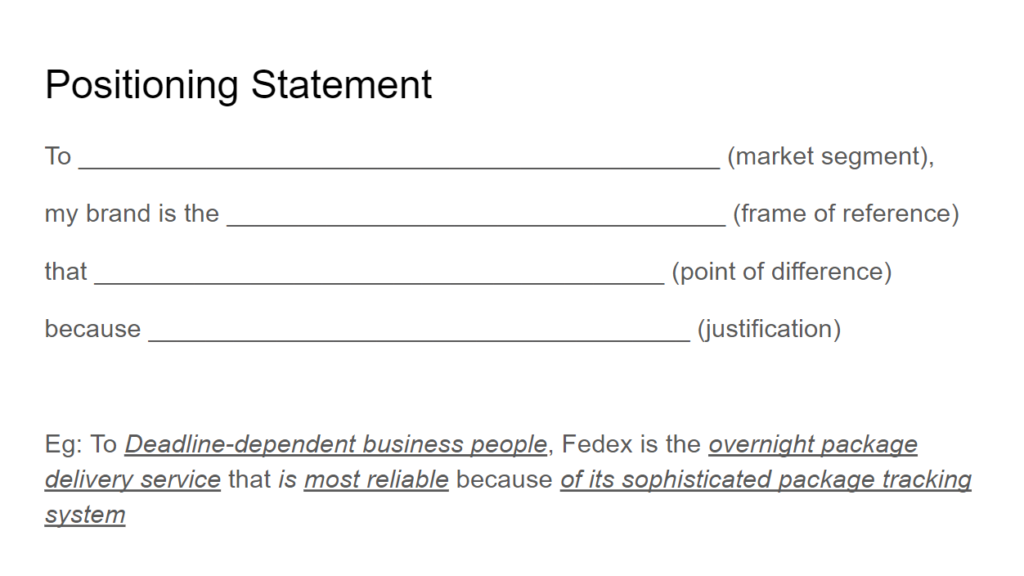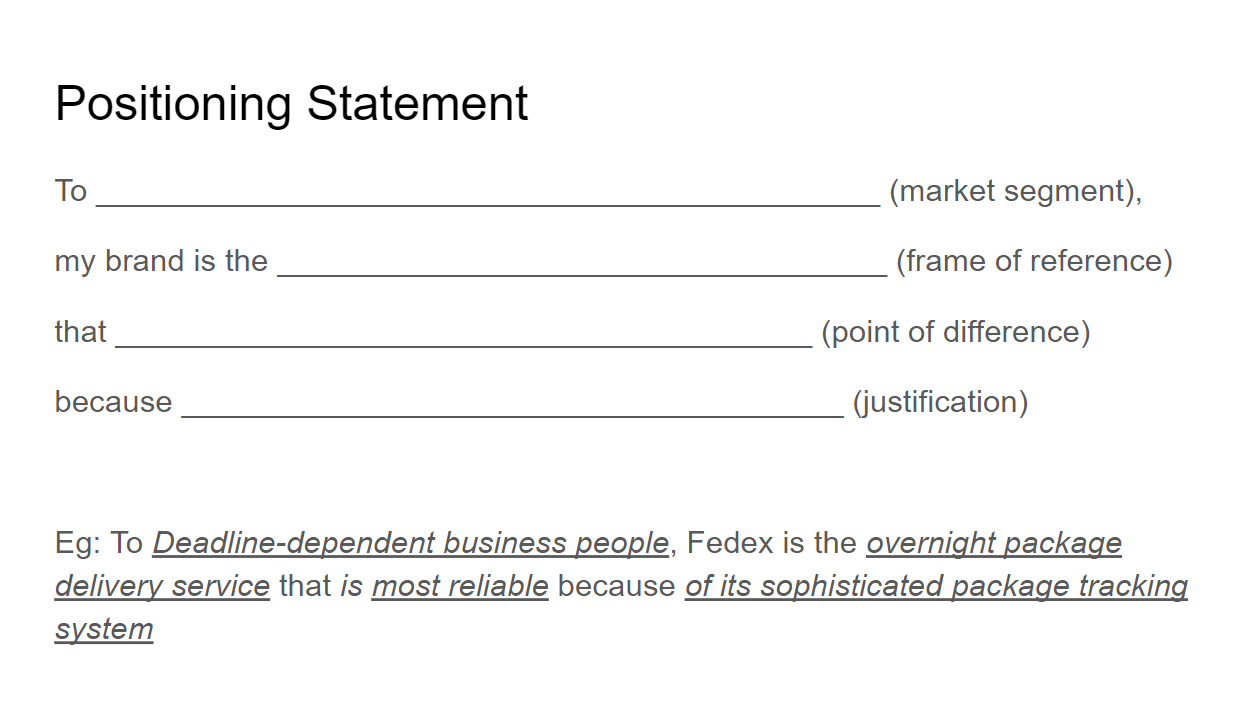 3. Segment your Content
Once you have your different buyer personas developed, you will soon realize that the same material may not work for different personas. Hence it's essential to segment your content into grids.
Here is a sample content segmentation grid

You can also choose to segment your content based on where they are in the sales funnel. Content marketing tools need not necessarily be WordPress plugins or software; the content segmentation grid provides clarity and helps you plan your content marketing strategy.
4. Maintain an Editorial Calendar
A consistent and well thought out schedule is necessary if blogs, whitepapers, and social media are part of your content strategy. An editorial calendar is a simple but impactful tool to manage this.
Trello is a great tool to create an editorial calendar and collaborate with your team.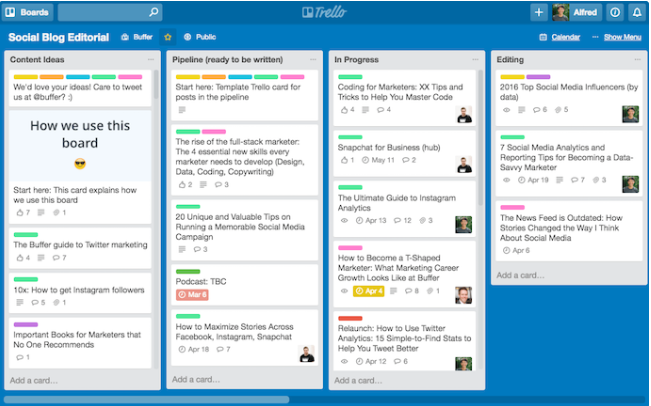 Here is a list of essential aspects your editorial calendar should track
Content headline
Content-type
Audience persona
Author
Due Date & Publish Date
Editor
Publishing channel
Metadata
Status
Key Metrics
CTA
You can also use WordPress plugins to get this functionality within your WordPress dashboard. Here are a couple of options:
The Industry's Best WordPress Editorial Calendar Plugin – CoSchedule
5. Optimize your Content Writing Experience
Use Content Templates to Speed Up Your Content Writing
A content template is a writing hack. It helps you get started quickly using a pre-defined content structure.
Quicksprout has 12 content structures that they talk about in great detail on their blog. Now the question is how are you going to use them in your content publishing workflow. You can try the following:
Set up these templates on Google Docs. Duplicate the doc and start editing.
Create draft or private posts on WordPress with these content templates. Use a plugin like Duplicate Post to clone them and get started.

If you're running older versions of WordPress and still using the Classic Editor, Kinsta has some good references for using content templates in their article on 'How to be a Solo Content Marketing Ninja with WordPress'
Headline/Topic Templates – You can brainstorm headlines and topics with templates as well.
| | | | | | | | | | | | | | | | |
| --- | --- | --- | --- | --- | --- | --- | --- | --- | --- | --- | --- | --- | --- | --- | --- |
| Topic Ideas/Headline TYpes | Quiz | Sceptic | Explainer | Case Study | Contrarian | How to | Quick How to | First Person | Comparison | Q&A | Data | Man on the street | Outrageous | Insider Secrets | Listicle |
| Online Privacy | Test your online privacy | Is your online privacy under threat? | Online privacy: How to play it safe on the web | 10 shocking instances of online privacy breach | Here's why your online privacy is vulnerable | How to avoid being victimized by online privacy hazards | How to prevent online privacy breach scandals | How my online privacy was compromised in a recent hack | Why your website is not as secure as that of your competitors | Are you being too lenient with your cybersecurity measures? | 12 proven methods to shield your online privacy | Myths about cyber-security debunked | The most horrible cases of Online privacy breach and the lessons learnt from them | Cyber Security: 10 secrets that you might not be aware of | The surprisingly small list of ways to ensure your online privacy |
WordPress Block Editor now provides focused writing modes. Enable them for a distraction-free writing session.
Readability Analysis – Yoast and RankMath SEO plugin offer a readability analysis of your content. This almost instant feedback is great to help you fix issues and make your content more reader-friendly.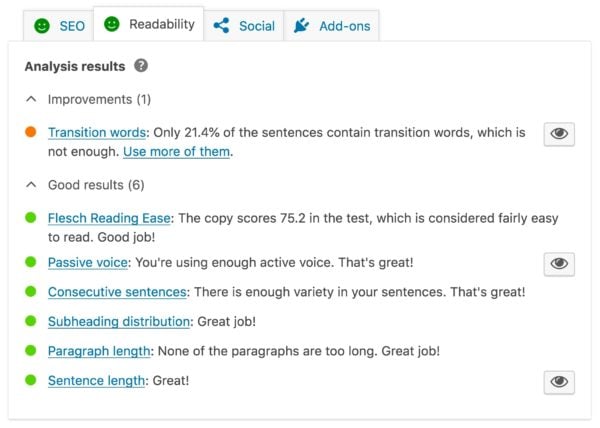 6. Make your Content Pop
If you want to add some visual flair to your content, you can create the 12 content structure with some layout variations. You could do that using either of the following tools:
With the Gutenberg editor, there are many add-on plugins that provide styling Blocks like Otter. You can also use this new open-source library of Gutenberg templates and simply copy-paste the code from the site into your editor.
If you use one of the page builders like Divi, you can load any of their layouts from the library or save your layout and reuse it later.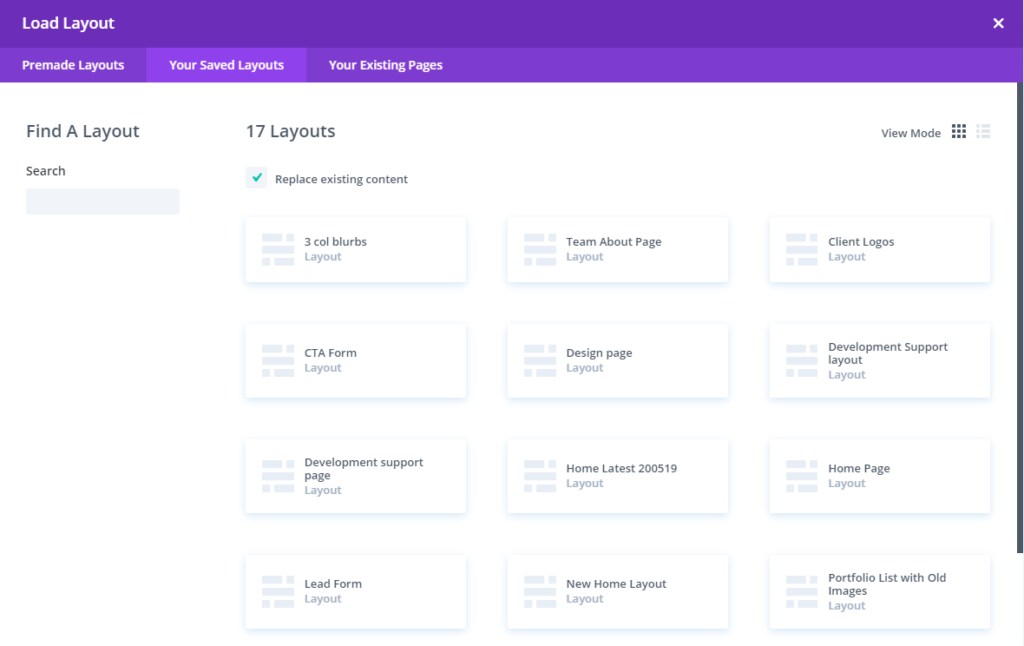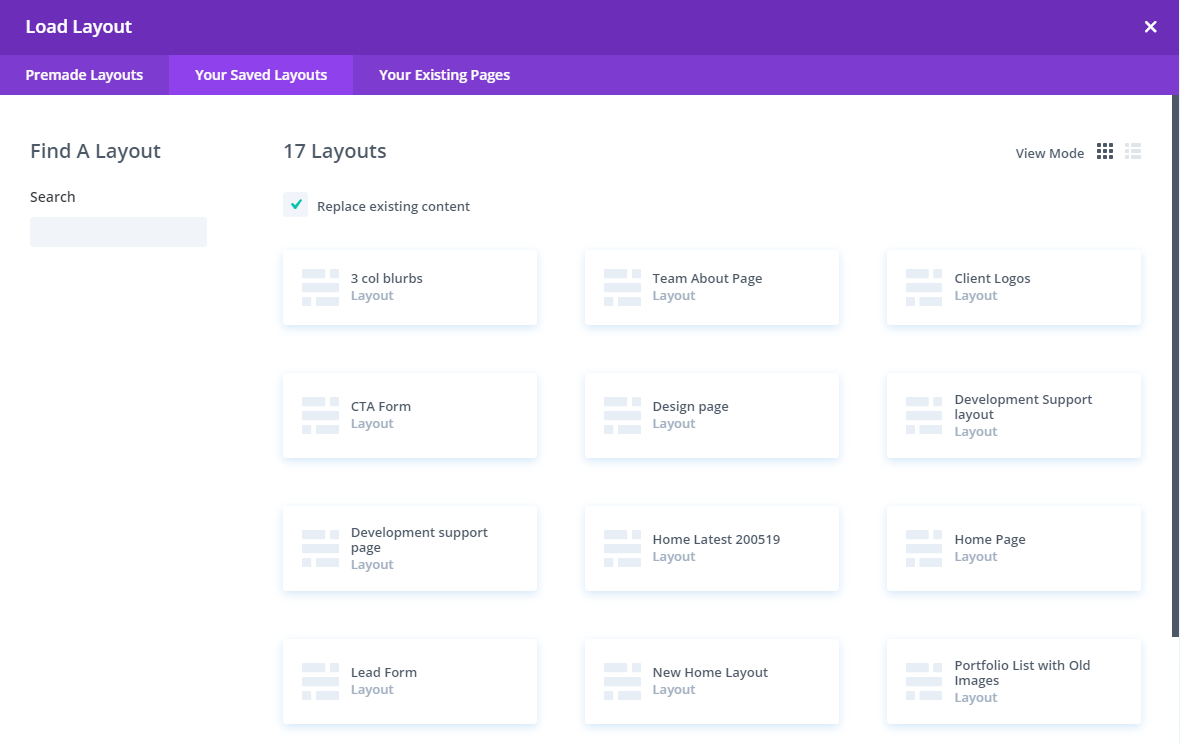 Content presentation is as important as the content itself. The content should employ short paragraphs, bulleted and numbered lists wherever possible. This bite-sizing of content makes it for the eye to scan.
With tools like Gutenberg and page builders, it becomes easy to add design elements to your content.
Have a look at one of our previous chapters that cover some of the built-in WordPress features you should make us of.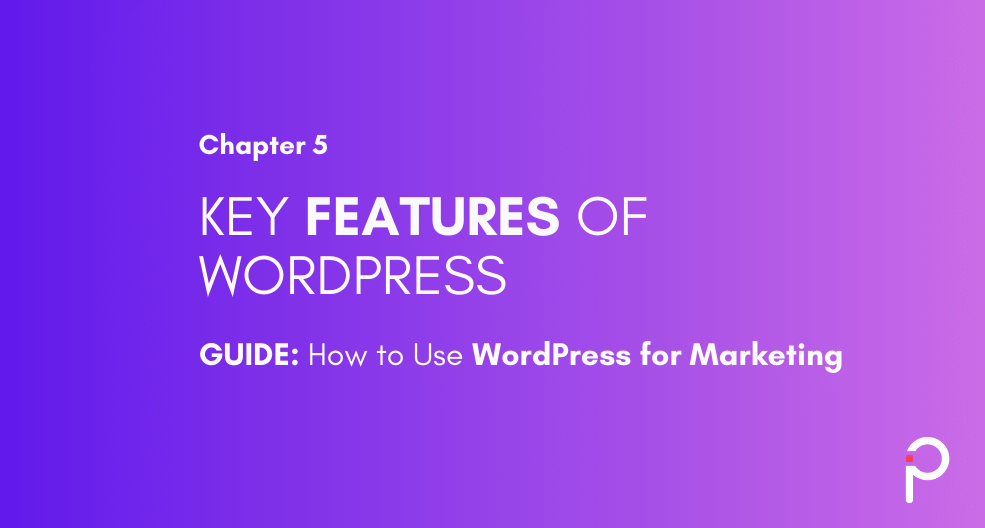 To make content easily accessible, you can add a Table of Contents plugin. This gives an overview of your content and the reader can jump to a specific section in the post directly.
As we've shown you previously, it's easy to embed visual content in WordPress. You can also access high-quality stock photos from within WordPress without having to leave the site, using a plugin like Instant Images
Add tips and call to action sections in between your content that stands out like this. The image below shows the styling options available. You can also add CSS for advanced styling.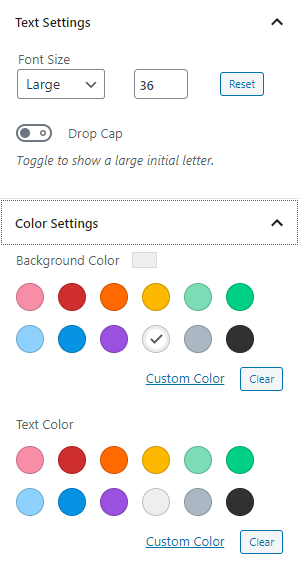 7. Streamline your Content Publishing on WordPress
Once your content is ready, the next step is to publish it on your website. Publishing is more than just clicking the "publish" button on your dashboard. Even this seemingly simple step can ensure you are in line with your content marketing goals.
Thrive Headline Optimizer – A good title decides is what pushes visitors to read a piece of content. This plugin allows you to carry out A/B testing with multiple titles and determine which one performs better.
Revive Old Posts – This plugin allows you to automatically share not just new but also any old content onto your social media channels.
Disqus – This is a commenting system that can help improve reader experience and improve engagement.
Organize Series – This allows bulk publishing and clubbing similar topics together.
8. Configure Content Sharing Options on WordPress
Sharing your content on your social media channels is essential to ensure it reaches your existing and potential customers.
You can also automate social sharing with the help of Zapier.
9. Increase Content Engagement on WordPress
One of the key metrics to measure the success of content marketing is engagement. Here are a few tools to help you better your engagement rate.
Elements of a Good Content Strategy?
Content marketing and the strategy for its success is a vast topic. However, here are a few quick topics to keep in mind:
Understand your customer's pain points and needs
Align content with business objectives
Study what topics are popular in your industry
Measure the success of content marketing with the right metrics
Use the multiple platforms to reach your audience
Tip: Document your Content Marketing Strategy. A well-articulated and documented strategy goes a long way in ensuring you stick to the plan and collaborate within your team effectively
There are tons of content marketing tools in the market to help make the whole writing process more manageable.
Best Content Marketing Tools
Writing is the first step, and often the most time-consuming step in content marketing. These tools help with checking grammar, improving readability, and managing large amounts of content.
Other content tools you can use:
Best Books for Learning Content Marketing:
To be a great content marketer, you need to be a good writer and a storyteller. Here are some books that might help you:
X